Commentary
Welcome to YoYo Nation
Updated:
August 13, 2009, 5:52 PM ET
By
Matthew Iles
| Special to Page 2
Children have such an insatiable thirst for toys, it can sometimes be downright frightening.
My childhood swirled around the rise of Beanie Babies, Pogs and Pokemon, all of which can be found in the dictionary appropriately next to the word "fad." Once the cause of many tears -- "Mom, you bent the tag? Now Patti Platypus isn't mint condition anymore!" -- Beanie Babies have since been relegated to relative stuffed-animal obscurity. Pogs were really just plastic chips, definitely not enough to hold children's attention spans for long. And Pokemon achieved such an overwhelming cultural presence at one point that just the sight of that rosy-cheeked, electric squirrel today can bring on stirs of nausea.
YO-YO NATION
Event: Yo-Yo Open 2009
Time/Place: 11 a.m. ET, Saturday, Aug. 8, NYC's South Street Seaport
The Skinny: The top 100 players representing 12 different countries descend on New York to compete in two different divisions across five styles of yo-yoing. A world-class panel of eight judges scores each contestant in four different categories -- technical difficulty, execution, showmanship and risk.
Grand Prize: First-place winner can earn up to $1,000.
The Styles:
1A: String tricks, one yo-yo. Trick names: Lacerations, grinds, hooks, chopstick style.
2A: Looping tricks, two yo-yos. Trick names: Around the world, tidal wave, time warp.
3A: String tricks, two yo-yos. Trick names: Flops, velvet rolls, blue-line rolls, tangler.
4A: Uses a yo-yo similar to the Chinese "diablo," where the string is not actually attached, allowing for players to flip the yo-yo in the air and then catch it on the way back down.
5A: The yo-yo is not actually connected to your finger. Instead, there's a counterweight where your finger would be. Trick names: Bee sting, red propeller, helicopter.
The Divisions:
1A: This style is the one every yo-yoist starts in. It's where one learns the art. Therefore, the majority of performers are most comfortable with this style, so it's big enough to be its own division.
X: Every other style lumped together, with judges' scores normalized to account for differences in technical difficulty and risk.
The Head Honcho Speaks: "With this event, we want to take it on tour," YoYo Nation CEO Pat Cuartero said. "We want people to see this all over the world. It's the largest yo-yo event in history. We want it to take place in every major city in the world, and I think it can happen."
Of course, there are the old-school requirements, too -- more experience fads than material ones, such as kazoos, moon shoes and harmonicas. What ties these different toys together is their inevitable grow-out-it quality. Slingshots may have been all the rage at recess, but no sensible frat brother shows off his pea-shooter to that cute coed outside English Lit.
There are the hangers-on, however. They interrupt dinner conversation to feed their Tamagatchi, and they creep us out with their slew of proudly displayed "collectible figurines." Sometimes, though, these kids-at-heart make for successful adults without really growing up at all.
Such is the case with Pat Cuartero. His crutch toy of choice: yo-yos.
Armed with both spare change and spare time, Cuartero impulsively bought a two-dollar yo-yo as a junior in high school 11 years ago. First, he became addicted. Then he got good. Like, sponsored by the biggest manufacturer at the time and paid for yo-yo exhibitions nationwide good.
College came, though, and the yo-yo that had resided in Cuartero's pocket everyday for two years was left at home. After graduation, he went corporate, taking a six-figure job at Merrill Lynch. But soon Cuartero had a Jordan-to-baseball-like realization that he was forcing it; he had left his true passion behind and the loss nagged at him constantly.
"I felt like I was missing something in my life," Cuartero said. "For some people, it's religion. For me, it was yo-yos."
Combining such an uncanny level of extreme-trick-seeking sportiness and extreme-toy-obsessing nerdiness that only another true yo-yo enthusiast could appreciate, Cuartero has one other quality that makes him the perfect triple threat. Or, as Jack Donaghy would say, "It's that third kind of heat."
Business savvy.
Well, he worked at Merrill Lynch. Duh! Yeah, but when a big-time banker jumps ship to scratch an entrepreneurial itch, starting the world's premier online yo-yo destination as well as an international professional circuit, it definitely falls in the Didn't See That Coming category.
Except everyone close to Cuartero did. They noticed the spark-plug personality had shorted out sitting behind a desk eight hours a day. Still, after hearing his whole backstory, my first question was, "What did your mother say?"
Not surprisingly, it's a question he's fielded before. But now that Ms. Cuartero's little boy is the founder and CEO of a fast-growing enterprise, the fact that his company memos are laden with terms like "lacerations," "velvet rolls" and "diablos" is inconsequential.
Closing in on its fifth anniversary, YoYo Nation is home to every conceivable yo-yo one could possibly want -- Cuartero boasts units priced from $3 to $460 -- and doubles as a blog that posts the latest news and sickest videos regarding all things yo-yo. The YoYo Open is the biggest stop on the aforementioned pro tour and will showcase the top 100 yo-yoists from around the globe as they compete in front of an expected crowd of 25,000-plus at New York City's South Street Seaport on Saturday. It's the largest yo-yo exhibition in history.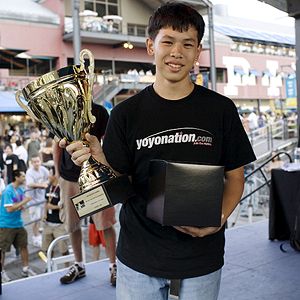 YoYo Nation, Inc.Only the bold the brave and the extremely dexterous will walk away with the trophy.
Accomplishments such as this go a long way toward bringing Cuartero closer to his ultimate goal: to reinvigorate and modernize the perception of yo-yos worldwide. With the advent of several revolutionary technological advances, yo-yos have evolved way beyond anything you remember as a kid. Not even a decade ago, the world record for longest "sleeper," when the yo-yo continues spinning at the end of the string without any assistance, was a little more than a minute. Now, the record stands at 16 minutes and 17 seconds.
Imagine handing metal bats to major leaguers or lowering the NBA hoop to 7 feet. Yeah, basically a game-changer.
So, yo-yoing has thusly developed into an action-sports-meets-stage-theater wonder watch. It's like a middle school talent show on steroids.
Ironically, though, chasing his passion and turning it into a business has actually prevented Cuartero from yo-yoing as much these days. When asked what his current hobbies are now that he's morphed his old one into a steady job, he said, "I'm really into food and bartending. And I'm into beer, too."
That response earned him a nomination for the Living Life To The Fullest award. But when he also mentioned a recent foray into balloon sculptures, well, that pretty much sealed it.
A self-described workaholic, however, it's somewhat dizzying to listen to Cuartero talk shop. He managed to cram phrases such as "search-engine optimization," "ball bearings" and "chopstick-style string tricks" all into one interview. And, of course, he wouldn't have it any other way.
A guiding light for all those still childishly enamored with the material products of their youth, Cuartero certainly has his work cut out for him if he's to legitimize yo-yoing as a sport one day. But it's that challenge that gets him up for work every morning. In fact, his passion runs so deep, it's tough not to catch the bug yourself.
"We want to show people how extreme [yo-yoing] is, just how awesome it has become," Cuartero said. "We want to spread the love and joy and passion for yo-yos that we have to the world."
It's rare that an impulsive purchase spawns a lifelong career, but in Cuartero's case, it's safe to say those were the best two dollars he ever spent.
Matthew Iles is an editor at ESPN.com