By Kevin Jackson
Page 2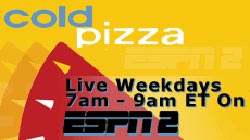 EDITOR'S NOTE: Page 2, along with ESPN2's "Cold Pizza," is counting down the 15 Most Tortured Sports Cities in America. Kevin Jackson is one of the founding editors of Page 2 and he can trace Seattle's sports misery back to rain from 25 years ago. We also present Seattle's 10 most tortured sports moments.
Typical 9-year-olds don't stay up late enough to catch the weather report on the 11 o'clock news. Nor are they usually focused enough to spot storm clouds building on the horizon on an otherwise sunny morning.
Thus, I cannot be fully blamed for the events of Monday, June 4, 1979, even though I firmly believe they put a curse on me and every other die-hard Seattle sports fan -- a curse that has lasted nearly 25 years, and counting.
THE 15 MOST TORTURED SPORTS CITIES
15. Tampa Bay
14. Kansas City
13. Cincinnati
12. Phoenix
11. Washington, D.C.
10. Houston
9. San Diego
8. Atlanta
7. Seattle

Want to find out what the No. 6 city is? Tune into ESPN2's "Cold Pizza" next Tuesday morning. Then head back to Page 2 to read all about it.
Why does Seattle rank No. 7 on Page 2's and Cold Pizza's list of America's most tortured sports cities? Why has the Emerald City gone longer without a pro championship than any other city than Cleveland (among cities with at least three major professional sports franchises)?
It all has to do with some raindrops that fell in my hometown on that June morning in '79 -- raindrops that seemed harmless at the time, but have cast a dark cloud over my tortured existence as a fan.
Let me explain ...
When I awoke on that June morning, I was happier than Ed Burns at a supermodel convention.
The school year had just ended, and I had three months of sleeping in and goofing off in front of me. Plus, my beloved Seattle SuperSonics had just won the NBA championship.
Now, my theory on being a sports fan is this: Most kids usually start following sports between the ages of 8 and 10, and whatever team you latch onto at that age will probably be the squad you'll follow for the rest of your life.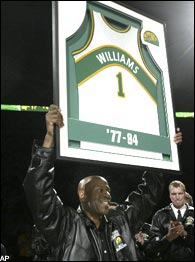 Gus Williams led Seattle to one NBA title, but no Seattle team has been No. 1 since.
For me, that team was the '79 Sonics. Gus, DJ, JJ, "Downtown" Freddie Brown, Sikma, Shelton and Silas. (I still refuse to admit Wally Walker was involved.) These guys ran, played defense, moved the ball beautifully ... and if not for an inexplicable collapse in Game 7 of the 1978 Finals against the hated Bullets, they would've been the first team since Bill Russell's Celtics to win back-to-back NBA titles.
I started following the Supes during their Finals run in '78; and by '79, I was totally hooked. Taping the games off the radio, collecting every day's newspaper like it was the Magna Carta, staying up until midnight to catch late-night replays ... I was quickly obsessed.
When the Sonics got revenge on that inferior Washington team and beat the Bullets in five games for the '79 title, I was elated.
At least, I thought I was.
In reality, I was a 9-year-old kid who had followed a team for two years, seen it reach the championship round twice and win it once. I had no idea what it meant to be a long-suffering fan ... but the Sports Gods would soon teach me.
My family couldn't afford tickets to any of the games during the Sonics' playoff run, so I looked at the championship parade as my day in the sun. After all, it was free, we lived less than two hours from Seattle, and my grandfather had agreed to take me.
What could possibly go wrong?
Rain, that's what.
As I bounded downstairs wearing my Sonics championship shirt and hat and carrying the commemorative frisbee that my Dad had bought me the night before, I didn't notice that a light rain was falling outside our home in Sequim, Wash.
When my grandpa pulled up in his station wagon, however, I got the bad news.
"Kev, it really looks like it might rain all day, and I'm too damn old to stand outside in the rain," Gramps said. "Maybe we should just stay home and watch it on TV."
TV? TV? T-freakin'-V?!?!?
Didn't Grandpa realize that I had watched my heroes on TV for months? That this was my big chance to finally see them in person? To yell and finally have someone hear me?
No, TV would not do.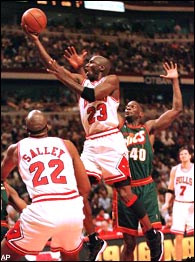 Shawn Kemp and the Sonics couldn't stop MJ in '96.
Now, I'm not going to say that I started to cry when I heard those words (however, I was 9), but as my friend The Sports Guy says, it was getting pretty dusty out there.
In an attempt to calm me down, my grandpa offered the following: "Well, we can have ice cream during the parade."
When that didn't work, he got desperate. The next words out of his mouth have haunted me ever since.
"Don't worry, Kevin," he said in a soothing tone. "The Sonics have a really good team, and I'm sure they'll win the championship again next year."
Now, I cannot fault my grandfather for foolish words uttered while he was trying to calm an irrational 9-year-old. (Nor do I blame him that the rain later let up, and it ended up as a sunny day in Seattle.) But it has been nearly 25 years, and I'm still waiting to attend that parade -- not just for the Sonics, but for any Seattle team.
I waited through January 1984, when an upstart Seahawks team lost the AFC Championship game to the Raiders.
I waited through the early 1990s, watching a Sonics' opponent get awarded 64 free throws in Game 7 of the Western Conference finals (1993). Then, I watched my Supes become the first No. 1 seed to ever lose to a No. 8 (1994) as Dikembe Mutombo rolled around on the Seattle Center Coliseum floor in ecstasy (a scene with which "friends" still taunt me).
I waited through 1996, when the Sonics finally returned to the Finals but had to play a Michael Jordan-led Bulls team that had posted the best record in NBA history. They lost in six games.
I waited through three Mariners' losses in the American League Championship Series, including a bitter 2001 defeat to the Yankees by a Seattle team that had won as many games (116) as any in major-league history.
I waited through the Seahawks' overtime playoff loss to the Packers this winter when Matt Hasselbeck declared, "We want the ball, and we're going to score." (Didn't he realize what city he was representing?)
I waited through Rick Mirer, Kelly Stouffer, Dan McGwire and Brian Bosworth with the Seahawks. I waited through Kevin Mitchell, Mike Schooler, Bobby Ayala and Jose Mesa with the Mariners.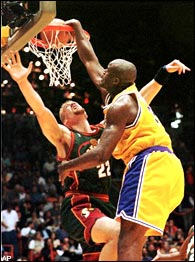 Jim McIlvaine received a few facials during his time in Seattle.
I waited through Jim McIlvaine.
I've watched A-Rod, Griffey and the Unit leave town.
I've seen Shawn Kemp and Vin Baker gain a collective 100 pounds.
I've seen fire ... and I've seen plenty of rain.
I thought maybe the curse would be lifted in 1992, when my grandfather passed away. It lived on.
I thought maybe things would change when I left the Northwest for Connecticut in 1999. That only allowed me to attend those Mariners' ALCS losses to the Yankees in person.
Maybe 25 years will be enough. Maybe next month's anniversary will lift the curse forever.
Or maybe those are more clouds I see forming over there on the horizon.
Kevin Jackson is the coordinating editor for ESPN.com and a founding editor of Page 2.