By Scoop Jackson
Page 2
SAN ANTONIO – He still has one game left to save himself.
But the demons, they may be with Tim Duncan for life.
Or at least until he wins Game 7.
He came into this game with more than one thing on his mind. And as big as this Game 6 loss was, the Game 5 win was possibly bigger. More got told, more got exposed. The best basketball player alive found himself in the middle, having an out-of-body experience with the game on the line and the ball in his hands.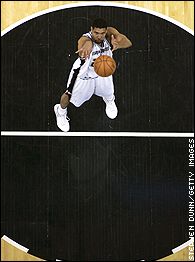 The demons have been haunting Duncan at the free-throw line, where he's just 9 for 21 the past two games.
Missed free throws and missed putbacks – 26 points and 19 rebounds erased.
Demons appeared.
He still has one game left to save himself.
He sat on the bench at the end of the third quarter in Game 6, resting. Thinking. Trying not to demonize himself.
The score was 71-67, Pistons. Twelve minutes to freedom. He walked out of the huddle, pulling his shooting shirt over his head. His face was Tilt. Unreadable. He dapped Ginobili, talked to Rob, coordinated with Pop. He'd waited 48 hours for this, to redeem himself, to restore his soul. To put those fourth-quarter demons six feet under. This was his moment.
With 6 minutes and 49 seconds remaining, the demons came back. Two free throws rushed. Missed. Call it a comeback.
Then ABC showed the graph: Tim Duncan, 0 points in the last 9:07. Demons are a trip.
They left at 5:16 when he was fouled off an offensive rebound. You could see it in his face and body language: freedom.
He hit his next two free throws. Now it was time to ball.
The dunk off the Ginobili unintentional pass, the baseline spin on the next play to close the lead to one. Demons be gone.
Then two things happened: his teammates stopped going to him and another man with his own personal demons to exorcize may have been more desperate than Duncan.
He had to spend the fourth quarter guarding that man. The one who had to fight the same Game 5 demons as Duncan. But after Rasheed made a layup, after Rasheed hit a 3, after Rasheed put back a Chauncey miss, after Rasheed gave the Pistons a five-point lead with 1:25 left to "guarantee" a Game 7, Tim Duncan had to walk away knowing his demons would have one more game to eat away at him.
One more game to unrightfully beat himself up over.
For 36 minutes last night, the man called Mr. Groundhog Day had the demons under control. Using his psych degree to out-psych himself.
But Tim Duncan's demons, unlike Jerry West's, don't seem to come out until the fourth quarter.
For some reason, they hate him like that.
* * * * *

He entered the SBC Center before the game somber, cheerless, caliginous. Focused, man. Demons have a way of weighing on you.
He didn't take extra shots before the game, he didn't break his routine. He did whatever he could to not let the pressure of a close-out game get to him, take over him, make it more than what it was. He tried to erase the past in his mind.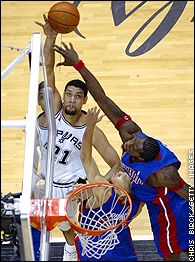 Duncan's legacy may rest on his Game 7 performance.
To understand this you have to go back to a moment in Game 4.
Down by almost 30, with the game out of reach, Tim Duncan sat on the bench. Shoulders slumped, head bowed. Greg Pop began rubbing his leg, giving him words of encouragement. This is what coaches do. But it was the look on Tim's face, the emotions that were evident – the ones that usually make us marvel at his ability to never put them on display. More than the look of defeat, it was the emotion of defeat that he couldn't hide. The best player in basketball looked defeated; therefore he was. Done. An emotion that no player of his stature, no player that's being argued as the greatest power forward to ever play the game, no player who is considered the leader and spine of a two-time championship team, should have ever let the world – or the Detroit Pistons – see.
It carried over.
Two days later his hands where shaking when the ref handed him the ball.
Strange. As ice as he's always been, something – that emotion on his face from Game 4 – took over him.
You could hear people screaming: "Look at him, he don't want it!"
Fear? Pressure? Nerves? Failure? Tim???
His dream was becoming a nightmare Freddy wouldn't even want to be in.
This wasn't him.
As he continuously missed free throws that should have made Game 5 a lot less dramatic than it was, Duncan's legacy took the same type of hit Roy Jones Jr. took from Antonio Tarver. And when he had the chance to win Game 5 in the first 48 minutes with a two-foot tip-in and missed, the other side of Tim Duncan's greatness was exposed.
Which is why Tuesday night was about more than just winning a third NBA championship in six games. This was about quieting voices, removing doubt, silencing demons. All inside of Tim Duncan, all eating away at his being.
This was the one game he had to win. And he didn't.
So what's Tim's excuse gonna be now?
The reality is, he won't need one. Neither will he search for one.
He's too great to let these demons defeat him on the court.
After Game 6, Tim was asked a question: He was asked if he needed to be "more aggressive in getting the ball" late in the game.
These demons, you see, never stop.
"No," he responded. "I will continue to try to be as aggressive as I can. I'm not going to demand the ball, clock it up and make it a whether I score we win or not. We're not going to force feed it. We can't start doing that now, we haven't done that all season."
And all season has come to this.
But beyond the answer was his tone. Probably the same tone that will go through him once he reads this, the same one he will have when he reads other articles and columns. Probably the same tone he'll have if the media refuses to get Game 5 out of its minds and appreciate his greatness in Game 7.
Because that was not Tim Duncan the last two games. That was someone else. Someone that we're not sure Tim Duncan will ever get away from.
But do we blame him for that? Do we blame the best player we know for not winning a game his team won or do we blame him for not winning a game his team lost, against possibly the best backs-against-the-wall team in NBA history?
Are we the demons that will put this all on Tim?
Thursday will tell.
By then Tim Duncan will be demon-free. Freedom, remember? Free throws will be made, tip-ins will fall, teammates will get him the ball. With the game on the line. Another MVP will be his.
Then again, maybe these demons are stronger than we think. Stronger than he realizes.
One game left. To save himself.
Scoop Jackson is an award-winning journalist who has covered sports and culture for more than 15 years. He is a former editor of Slam, XXL, Hoop and Inside Stuff magazines and the author of "Sole Provider: 30 Years of NIKE Basketball," "Battlegrounds: America's Street Poets Called Ballers" and "LeBron James: the Chambers of Fear." He resides in Chicago with his wife and two kids. You can e-mail Scoop here.