By Scoop Jackson
Page 2
There is a picture. One that tells the story.
It's an image of two men. They're inside a courtroom. One man is sitting down, head half-slumped, looking somewhere between very PO'd and very defeated. The other man is standing over him but not above him. His face is that of arrogance and indignation. His expression says, "I just defeated your a**."
His hand is extended.
The other man does a Felipe Alou.
The moments following that moment tell the saga. One that played out over the next five days.
They say a picture is worth a thousand words. Here's the grand that picture is worth.
*****
His name is Joe Johnson. He's the truth. Not Paul Pierce truth, but close.
This time last year, Johnson was not even the talk of Phoenix, let alone the NBA. After a 17.1 ppg free-agent season, during which he dropped 48 percent from 23 feet out, Johnson became the biggest silent story in sports this summer.
The month-long attempt to try to get him to relocate from PHX to ATL has become more comical than the Pamela Anderson roast that Comedy Central recently televised.
It's also become sad.
Trapped in between Joe and his quest to play basketball for the Hawks is the truth behind why Atlanta has fallen professionally (no disrespect to everyone from former And 1 legend Hot Sauce to Lovejoy High School prodigy Noel Johnson) below hell.
The place where that picture was taken.
And although Joe is not in the picture, the picture is all about him.
*****
His name is Allen van Gestel. He's the judge who waited for David Stern to get involved in the situation. In case you haven't heard, the Atlanta Hawks, the worst team in professional basketball, have an ownership that's maybe worse than the team they put on the floor last season.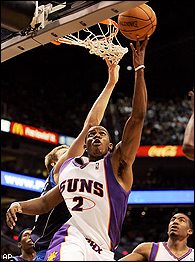 How good can Joe Johnson become? Only time will tell.
The owners decided that Joe Johnson was worth $70 million and two first-round draft picks. They decided that Joe Johnson was the answer to all of their basketball problems. They decided that Joe Johnson was going to be their LeBron James.
Well, only two of them did.
Steve Belkin. He was the one owner who felt different. He felt that Joe Johnson wasn't worth all that, because in his mind (as opposed to the mind of Joe Quinn, the lawyer for the other two owners who compared Joe Johnson's arrival in Atlanta to Larry Bird's arrival in Boston), Joe Johnson wasn't all that.
When the asinineness clears, he's the one that might be right.
In the hustle of trying to bring the franchise back to (at least) conversation at run-n-shoot respectability, a disagreement broke out. Now, we all know businesses go through this on the regular. Every day, all day in Fortune 500 companies there are battles between owners.
Majority owners and equal-shared partners disagree on everything from the way their Inc. (or in this case LLC) should be run to the hiring of staff. Professional sports is no different. But rarely do these arguments become public. Smart businesses have a way of keeping all drama of this nature internal. Even the Clippers know how to do this.
But somehow Atlanta LLC couldn't. The incompetence of the parent company of the Hawks, the NHL Thrashers, and Philips Arena, where the teams play, allowed a petty disagreement over a mid-level free agent to get out. To the media and to the public.
And once out …
Now what do you think would happen if this were L.A.? New York or Chi? Philly? What do you think would happen if the owners of a professional sports franchise in any one of those cities displayed this type of ignorance? Let public a disagreement that caused them to take each other to court? One that was actually about the difference of $20 million dollars and one draft pick?
How would that play out in the press? In the barbershops?
Think if this were Jerry Buss, Jim Dolan, or Pat Croce when he was the mayor of the Wachovia Center. Think hypothetically if it were a Steinbrenner-shared group.
The story would be so huge, Terrell Owens wouldn't be a topic on "PTI."
When the Atlanta Hawks made Belkin the team's "governor," giving him power to approve all player transactions -- along with his 30 percent ownership in the team -- they never knew it was going to come to this.
Where, inside a Suffolk Country courtroom, grown men, hundred-million-dollar men, acted like kids who couldn't decide which Dragonball Z card had the most power.
They argued. They called each other names. They asked for each side to remove itself from the situation. They asked for buyouts. They asked for sole ownership. They filed desist and refrain orders. They asked for outside assistance.
They played themselves.
They made you think that something much deeper was going on besides a disagreement over the amount being offered to a free agent not named Garnett.
In the end, it was the majority ownership that called "a parent" in to settle a grown folks issue. In the end, Big Daddy (Stern) helped the two have the problem child punished.
Now the junction has been made for BeBe Belkin to be ousted. Gone. Stripped of his power. Removed from the premises. His future unknown and apparently uncared about.
But the damage is done. Their pursuit of one Joe Johnson has made the Hawks the model franchise of ineptness in professional sports. We hope the 26 games they'll win this season and the 30 they'll win the next two seasons will end up being worth it.
We hope that Joe Johnson doesn't become Joe Smith.
*****
His name is Joe Smith. He doesn't play for the Hawks. He has nothing to do with this story.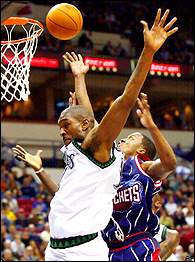 Joe Smith never quite panned out the way people thought he would.
The reason his name is being mentioned here is because of the question of worth.
In 1998, Smith was illegally attained by the Minnesota Timberwolves. He was going to be the one to get them to the promised land.
Because of the illegality of his becoming a Timberwolf, the franchise was stripped of five years' worth of draft picks.
Now replace "illegality" with "drama."
Get it?
The toll that the Joe Smith experiment had on Minnesota is still continuing eight years later.
In 2010, will the drama surrounding the Joe Johnson experiment still be haunting the city of Atlanta?
*****
Their names are Shareef Abdur-Rahim, Antoine Walker, Rasheed Wallace and Al Harrington. They all, at one time or another over the last four years, came to the Hawks for the same reason. Only one is left standing.
Harrington, see, last year he was Joe Johnson. The future savior. After balling for six years off the bench in Indiana, Al decided his 11.3 career scoring average could be better utilized elsewhere.
He chose Atlanta.
I remember talking to Bling (a nickname I gave him after his high school graduation) midway through the season. When I asked how he was doing, the first words out of his mouth were: "I'm trying not to get used to losing."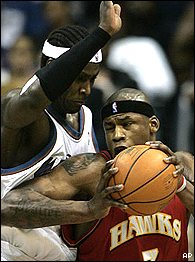 If faced with the situation a second time, would Al Harrington still go to Atlanta?
He'd gone from playing the sixth man of the year on a 61-win team that was two games away from going to the NBA championship to being the go-to cat on a team that didn't have one game on national television and won 13 games.
It wasn't supposed to go down like that. N.O.R.E. (his new nickname) came to the Hawks to become a star. He wanted to show the world that he was more than the fourth option on a championship-caliber team. Instead, he learned that the Hawks and losing have been synonymous since Magic City opened. And even if he averaged 30 ppg and made first-team all-league in front of McGrady, it wasn't going to help the franchise get better.
Or make him happy.
Before Joe Johnson got on the plane to "move to" Atlanta, which according to reports he did Thursday, there was one person he should have holla'd at. He should have asked Al one question: "Was it worth it?"
That one phone call could have changed everything.
*****
Their names are Josh Smith and Marvin Williams. They're both the future of the franchise. Like Harrington, they're both 6-foot-9 small forwards. They are part of the youth movement that's supposed to put the red, yellow and black back on the map.
Between them, they averaged 10.5 ppg last year and 25 minutes -- and one of them wasn't even in the NBA.
Now the Hawks are looking to them to have an impact. They're looking to them to be stars in their own right, competing with two other players that are trying to show and prove who's the Goldie.
Three 6-9 players playing the same position, another 6-8 potential star (Josh Childress) at the same position, no bona fide center (unless they sign Eddy Curry from the Bulls, a move that is still possible) in a conference that has Shaq, and now a $70 million, 6-7 point guard who's never played the point.
If anyone sees where this is going, they're alone. The five that take the floor for the Hawks to open the 2005-06 season in October are the best thing they have going for them.
*****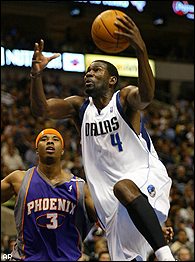 Michael Finley might find himself back in Phoenix next season.
His name is Jerry Colangelo. He's the one who's going to come out of this looking Malcolm Gladwell brilliant.
He's the one who took the gamble on getting rid of Joe Johnson by constructing the sign-and-trade. Earlier in the summer he lost 3-point threat Quentin Richardson, and figured spending $70 million for what he needed Joe Johnson to do may not be worth it, especially if he can get someone else to do it for $50 million.
Michael Finley found amnesty yesterday. He's trying to win a ring. He's spent most of his career playing with league MVP Steve Nash (in both Phoenix and Dallas). His contract doesn't have to be picked up -- that's on Mark Cuban. But for around $40 million to $30 million less than he would have had to pay Johnson to stay, Colangelo can get the original Joe Johnson: M. Finley.
And then he can use the remaining brewsters to lock down Amare Stoudemire until he's 30. Making sure he never has to worry about anything like this happening to him again. Until O.J. Mayo -- whom Phoenix will probably get (or Greg Oden, or J.J. Redick, or Allan Ray, or Darius Washington Jr., or someone of that worth) because of the draft picks that came with trading Johnson -- wants to re-up in 2012.
Again, who's Goldie?
*****
His name is Bizuayehu Tesfaye. He took the picture.
The image itself is, without question, the most compelling photo taken this year in sports. Hawks general manager Billy Knight is the one sitting, Belkin is standing. That photo was taken last week, one day before Stern stepped in and reversed the order of disorder.
When the season starts in ATL there will be a picture of Knight inside the arena -- not a courtroom -- smiling. Sticking out his hand, shaking ones attached to those who didn't turn their backs on him when the black cloud almost rained on his dream.
Steve Belkin will not be there. He won't be in that picture.
In Billy Knight's and the new three-headed LLC's mind, he might as well be dead.
But that by no means means his presence won't be felt for the rest of their lives.
Scoop Jackson is an award-winning journalist who has covered sports and culture for more than 15 years. He is a former editor of Slam, XXL, Hoop and Inside Stuff magazines and the author of "Battlegrounds: America's Street Poets Called Ballers" and "LeBron James: the Chambers of Fear." He resides in Chicago with his wife and two kids. You can e-mail Scoop here.