By Scoop Jackson
Page 2
CHICAGO -- I knew it was serious when my father called.
When the phone rang just after Jose Contreras let pitch No. 114 leave his right hand, after it found Casey Kotchman's bat, after it found Paul Konerko's glove, after Paulie's right foot found first base, I knew just how real this is. It's not like my Pops never calls; it's quite the opposite. We talk all the time. But the phone rang differently this time, and it had nothing to do with stolen preset Scott Storch ring tones. This ring had a different sound. See, my Pops was born in Chicago. On the South Side. Been there when Martin Luther King Drive was called South Park, when the Dan Ryan Expressway was Lake Michigan. His call was about history. And like any offspring in my situation who has been thoroughly raised, reared, educated and baptized in, on, of and about South Side history, I didn't answer the phone. I knew what he was going to ask and I didn't have the heart to tell him no. Not at this moment. After a few hours passed, after several other "I can't believe this!" phone calls, after watching a team of clubhouse-cancerous, chemically imbalanced, unknown and unwanted ballplayers create a chemical
balance
not seen in this town, in this sport, since Robert Quinn sounded the sirens in '59, after watching the Latin-born manager, the African-American general manager and a pitching coach who is borderline genius hug each other along with one of the most maligned owners in professional sports, after watching the mayor celebrate harder than he had after any one of the five elections he's won since '89, after watching 25 "guys" in a locker room drown the ghost of Shoeless Joe Jackson in champagne and Miller Lite, after soaking in what this all meant . . . . . . I called my father back. "Hey, you know, since the White Sox are in it," he said with that once-in-a-lifetime voice, "If there's a chance that you can get World Series tickets . . . " I had to tell him that
that
was impossible. He paused. Understood. "Well, you know I was there. I covered the Sox [for the Chicago American] the last time they went to the Series in 1959 . . . "
---
I knew it was serious when people started lining West 63rd Street at 4 a.m., waiting for a plane to arrive.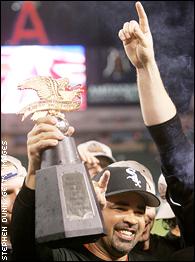 Hail the conquering local hero, skipper Ozzie Guillen.
As they came off the plane, one by one, getting into cars and limos, they found out the minute they exited the parking lot what this was really all about to the people south of the Mississippi, south of Cermack.
It was Ozzie, the manager who flew over the cuckoo's nest, the one who was born in Venezuela but is closer to having Chicago roots than most people in this unit, who understood the most. Which is why he got out of his white stretch and walked to the corner and acknowledged the several hundreds of South Siders who feel everything he stands for. They screamed his name. He waved both hands. Mouthed, "Thank you." They screamed that they loved him back. "When Ozzie got out of the limo," one resident said to a CLTV camera at 6-something a.m., "that was class. Real Chicago class." "He's a hero," said another, this one female, into a WFLD Fox-32 camera. "A true Chicago hero." It takes someone who's been here, been in Chicago as long as Guillen has, been a part of this side of town (as he has) to know that this is so much more than just the end of a drought of World Series wins and appearances. This is about something even Red Sox Nation couldn't understand. See, in the 86 years that the Red Sox went without a World Series ring, they at least had two teams
capable
of winning a gold, 30-flag trophy. At least Boston has a Bill Buckner highlight. The South Siders don't. It became serious when the sun came up and Grandstand in Bridgeport had a line outside that never left. When an ethnically and economically diverse group of people stood, patiently impatient, for the authentic 2005 American League Champions locker room caps and shirts to arrive.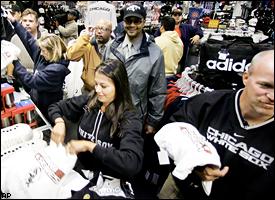 AP
White Sox Fever is catching on at the Grandstand souvenir store near U.S. Cellular Field.
It became serious when the Tribune, the city newspaper that owns the Cubs, was dropped off, and it included a piece from non-sports columnist but resident South Sider Dawn Turner Trice, with the perfect epilogue for all to read:
"If you live on the South Side, you've grown accustomed to you and your team being perceived, at best, as second class. "And despite all that's fractured on the South Side, right now everybody is feeling kind of pieced together and on top. No matter how rough the edges. "If you live on the South Side, you don't depend on baseball for your good mental health and eternal happiness. "You understand that not even the kiss of a cylindrical block of wood against a spherical, tightly wound wad of yarn can provide that. "Still, you're just thrilled knowing this may be the year that your White Sox head to the World Series and bring the gold back to, where? "The South Side." We know, as we look at the fabric that makes us up, how right she is. And how wrong. We know that at this moment, at 7:10 a.m., baseball does not define us. But that the Tina Yothers of Chicago baseball are about to define baseball in Chicago. Regardless of how big Albert Pujols comes up in the next night or two. Because unlike all the other major league teams in major league cities, the White Sox are local. There is no national following, not even a city following. Just a few hundred thousand people on one side of town who don't
pull
for as much as
feel
for one another.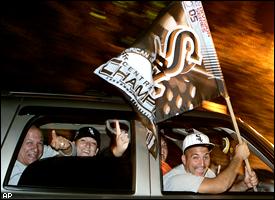 Sound the sirens again. The Sox are in the Series.
Unlike our haters up North, the folks who dwell on the Honorable Harold Washington's side of town won't be defined by days like this, whether our team wins the World Series or not.
And unlike our haters up North, we're not settling for or accepting anything less than more champagne by Oct. 30.
---
I knew it was serious when grown men began crying on the radio.
Announcers. Show hosts. Been South Side since they were born and had to defend this team, not just all year long but all their lives. They broke down. I won't name names. They know who they are. I knew it was serious when I heard a grown man in a faded 1993 Chicago Bulls locker room authentic T, watching the Bulls lose to Minnesota in a preseason game, talk about the depth of contempt he still holds toward Jerry Reinsdorf for breaking up the last true dynasty in sports. He said, between sips of beer: "I can't stand him . . . but it would be nice to see him win one with the Sox." I knew it was serious when I heard little black kids walk past my house after they got out of school and pronounce Pierzynski's name right. I knew it was serious when I drove downtown to pick up my wife from work and heard someone in a group of white businessmen actually say: "Even though he's not the prototype executive, Kenny Williams is the best general manager in Chicago sports history." I knew it was serious when I got back home and did a national talk radio show that played house music as an intro for me. "Why?" I asked. The answer: "Because that's what we heard you all listen to on the South Side." I knew it was serious when I turned on the news after "Monday Night Football" and saw a man who purchased "Sox AL Champs" banners to place over his parents' grave sites because, he said, "They waited for this moment their whole lives and they somehow still need to be a part of it."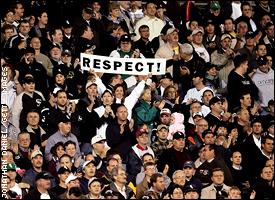 This is what it's all about for South Siders.
It's reached that point. That place where it's hard to understand how the sports world -- for a day, for the moment -- is all about the invisible team in Chi-City.
It has reached the point in which the people who were scared to put both feet on the bandwagon, even when the team had a 15-game lead in the division and the best record in baseball, these same people are now putting rims on the wagon and filling up the tank with BP Ultimate. Years of fear and faith have disappeared. Complete games, A.J.'s instincts, Konerko's bat, Uribe's glove, Podsednik's feet, the bullpen's rest ... all have the city believing that this is it. Ten wins in the last 11 games against the team that almost got the wild card, against the team that
was
the wild card, and then against the team that was supposed to be better than the team with the best record in the American League. As the Sun-Times headlined: "Yes, In-Crede!" The South Side might finally get one before Chicago does. And even though in our hearts, we know what winning the pennant means nationally, there's still a part of this side of town that simply wants to have something the other side of town doesn't. We got one; now we need the other. That's the only way we'll get respect, the only way in this city our Sox will get truly recognized. As much as it will be about the Astros or the Cards in the World Series, it's always going to be about the Cubs on this side of town. It's so necessary. It's that serious.
---
I knew it was serious when, at 3:30 a.m. on Tuesday morning, I saw an old man from Bridgeport, the neighborhood the Sox play in, leaning out of a window in his apartment with a rod with three white socks tied to the end of it. He mounted the rod on the ledge like a flag.
When asked the meaning, he said, "That's the way we did it in 1959."
Scoop Jackson is an award-winning journalist who has covered sports and culture for more than 15 years. He is a former editor of Slam, XXL, Hoop and Inside Stuff magazines and the author of "Battlegrounds: America's Street Poets Called Ballers" and "LeBron James: the Chambers of Fear." He resides in Chicago with his wife and two kids. You can e-mail Scoop here.