By Scoop Jackson
Page 2
Before this happened, I picked him to be the Super Bowl MVP.
Had already told my editors about it, had already planned on writing a column about it.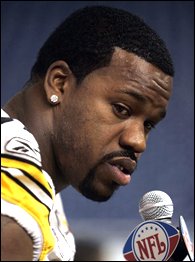 AP
Joey Porter has spent plenty of time in front of microphones this week.
And it wasn't because of what he did on the field during the AFC Championship game. It was because of a comment he made after the Steelers' previous game.
You know, the one about the NFL trying to put Peyton Manning in the Super Bowl. Joey Porter's ultra-truthful conspiracy theory.
So up until Thursday, that was my role. Do a column on JP55, say he is going to win the SBXL MVP, look like a prophet on Monday.
But then, something happened.
All of a sudden, the cat I was dark horsing to be the star of the game -- while everyone else was picking Ben Roethlisberger or Willie Parker or was getting caught up in Jerome's exit -- became the star of the pre-Super Bowl hype machine. He became the story of the game before the game. The Greg Lloyd we love to hate.
And because of that, the come-from-nowhere factor that helps defensive players become stars in the Super Bowl is gone like "Emily's Reasons Why Not."
No longer is his Richard Dent moment possible. In truth, Joey Porter played himself by being himself. Not that he did anything wrong, or something untrue to his being or beliefs. But his loudness silenced any chance of his taking the world by surprise in the biggest game -- and television event -- of the year, any chance of his being the sports version of an "American Idol."
He killed that noise by bringing the noise.
This was supposed to be the Discovery of Joey Porter. This Super Bowl was supposed to be the game that caused those who don't follow football to fall in love with him, and those already in love with him to feel good about his finally getting the credit he's due.
A couple of sacks, eight quarterback rushes, 10 tackles, a strip or a fumble recovery, a third-down stop early in the third quarter that changes the direction of the game, a goal-line hit on Shaun Alexander -- you know, something like that.
The spotlight was supposed to find him first coming out of the tunnel. Through smoke, screaming, jersey pulled up exposing his LLs, sleeves rolled up exposing his guns. While stretching, a camera was supposed to be on him while Al Michaels and John Madden talked about under-the-radar players who could be the difference in the game. There was supposed to be a smile on Joey's face, the smile a cat has when the canary is no longer in his mouth because he just swallowed it. That's when the outside world was supposed to discover him.
And after the game, when he spit those Disney World words into the camera, that's when they were supposed to never forget who he was.
I discovered him last year. When the Steelers were 15-1, I knew there had to be another reason why they were unbeatable, besides the phenom rookie QB. I followed Porter in the playoffs last year. I saw the Rick James in him, the fire and desire.
But the love came a few weeks ago, when he spoke the truth about the refs' attempt to sabotage the Colts game. He was still under-the-radar, but he was on mine.
It was then, especially because no one was checking for him, that I had a feeling this same brotha that got shot in the backside two years ago was going to walk out of Ford Field with two trophies in his hands: one Lombardi, one Rozelle. One belonging to the Steelers, the other all his.
But now, because of his "now I got woke up" beef with Jerramy Stevens, that moment of autonomy will never happen. The outside world now knows Joey Porter. They know who he is and what he's about. They know he loves to run his mouth, they know he is (with Troy Polamalu) the best defensive player on the best defensive team in the league. They know about the conspiracy quote, they know about his verbal battles with Chad Johnson, they know his talk ain't cheap. And by the time Sunday comes, his name will have been Googled so many times the company's stock may bounce back to meet Wall Street's expectations next quarter.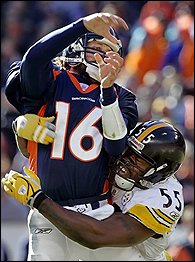 AP
Porter has been wrapping up opposing QBs, like Jake Plummer, all season.
The only thing they don't know is how good he is. Because if they'd known that, Bus and Ben would not have been the public identity of this Steelers team coming in to Detroit. The media would have made sure that the general public knew who Joey Porter was. We would have labeled him "that Beast," the highest compliment anyone can give a professional athlete today. The world would have known No. 55 was the spiritual and emotional leader of the Steelers, and without him doing what he did on the field every Sunday, they would not be playing on Super Sunday.
Instead, the world knows No. 55 for something else.
Which is not a bad thing. But, the nation's becoming conscious of who you are on the Wednesday or Thursday before the Super Bowl takes away the element of surprise, which helped guys like Larry Brown (SB XXX MVP) and Dexter Jackson (SB XXXVII MVP).
Like they say: Real bad boys move in silence.
Personally, I think JP55 still has a shot at winning the MVP. But I think that shot became long.
The odds got stretched.
By flappin' his gums, Porter took himself out of the race. Now the writers who are in the position to vote for him are going to expect him to play big. Nothing he does on Sunday will take them by surprise. Everyone learned this week that the Beast loves a burden.
Did Joey Porter save the Super Bowl? Yes. He gave a vanilla week of media coverage some double-fudge chocolate. With some nuts and some sprinkles and some whipped cream with a cherry on top.
In the process, did he ruin his chances of being the Super Bowl MVP? Probably not. God don't like ugly, but He does reward those who speak the truth.
But in letting the world know who he is, Joey Porter did take away my chance of becoming a prophet.
Scoop Jackson is an award-winning journalist who has covered sports and culture for more than 15 years. He is a former editor of Slam, XXL, Hoop and Inside Stuff magazines and the author of "Battlegrounds: America's Street Poets Called Ballers" and "LeBron James: the Chambers of Fear." He resides in Chicago with his wife and two kids. You can e-mail Scoop here. Sound off to Page 2 here.