By Scoop Jackson
Page 2
I was warned.
I was told that once I was "in," my life would never be the same.
I listened to everything, but heard nothing.
One year later … now I know.
Or at least I'm going to act like it. Fake it 'til I make it. Or get James Frey'd. Whichever comes second.
Yes, it's been 365 since I landed at ESPN. On this page.
And without getting too sentimental (I'll save that for when they don't renew the contract), too "Mantra/I Believe-ish" (did that last year, gotta come with something fresh Dougie), too Esquire (if I gotta wait until I'm Norman Mailer's age to get Cal Fussman to holla …), this is what I've learned in the last 8,760 hours of my life.
… that 81 points is … Damn!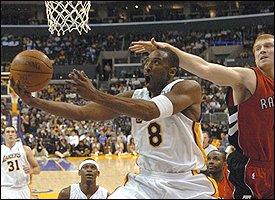 Matt A. Brown/AP Photo
Kobe's masterpiece will be talked about for a long, long time. (Matt A. Brown/AP Photo)
… that as unbelievable as 81 points is, it's still not as inconceivable as one man outscoring an entire team 62-61 in three quarters …
… and doing both of those things in the same season.
… that the third-largest city in the country can win a World Series and no one will care.
… that Cubs fans are the most hypocritical fans in America.
… that even after the Sox won it all, I'm still a Cubs fan.
… that the first thing everyone asks me when they meet me is: "Don't you just hate Stephen A. Smith?" …
… which is always followed by: "Oh … well … uh … then don't you just hate Bill Simmons?"
… that there are three black people -- all athletes -- on the face of the Earth who can't dance … and "Dancing With The Stars" conveniently found all three.
… that Tony Dungy is more of a man than I'll ever be …
… and that he's probably never going to win a Super Bowl.
… that pulling for a black coach to win the Super Bowl is somewhat racist.
… that pulling for a black QB to win the Super Bowl is somewhat pointless.
… that I'll still continue to do both.
… that I was wrong about everything I wrote in that "I Believe" piece last year, except for what I wrote about A.I., Michelle Wie, the NHL, Pete Rose, NASCAR, Biggie, Sean John, Roy Jones Jr., marketing in sports, John Chaney, "MNF," etc.
… never to mention Wes Wesley's name again in print.
… to be careful about what I write, because Jim Rome may make it a topic of national discussion …
… and put you on the spot on his show.
… that television does add 10 pounds, but it doesn't make a difference when you are Earl Boykins' size.
… that Adam Morrison might be the best basketball player not in the NBA.
… that Dwyane Wade might quietly be the most driven athlete in sports.
… that OJ Mayo and Derrick Rose are not the "next LeBrons." But they might be the "next D-Wades."
… that more sportswriters and players on the PGA Tour hate Tiger than are in awe of him.
… that Chuck D was right when he spit: "Some writers I know are damn devils."
… that Andy Roddick might be the most overrated tennis player the ATP has seen in the past 20 years.
… that -- with only one grand slam under her sashé -- Maria Sharapova (WTA) is not too far behind.
… that refs can legally steal meaningful football games.
… that I can disagree with a lot of things David Stern does, but still hold him in high regard, understand why he does what he does, and respect his gangsta all at the same time.
… that after 10 years I can still say Elgin Baylor is one of the five greatest players that ever lived (and maybe the most important), even though he hates me.
… that when someone asks me, "If you were a GM and you had one player to build an NBA team around, who would you choose?" my standard answer is always going to be Sam Cassell.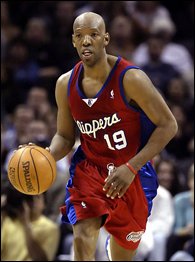 Eric Gay/AP Photo
Can't deny the fact Sam Cassell's got a knack for winning. (Eric Gay/AP Photo)
… that white women love Brett Favre.
… that black women love Julius Erving … but want Carmelo Anthony.
… that there's nothing Nike can't do to a pair of Air Force 1s.
… that McFarlane's has me hooked.
… that it's impossible to answer 22,000 e-mails in one day after you write a column about Phil Jackson.
… that ESPN, MTV and Steve Jobs are the most influential figures in pop culture.
… that Michael Jordan is still bigger than all three.
… that a player can publicly dog the organization he plays for, hold it hostage by contract, call it classless and still expect to get some love from that same organization when he catches his 100th touchdown. And believe he's in the right the entire time.
… that a player can, less than 20 games into a season, when he cost his team a shot at the title the year before, request a trade and feel no responsibility or remorse, gratitude or graciousness. And believe he's in the right the entire time.
… that certain organizations will sacrifice an entire season -- and purposely lose millions of dollars -- to prove a point to one player.
… that Terrell Owens and Ron Artest can make a sportswriter's life hell in the course of 12 months.
… that racism in sports is a one-way street.
… that racism in sports media is an intersection … with no stop signs.
… that respect for what you do and understanding what you say or write are two totally different things.
… that I miss doing feature stories in magazines …
… and that's the reason that 75 percent of the time this column is too long.
… that Dick Cheney was only practicing for the 25-meter and 50-meter Skeet and Prone events in the 2008 Olympics.
… that you should never impose a dress code on a collection of millionaires who can't dress.
… that although Chauncey's wife is the most beautiful, Shaq's wife is the closest to perfection.
… that being the "poor man's Stephen A. Smith" is cool …
… and the pay ain't bad either.
… that drunk fans go one of two ways: Either they hate you but love what you write, or they love you but hate what you write. Never both.
… that Floyd Mayweather may be the only boxer alive that I'd drop PPV money to see anymore.
… that having Isiah Thomas as one of your heroes has become a very hard thing to do right about now.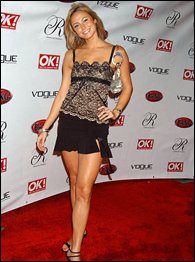 Jennifer Graylock/AP Photo
Stacy Keibler has become a big star, even though she didn't win "Dancing With The Stars." (Jennifer Graylock/AP Photo)
… that there really are no words that can describe Stacy Keibler.
… that the words needed to describe Melyssa Ford cannot be printed in this column.
… that Rick Reilly is the best sports columnist in the business.
… that Marcus Vick and Maurice Clarett don't deserve to be in the NFL. But both will be.
… that it's not weeklong headline news when a white player gets kicked out of the League for two years for violating the NBA's drug policy.
… that the 2 Live Stews will never become Mike and Mike because they'll never get the opportunity.
… that Sean Salisbury and Tom Jackson are two of the coolest individuals on the planet. And that Chris Mortensen may be the funniest.
… that you've made it when people ask you: "When are you going to be on Jimmy Kimmel?"
… that most people will never understand why I think Muhammad Ali is more significant than Jackie Robinson. No matter how many hours I spend trying to explain it.
… that media day during NBA All-Star weekend is still my favorite day of the year.
… that when the WNBA season starts, no one will care that Sheryl Swoopes is gay.
… that a high school basketball coach will allow one player to score 113 points against a team that scored only 36 the entire game …
… and yet we're more concerned about professional athletes' impact on our kids.
… that what David Aldridge told me during the NBA Finals is the truth, like a verse in the Bible: "Scoop, writing for ESPN is different. You can write the same thing in Slam and get a total different response or reaction from the people you write about. People get real sensitive when those four letters are behind your writing. Those four letters have power. Get used to it."
… that although his son Cole is carrying the weight and the torch, I am carrying Ralph Wiley's legacy with every word I write. And I just hope I'm doing him justice.
Scoop Jackson is a national columnist for Page 2 and a contributor to ESPN:The Magazine. He has weekly segments on Cold Pizza and Classic Now and is a regular forum guest on Rome Is Burning. He resides in Chicago. You can e-mail Scoop here. Sound off to Page 2 here.