By Scoop Jackson
Page 2
Here's the math: Fifth in 2003; fourth in 2004; second in 2005.
Somehow though, it doesn't add up. Not last year. And maybe not this year.
At some point the number "1" followed by an "st" needs to be included in the equation. In 2006.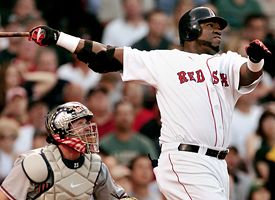 AP Photo/Charles Krupa
If David Ortiz doesn't win the MVP this year, could he ever win it?
This year has been about him. D.O. Big Pop. Papi to you and I. He's turned this baseball season into his own personal "cheaters-proof" summer, finding a way to make many of the baseball writers who cast MVP votes last year wonder whether they made the right decision.
Just like last year, the numbers are not off-the-charts as much as they are simply strong: .290/40/109. It's not like we haven't seen numbers like this by someone with 50-something games left before. It's not like Ryan Howard (.294/39/101) and even Albert Pujols (.326/34/91), who's missed 18 games, aren't putting up comparable digits. And it's not like Jimmie Foxx didn't do the same thing in 1938 when he posted .349/50/175 playing for the same team.
But the walk-offs. Watching his helmet fly in the air, watching the opposing players walk off the field, watching the Red Sox magically, nauseatingly pull out another game they didn't deserve to win. This man has more walk-off base hits (five) than most teams do, and more walk-off homers (three) than any other player has this season. This man, with almost two full months left in the season, is only one "head-dipper" away from the most walk-off dingers since divisional play started in 1969.
And we think LeBron got witnesses?
Fifth, fourth, second? In the last two and a half seasons Ortiz has belted (get this) 21 home runs in LIPS -- that's late-inning-pressure situations. Veinte y uno. Not to mention that in 2004, when Boston won the Series and was the biggest story in sports -- making the cover of Time (the 2005 Series champion White Sox were pictured in a corner of the cover of SI) -- it was he, Papi, that "walked off" not one but two games (Game 3 in the ALDS, Game 4 in the ALCS), becoming only the second player in the history of baseball (Bernie Williams is the other) to hit two walk-off homers in his postseason career.
Bobby Thomson didn't have two. Neither did Bill Mazeroski … Mickey Mantle … Kirk Gibson … Kirby Puckett … Carlton Fisk … even Mr. October himself, Reggie Jackson.
And over the same time period Ortiz has hit .326, blasted 22 home runs and driven in 73 runs in the 221 times he's been to the plate in the late innings of close games.
According to the Elias Sports Bureau, since the start of the 2004 postseason, Ortiz has come to the plate in 19 walk-off situations. And he has successfully reached base 16 times, hitting 11-for-14 with seven home runs.
Clutchness has its anomaly. And it's him.
And this year he's playing better than last. He turned the month of July into his own Snapple party. Making the baseball media almost stop writing about Barry Bonds.
Making baseball voters think … MVP.
There it is. I said it. I shouldn't have to write any more words. The deal should be done, the award locked. Just hand it to him. But, David Ortiz went through the same thing last year. Same talk, same hype, same prediction. And last year David Ortiz walked away with nothing to show for it.
---
Here's the problem: Value. The definition of the word. And the interpretation of that definition. In baseball -- as in all other professional sports -- the ones who decide who is recognized as the "best player in the game that year" always differ on what the center letter of the three-letter acronym means.
The "value" in "valuable" was taken away from Papi last year because he only played half-innings.
"No DH shall inherit the MVP!" was the cry. "Not when the numbers between two players are so even," was the reality.
Jim McIsaac/Getty Images
One thing's for sure, A-Rod won't get many MVP votes this year.
"If I voted last year, I would have been OK voting for Alex [Rodriguez, the 2005 AL MVP]," Boston Globe columnist and every-day Papi watcher Dan Shaughnessy said in response to the voting last year. "I can see where [Ortiz] not playing defense hurt him last year [in the vote] because [between he and Rodriguez] all things were equal."
But this year, a different anthem can be heard straight outta Roxbury. "I have never seen a guy have a continuous sustained effort of clutch hits. This guy has captivated our town and baseball for that matter."
But will the same reason that took him out last year Yankee-clip him again this year?
Last year, when it was mythicized that Ortiz literally won 20 games by himself with either a hit or a home run (actually, 20 of his 47 home runs last year either tied the game or gave Boston the lead), the fact that he was a DH haunted him like bad scripts are haunting M. Night Shyamalan.
Writers/voters held something against Ortiz that Ortiz had no control over.
"You punish a player for something a manager decides to do," little league baseball coach Mac McEwen said. "That's just not fair to the player. Not at all."
Which brings us back to value.
Is the defense of a player who did not win the Gold Glove at his position more valuable than winning so many games with his bat at the plate? Is value considered when the player who actually wins the award has three other players on his team that were in the top 10 in the MVP voting and his team finished with the exact same record as the team of the man who came in second?
Is value considered when determining the player's impact on his team in the clubhouse? When one pitcher, say a Curt Schilling, says, "Without David, we don't make the postseason. David made an enormous impact on this team, and you can't understate his impact in the clubhouse." And when another pitcher, say a Mike Mussina, says, "All [Alex] had to do was throw it on target. He would have been out by 20 feet. I know he's played better. I know he's disappointed in the way he's playing. It's not him right now. We need him back the way he's supposed to be."
How valuable is one player whose teammates will die for him, as opposed to a player whose teammates don't protect him in the press? Does this intrinsic "value" equalize the scales? Make up for not wearing a glove?
It should.
---
Here's the answer: They say the most difficult thing to do in all of professional sports is hit major-league pitching. Including everything that all athletes across all sports have to do on a regular basis, hitting heat from 60 feet, 6 inches is the most impossible.
That's why those that do it only 30 percent of the time are heroes (imagine a field goal kicker connecting at the same clip, or a quarterback, or Kobe from the floor …).
So for David Ortiz to flirt with that number, while at the same time being so much better when the game's on the line -- that's way beyond what MVPs are awarded for.
It's Ruthian. Or as Simmons would say, it's Birdish.
It's time for everyone casting MVP votes to recognize the brilliance of what he's doing while it's unfolding in front of them. It's time to do the math. Correctly.
As Shaughnessy wrote perfectly, "Big Papi is an action superhero come to life."
The fact is, Papi is the best player in baseball, not because he is the game's most complete player but because he's the most dangerous. Most crucial. Most climactic. Most valuable. It's about time he gets some shine -- or something shiny -- for that.
Fifth, fourth, second … this year the answer has to be first.
Regardless of what happens over the next eight weeks. Regardless if the Red Sox get into the postseason, regardless if Derek Jeter decides the MVP trophy needs to stay in the Bronx, regardless if Big Papi ruptures an Achilles or hits a season-ending slump like a shark out of water on the links. So what? Too late. It won't mean a damn thang.
Because right now, as of this moment until there are only eight teams left standing, David Américo Ortiz Arias is the MVP of the MLB. AL and NL. It's so not close the MVP isn't even his to lose.
But that doesn't mean it can't be taken from him. Again.
Scoop Jackson is a national columnist for Page 2 and a contributor to ESPN The Magazine. He has a weekly segment on "Cold Pizza" and is a regular forum guest on "Rome Is Burning." He resides in Chicago. Sound off to Scoop and Page 2 here.