It was supposed to be Regina King in this space. She was the first choice.
Not because she is one of the best female actresses alive. Not because she and my wife got the twin thing going on (the three people my wife always gets mistaken for are Regina King, Natalie Cole and Stacey Dash -- now none of these women look alike, but my wife looks like all three of them, figure that out). But because of her "Aha! Moment" in this month's O magazine. It included the Lakers. Nuff said.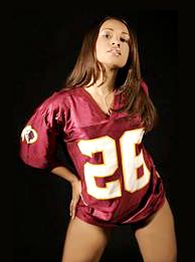 Ahniluv.com
Ms. Luv might make you want to become a Redskins fan.
But when I picked up Show magazine and saw this quote: "I must admit that I have a weakness for sports. I am a die-hard Redskins and Wizards fan!!! So if you're thinking of ideas for the perfect first date, you can't go wrong with tickets to the game," attached to and alongside of Ms. Ahni Luv, she of ultra-urban supermodel fame, I was like, "Merry Valentine's Day!!!"
Regina, love you. Maybe next year.
Scoop: So you're deep into sports?
Ahni Love: Yeah. I'm a huge sports fan. More into football than basketball. But there are not too many sports that I don't get into.
Scoop: Football, huh? So is it a passion, or do you just like it more than every other sport?
Ahni: With football it's a passion. You have to understand, I'm the girl that does nothing but watch football on Sundays. Everything is planned around the games on Sunday. I put on my jersey, everything. If people are throwing functions and want me to make appearances and try to schedule me on Sundays during the football season, I'm like, "I can't make it."
Scoop: So you're telling me you're turning down money to get your football on?
Ahni: Oh yeah. All the time. It's just something about football. It's more exciting than any other sport. I try to never miss any games.
Scoop: How'd you get hooked?
Ahni: My grandmother. She's a die-hard Redskins fan, and she used to sit me down and I'd watch every Redskins game with her. She also taught me the game.
Scoop: So that means you hate the Cowboys?
Ahni: Hate them.
Scoop: So how did you feel when Tony Romo muffed that hold?
Ahni: I actually felt bad for him. I mean, for him to come in, in what, Week 5 or 6, and do so well for the Cowboys and then for that to happen, and for him to carry all of that weight … I really felt bad for him. But only him. Not the Cowboys.
Scoop: Redskins jerseys?
Ahni: I have three: Clinton Portis, Santana Moss, Art Monk.
Scoop: Not to be chauvinistic, but you know you don't fit the part.
Ahni: Exactly! I don't even fit the part of a woman that would be up on sports. Because of the modeling, the Web site, doing videos, doing magazines, guys just think that I might know sports because I might know one of the players. And that hinders things. It gets tiring being a woman and guys only think that you are into sports because of the colors of the uniforms. They just assume that because I'm a woman I don't know what I'm talking about. But once they talk to me, once they sit down and watch a game with me and see me yelling at the screen and calling plays, then they know.
Scoop: That's what Regina King talked about in O, about how dudes don't think you all know. How do you handle those situations?
Ahni: I just continue to talk to them. I like it when guys ask me questions or doubt me. Because once they start asking me questions and once I start talking football and breaking down my perspective on things, they're usually like, "OK, you may know a little bit, you know what you're talking about." Honestly, there are a lot of guys who don't follow sports the way you'd think they would. They just want to say whatever and get to talking and I'm like, "That actually didn't happen in the game. He didn't kick the field goal." Anytime I can catch them in one of those situations, I love it.
Scoop: You said that Pam Oliver was one of your idols?
Ahni: Oh, most definitely. I mean, being a woman in that field and to gain the respect that she does among men and women -- everyone in the sports industry has to respect her. I love watching her on the sidelines. It gives me a sense of pride. As a woman, we can feel where she's coming from, we understand her, we just feel that she's one of us out there speaking for all of us.
Scoop: OK, but at the same time, as a woman, does it bother you that after all of the years she and other ladies like Bonnie Bernstein have been putting it down, that they are still on the sidelines and not in the studio?
Ahni: Oh yeah, that's way overdue. I think [Pam] on the sidelines doing her thing is a great accomplishment, but I definitely think she needs to be up in the booth. The day that that happens, it's going to be big.
Scoop: Do you think it's ever going to happen in sports?
Ahni: Yeah, I think it will. I just don't know how soon. I think the sports industry is beginning to realize how many women watch sports. Even though the majority of the fan base is male and that's who's buying the tickets and going to the games, I think they are realizing that a lot of women are coming out too. So doing something like [promoting] a woman to the booth would be a good move for sports.
Scoop: Did you play any sports? Cause, I really can't see you…
Ahni: You are funny. And yes, I played softball and I played volleyball while I was at Morgan State University. And I'm about to join a co-ed flag football league here in D.C.
Scoop: You mentioned your grandmother earlier, about how she's the one who got you into sports. Tell me what she's like?
Ahni: Oh, she's for real. She just retired a couple of years ago, so now she has time to catch up on all of the sports she likes, not just football. Last year she got me into watching tennis. Now, I'm a football girl, and at first I was like, "I don't know, this is boring, not enough action for me." But she'd keep telling me about Serena and Martina and Venus and after sitting and watching with her, I love tennis now. Roger Federer, Andy Roddick, James Blake, I love it now. And that's where I think I get my passion for sports from. I think I get it from my grandmother.
Scoop: OK, I'm going to test you. If you were NFL commissioner for a month, what would you do?
Ahni: Ooohh. That's a good one. That's actually a very hard question to answer. As far as I'm concerned there really aren't that many problems with the NFL where I'd need to come in and start making immediate changes. I mean, they've implemented a few things and different procedures, but everything seems to be working for them as a league. Now if I were the commissioner of the NBA, I'd be firing some people. [laughs]
Scoop: So how'd you feel about the Super Bowl?
Ahni: I wanted the Colts to win. [Tony] Dungy deserved one. So did Peyton.
Scoop: What about your Redskins? When are they going to win it?
Ahni: To be honest with you, they have a chance next year. I really think we do. If we have a healthy Clinton Portis, a healthy Shawn Springs, Santana Moss playing like he can, Joe Salave'a on the outside line, and last year's addition of Antwaan Randle El, and Jason Campbell coming in midseason and doing as well as he did, we have a shot. We just really need to get into a flow. I have faith.
Scoop: So you know you are borderlining that "perfect girlfriend" territory that most guys run from…
Ahni: [laughs] You would think so, right? I mean, it's cool because me being so into sports allows me to be able to chill out with whoever I'm with and watch the game, and they don't have to worry about me asking a whole bunch of questions or waiting for the game to be over. And if I get good tickets to a game, we [boyfriend and I] are going together. And you can't get a better benefit than that.
Scoop Jackson is a columnist for Page 2 and a contributor to ESPN The Magazine. He's also the host of ESPN Original Entertainment's "NBA Live: Bring It Home" which debuted on Feb. 11. Sound off to Scoop and Page 2 here.