LAS VEGAS -- Throw the oath out the window. That whole "What happens in Vegas, stays in Vegas" vow that everyone takes before entering Sin City is about to be broken faster than Joe Biden's presidential run. Because the reality of what's about to spark in Vegas is something that the town has never seen, never been exposed to and never been a victim of before.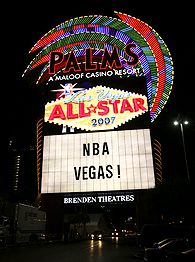 Gary Dineen/Getty Images
The Palms is one of many Las Vegas venues that will rock this weekend.
It's an idea of brilliance that is destined to spin off its axis. Too much, too many, too tempting. Too much money and irresponsibility together at one time. Too many ghetto superstars around wannabe ghetto superstars in the one place where infamy is
the
superstar. Too tempting for grown men to act like grown-ups. And none of us can be too naive to think that some things (plural) that we never think could ever happen over one innocent NBA All-Star weekend won't happen. It will. Because as a Diddy (who's having one of those "gots to be there" extravaganzas at the Mirage with T-Mac and adidas on Friday night) protégé anthemed last summer, "It's goin' dooooown." Too easy.
This is Vegas. Home of pimps, playas and poker kings. Second home to Don King and Suge Knight. The place where high rollers and rollers that are high meet. Where women on the strip and women who strip are impossible to differentiate. And when Vegas mayor Oscar Goodman and David Stern shook hands to put in motion what's 'bout to be "the most ig'nant weekend in the history of sports," they had no idea there was a difference between ignorant and ig'nant. They've never witnessed this side of the game before.
Even gossip columnist Norman Clarke, who in many circles is considered "Mr. Vegas," might remove his signature eye patch and say, "I ain't never seen no ---- like this before in this town."
We are all about to witness something never before witnessed. A weekend that's going to make "Girls Gone Wild" look like "Yentl." Never in the history of Las Vegas has it ever had an event this massive, or one that on an annual basis attracts this many people. The NBA All-Star Game has carried the surname "the Black Folks' Super Bowl" for over a decade. It's the event where you get to see how beautiful of a people we really are and at the same time how messed up our priorities can be (i.e., floor-length mink coats in 80-degree weather, baby's hair uncombed and can't find his parents but has on a fresh pair of $80 infant Jordan XX2's, five dudes who rented five stretch Hummers for the weekend but are sharing one hotel room, etc.).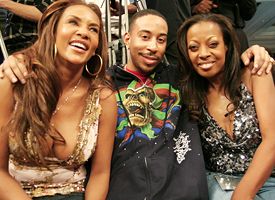 WireImage.com
Vivica Fox, Ludacris and Star Jones are just a few
of the luminaries in town for All-Star Weekend.
Every flight coming into town looked like Soul Plane. Every airport, as my man Mr. Bottoms texted me, "looked like the Million Man March."
And for the first time in America's history the $40 million "employees" William C. Rhoden wrote about are about to enter the world's (change that to "country's" because Amsterdam, Dubai and Brazil might have Vegas beat) ultimate grown-folks playground on the company's dime and time. Free at last, free at last … but this wasn't quite what Dr. King had in mind.
They might have to shut down Interstate 15 coming into Vegas because, as my man from Vegas says, "They don't want too many Allen Iversons running around all at the same time." But that won't be enough, and with the Magic Convention (the largest urban apparel summit in the world) already in town, it'll be too late. The A.I. clones will be there in Bowlegged Lou force. As will the Charles Barkley clones ready to lose $700g, the Steve Nash clones ready to kick it until the paper is delivered the next morning, and the Kim Kardashian clones who are going to turn heads and turn men out to the level that thousands of "Sunshine" calls may be made before the weekend is over.
At the end of the day on Sunday, everybody and they baby's mama is going to want -- and feel compelled to, once they leave Vegas -- to tell their side of the story.
It's only going to take one reported incident to make David Stern wonder, why in the hell did I do this? But the problem will be, there will be more than one.
The over/under is one player arrested, one might get shot, at least three wives will file for divorce on Monday, and (we failed to put a number on this, so fill in the blank) _____ number of kids whose mommies didn't know their NBA daddies before Feb. 15 born 40 weeks from now. Enough to make Shawn Kemp proud.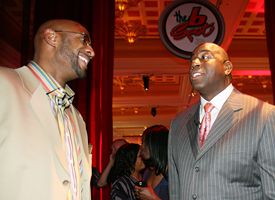 WireImage.com
We're guessing that Alonzo Mourning and Magic Johnson aren't hanging out by the nickel slots.
The single players, the rookies, the sophs, the superstars, the legends, the replacements, the first-timers, the analysts that used to hoop, anyone in the D-League, anyone that is or has ever been a member of the NBA players' union will be fair game.
There will be enough Gabrielle Union replicas to make John Amaechi change his mind. One big Magic City. One big Rolex. One big Sean Paul video. Carmelo beware. Dirk beware. Gilbert (really) beware. The platinum diggers will be out in force. They also know that this is a weekend like no other and the chances of making an Eva Longoria connection with an NBA player over the next three days in Vegas is greater than it's ever been in the league's history. And every one of them will have Joumana Kidd's lawyer in their T-Mobile five by the end of next week.
Every dealer at the Wynn, the Bellagio and Mandalay Bay knows. They've been warned, prepped to make sure the millions that are about to be dropped on velvet tables over the weekend stay in-house as much as possible. Every cop on the LVPD knows. They know they can make names for themselves and wind up on "Inside Edition" if they bust one player doing the slightest thing wrong. Every media person, producer to beat writer to paparazzi, knows. We've been instructed to get stories, find stories on you, your boys who came down to kick it with you, your family. We have orders to hang out with you all, we've been given expense accounts to run up tabs for you, anything to put you and your weekend on blast come Monday's deadline.
It's the lure of Vegas that has lured all of us here. To see if this impossibility can be pulled off without a Stephen Jackson or Kobe Bryant-like scandal. Stern and the Maloof brothers are betting that it can (they are determined to bring a team here); the rest of us are hesitant to call or raise them on it. Either way, it's about to be an experience like nothing we have ever experienced. The coexistence of heaven and hell with the game of basketball somewhere lost in the middle. Hopefully Bill Simmons appreciates it.
I didn't want to come to this year's All-Star weekend, thought it would be too O.C. (outta control). But now I'm glad I'm here. Not for the drama, but for the spectacle, the intrigue of what might happen, the fun, the sadness, the ghetto royalty that's about to unfold. Vegas will never be the same once this weekend is over. Neither might I.
Now if I can only find Tim Hardaway.
Scoop Jackson is a columnist for Page 2 and a contributor to ESPN The Magazine. He's also the host of ESPN Original Entertainment's "NBA Live: Bring It Home". Sound off to Scoop and Page 2 here.