The first nine came with ease.
Kareem. Hakeem. Russell. Wilt. Shaq. Moses. Mikan. McAdoo. Ewing.
In a special edition of the Daily Dime, ESPN.com ranked the greatest centers of all time. There were many others included in the voting, so every man's vote stood for every man's belief. I wasn't speaking for millions, I was speaking for one. Democracy at it's most selfish.
But the editors asked for 10 centers, not nine. Who are the 10 best centers to ever play the game? They sent 32 names as possibilities. Some deserving of long-lost attention (Nate Thurmond), some that made you scream, "What the&?" (Ralph Sampson) [Note: It was a list that included Pau Gasol, so there you go.] Still, definitive-ness was requested. The best ever? Ten? Easy as Jerry Heller's bankroll. Or so I thought.
The brain wrestling involved in picking the 10th best center of all time for this project was like having the first pick in the draft and having to choose between Oden and Durant. Like having to choose between New New and Hoopz. It was a battle between six: David Robinson, Wes Unseld, Dave Cowens, Willis Reed, Bob Lanier, Bill Walton. I couldn't decide who was greater than whom. It was one of those things where actual work had to be done in order to make an informed decision for an informal assignment, hours spent on something that should have taken seconds, one (name) and done. Instead, it took on a life of its own.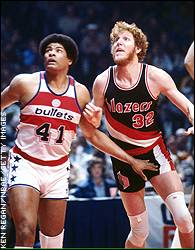 Ken Regan/NBAE/Getty Images
Wes Unseld and Bill Walton battling back in the day.
I called my father. He would know, he of the basketball history instilled in me. He's the one that would make Dick Stockton look like Dick York back in the day if he had a mic in front of him. If anyone knew, it was "the Original."
"Give me those names again," he said when I spit out the list of six. Short pause. "David Robinson," he said with no remorse.
"David Robinson!?!" I think I exasperated back. David Robinson never got to the NBA Finals until Tim Duncan got there and even when he did get that first ring he did it against the Knicks when Patrick wasn't playing.
Pops didn't care. His stone wasn't rolling. I wasn't feeling his answer, so I called the crew.
First, my man Shannon, who I knew at the time had my other man, IP, in his chair getting his Friday afternoon fade.
Shannon and IP had two different answers. Then four. Then they "needed time to think about it." Like Shannon said, "Scoop, this ain't something you can call someone about last minute and expect an answer." They needed time to think. This was serious.
Then, I put in a call to the "Encyclopedia," my god-brotha, Dre. Our crew's Schwab, just blacker and without a television show.
"You already have Patrick (Ewing) on the list?" he asked. "Yes," I say. "I put him on and took Willis (Reed) off."
"I hate to say this, but I might have to go with Walton."
Walton!?! Bill Walton had only two really great years in the NBA. He barely should have been in the NBA 's Top 50 Greatest Players. I'm not going to say that he's historically overrated, but ...
THE TEN BEST
Scoop Jackson's 10 greatest centers and where they ended up ranked by ESPN.com's panel of experts:
1. Kareem Abdul-Jabbar (1)
2. Hakeem Olajuwon (5)
3. Bill Russell (3)
4. Wilt Chamberlain (2)
5. Shaquille O'Neal (4)
6. Moses Malone (6)
7. George Mikan (9)
8. Bob McAdoo (unranked)
9. Patrick Ewing (10)
10. Bill Walton (8)


Dre didn't care. Said you can't hold injury against a man. Reminded me of how I always mention the D.O.C. whenever the conversation of best MCs ever comes up. The D.O.C. had one great album before his accident. I pushed the end button on Dre. Took him out of my fave five.
I made more calls. PJ. SPH. GA. DK. Bardo. Stedman. Flynn. Rob G. Got everything from "Patrick Ewing has no rings, he shouldn't be in anyone's top 10," to "How did you put McAdoo in there?" Nothing about the one I hadn't picked, just drama about the nine already in.
So I hit the books to find the answer. I put in the work. The answer was going to be decided by numbers, not feelings.
For two hours I dug deep into the crates trying to separate the few, the proud, the centers of attention. And what I found literally made the situation ... worse.
Bill Walton's numbers are no different than Willis Reed's. Identical as "Flags of Our Fathers" and "Letters from Iwo Jima." Both have two championship rings, both have one Finals MVP, both played 10 seasons (although Reed played more games). While Walton did get Sixth Man of the Year (1986) his career numbers of 13.3 points and 10.5 rebounds aren't close to Reed's career 18.7 points and 12.9 rebounds. And trying to pick between these two as to who was the greater leader is impossible.
So I went to Wes Unseld, figured his MVP and Rookie of the Year in the same year (1969) would set him apart. Wrong again. Because for everything Wes did, Cowens damn near did the same. Wes had one MVP and one ROY, so did Cowens. Wes won one championship, Cowens won two, but Wes was the MVP in his Finals, Cowens wasn't. Equal. Both were the best undersized centers (Unseld was 6-foot-7, Cowens 6-9) the game has ever seen, played with a heart and style and a style of heart that no longer exists in the NBA. Unseld played 13 seasons, Cowens 11. Wes' numbers: 10.8/14.0, Cowens': 17.6/13.6. Now, you try to separate one from the other.
Then there was David Robinson. He of all the stats and awards. MVP, two championships Defensive Player of the Year (1992), Rookie of the Year (1990), four first-team All-NBA selections ... but if you take away Tim Duncan (and consider how Hakeem dominated Robinson in the '95 playoff series the year Robinson was supposed to be the league's best player) how much different is his career than Bob Lanier's? Lanier averaged 20 points and 10 boards (along with The Admiral, the only ones of the six to do so). Again, take away Duncan and Robinson's and Lanier's careers are like tracing paper, with the exception of Lanier doing it for two teams and Five-O doing it for one. Both faced great competition nightly, playing in strong eras for centers (Lanier vs. Kareem, Moses, Walton; Robinson vs. Hakeem, Ewing, Shaq). And here's the eeriness, they both did it left-handed.
So there I was, back where I started. From nowhere to knowhere back to nowhere. Still couldn't choose the final one, still couldn't make a decision.
Then Royce Webb, the editor on the assignment, hit me up.
"Scoop, I need your 10th center! Now!!!" the e-mail read.
And as much as I hated to type those 10 letters, I think the Encyclopedia was right. For those two years, leading the Blazers to the title in 1977 and then winning MVP honors in 1978, Bill Walton was the best basketball player alive. Unquestioned. He was the D.O.C. A portrait of a masterpiece. No one did it better.
Scoop Jackson is a columnist for Page 2 and a contributor to ESPN The Magazine. He's also the host of ESPN Original Entertainment's "NBA Live: Bring It Home". Sound off to Scoop and Page 2 here.