This story has been corrected. Read below for details
For the first time this season it didn't happen.
In a game that mattered (almost) most, Acie Law IV didn't turn into the alter-egoless hero who began to take over the NCAA over the last three weeks. It was the first game of the quarterfinals of the Big 12 tournament, the conference tournament many believed would produce the team that might win the whole thing.
It was supposed to be his time to shine, to show the world that only begins watching college basketball in March who the real BXII Player of the Year was. Maybe not the best player in the nation, but without doubt the most dangerous.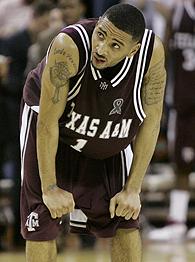 AP Photo/Eric Gay
Law has averaged 17.9 points and 5.3 assists per game while shooting 44.9 percent from 3-point range.
But it didn't happen. Ten points on 5-for-12 shooting in a loss to JamesOn Curry and Oklahoma State stopped Law from having his Jennifer Hudson moment.
And I am telling you, now that the seedings have been set and Texas A&M received a No. 3 seed in the South region, none of what happened in the Big 12 tournament matters. In Law's mind, his time to shine will begin on Thursday, to hell with last week.
"Now it's time for us to take care of business, step up to the challenge," Law said while chillin' with his teammates before their first practice in preparation for a first-round game against Pennsylvania on Thursday.
"We need to play like we are the hunted, play with a chip on our shoulders."
In case any of you missed it during the season, the "Acie Law Show" was the best in show in college basketball. It was hard to see with the illumination of the "Kevin Durant Show," but what Law did, while short of unbelievable, was way past spectacular.
The accolades don't lie: ESPN.com first team all-America, Bob Cousy Award finalist as the nation's top point guard, John Wooden and James Naismith Award candidate (top player and top senior in the country, respectively), Big 12 Player of the Year candidate (came in second behind Durant), second-team academic all-Big 12, Lowe's Senior CLASS Award finalist.
And then there were the heroics. Against Kansas State, he scored 10 of his 18 points in the second half, including a pair of free throws with 7 seconds left that iced a 69-65 victory. Versus Baylor, he scored seven straight points in the final minutes to break open a close game. Against Colorado, A&M led 59-56 when Law lost his mind, scoring 15 of his 21 points in the final eight minutes. Against Oklahoma State, he scored 11 of his 16 points in the final five minutes to put the game out of reach. Against Oklahoma, Law's team trailed 29-28 at halftime, but he scored 14 points in the last eight minutes of a 70-61 win, making 3-of-3 from the field and 8-of -10 free throws. At Kansas, A&M trailed by 11 points in the second half, but Law scored 15 second-half points, including eight in the final 1:38 to lead the Aggies to a 69-66 victory, the first for a Big 12 South team at Allen Fieldhouse in 32 games. His 3-pointer from the deep corner gave A&M a 67-66 lead with 25 seconds left; he iced it with two free throws with five seconds left.
Should I continue?
Putting the Law down
Once Big 12 play heated up, so did Acie Law. Check out what he's done since February:


• 2/3 at Kansas: 23 pts, 7 ast
• 2/5 vs. Texas: 21 pts, 15 ast
• 2/10 at Nebraska: 9 pts, 5 ast
• 2/13 vs. Tech: 23 pts, 4 ast
• 2/17 at Oklahoma: 21 pts, 7 ast
• 2/21at OSU: 19 pts, 3 ast
• 2/24 vs. Baylor: 31 pts, 5 ast
• 2/28 at Texas: 33 pts, 5 ast
• 3/3 vs. Missouri: 20 pts, 3 ast
• 3/9 vs. OSU (Big 12 tourney): 10 pts, 5 ast

Against Bob Knight and Texas Tech, he scored 15 of his 21 points in the second half, including a long 3-pointer that tied the game at 75 with six seconds left (Tech won on a buzzer-beater). In a second game against the Sooners, with his A&M squad down by eight points early in the second half, he scored 17 in the final 19 minutes, including 10 in the final six minutes, making 4-of-4 free throws in the final 30 seconds. Finally, there were the two games against Durant & Co. In one game, he scored 21 points and tied the school with 15 assists in an impressive 100-82 win. Then, in a 98-96 two-overtime loss that might go down as the second-most "Elizabeth, I'm coming home" game of the season, Law's "This is what I do!!!" 3-pointer with 1.1 seconds left in regulation tied it and then his even-deeper three with 26 seconds left forced a second overtime. Law played all 50 minutes and finished with 33 points, three more than Durant.
No (further) disrespect to Durant, but in the Big 12 -- the best conference in college basketball, where it had an entire season of March Madness play -- Law averaged 6.3 points in the last four minutes of games, shooting 75 percent from the field, 83 percent from 3-point range and 83 percent from the free-throw line.
Bookmark that last line. Please.
Basically, over the period of an entire college basketball season, Acie Law IV did what Gilbert Arenas did in December and January, what Randolph Childress did for Wake Forest in March in 1995. Maybe "short of unbelievable" was the wrong phrase to use.
Which is why in this dance to the big dance, Law -- not Durant, not Oden, not Noah, not Afflalo, not Fazekas, not Tucker, not any of the roster of freshmen at UNC -- has to be the one who becomes the "I" in six wins. Where most of the elite teams (those with a top-four seed) can pull out wins without their stars playing star basketball, for A&M to "sneak up" on Ohio State and shake up the world, Law has to play as if his and his 14 teammates' lives depend on his left hand.
With the high probability of so many of these games coming down to the wire, with Law's ability to win games by himself in the second half, with his play getting better as the games get tighter, as his veins get colder as the clock winds down, it's safe to write that he -- and not any of the aforementioned players above -- will be the biggest dream-killing player in the tournament. That of all the players coaches need to be worried about stopping, he is the one that who require the most Advil.
As Dick Vitale said in one testimonial, "Acie Law is the best player in America in the last five minutes. He just loves having the ball at the end of the game."
One shining moment? Acie Law has the ability to have four. Bracketologists, don't say you weren't warned. Greg Oden ain't the one in the South region who will make the difference in this tournament; it's the assassin from Dallas who could own college ball in the next three weeks. The one player who can win the entire tournament by himself.
Before Durant was named the conference's Player of the Year, a friend of mine posed the ultimate question: Can you win national Player of the Year when you aren't the Player of the Year in your conference?
And although Durant was named POY of the BXII, I knew exactly what my friend was talking about. I didn't have an answer. And when I asked Acie, neither did he. He just laughed it off.
"I don't want to lie to you and tell you that I'm not enjoying all of this, seeing my name on these first team All-American lists," Law said. "But I'm still the leader of this team and I can't let my mind slip, I can't get caught up in all of that. My main priority is to get this team to the Final Four. My number one priority is to get to Atlanta."
OK, maybe six shining moments.
Scoop Jackson is a columnist for Page 2 and a contributor to ESPN The Magazine. He's also the host of ESPN Original Entertainment's "NBA Live: Bring It Home". Sound off to Scoop and Page 2 here.

In a March 12 story on ESPN.com's Page 2, an article incorrectly stated that Texas was the Big 12 Conference men's basketball champion. Kansas won the Big 12 regular season and tournament titles. The article also said that Kevin Durant of Texas was the league MVP. The official honor is Player of the Year.