Dwyane Wade is on a mission -- a mission that goes beyond winning NBA titles and becoming this generation's Michael Jordan.
"I want to change communities, not just one community," he says. "I want to help change communities in our inner-cities, for our youth, for our black kids, for all of the young ethnic kids, to change their whole outlook on life. These kids don't experience the world; they are living in boxes. I want them to have the opportunity to get out there, experience what the world is about, not just what the 'hood is about. I want to have to do my part to make sure that they experience the world."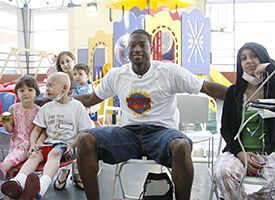 Issac Baldizon/NBAE via Getty Images
Dwyane Wade, shown visiting with patients from Miami Children's Hospital, wants to make a difference in communities across the country.
After winning the NBA championship last June, ballin' on Jordan's level, Wade is in the category the spotlight shines on with every move he makes. SI's "Sportsman of The Year, People's 50 Most Beautiful, the Gatorade deal, the classic T-Mobile spots with Barkley -- all tell the story of Dwyane Wade. But in his mind (and heart) Wade sees himself closer to the person who threw the coach the keys to the truck after he put up that basket in the 'hood in that Lincoln commercial. Not just a pitchman, not just a basketball player.
But it won't be easy. A man can't save the world and save the Miami Heat (and defend an NBA title) at the same time. Something has to give. But if you know Dwyane Wade, you know he's different. Really different. You'd know that the game of professional basketball is just a vehicle for something larger in his life. He has plans in motion now -- he has established the Wade's World Foundation -- and for when he stops playing. He plans to live his life as servant and his initial plan is to use his newfound celebrity to do more than just be famous.
In a series of conversations that took place over a three-month period, I had a look into where Wade is in his life, what he thinks about, how he operates his life, his business, his brand, and how it affects his family. At the end of the day, he feels obligated to be more than just a basketball superstar.
Jan. 28, 2007
Illinois Institute of Technology. Converse Wade 2.0 commercial shoot.
Chicago
We get into the limo, on his way to surprise his mother, Jolinda, in Robbins, Ill., the 'hood outside Chicago he came up in. She's being ordained a minister at her church and thinks her son is on a flight with the rest of his teammates back to Miami (they had played the Bulls the night before). He's leaving behind a gym full of kids who all had on his shoes for the Little X-directed commercial that will springboard him into doing for Converse what Jordan and Tiger Woods have done for Nike. His agent was there, his Converse representative, his business reps, his sister, even Jo Frost, aka Super Nanny. All playing their valuable and necessary roles in what has become sports' newest Fortune 500 company, D-Wade Inc. But once the CEO extends his legs and is able to chill, he opens up about the deeper meaning of the commercial he just shot.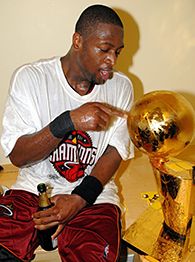 Andrew D. Bernstein/Getty Images
Wade was relentless in leading the Heat to the 2006 NBA championship.
"It's important for me to do this," he says of the concept of using multi-racial, multi-economic kids in the spot. "I want to show that I am accessible and touchable to kids from all walks of life. I don't want to be distant." Although it's just in conversation, you can tell in his words that he wants to somehow tie humanitarianism to his business ventures. It seems unforced, natural, real. "I can't just let basketball define who I am and what I'm supposed to become," he says. "Like my mama always tells me, '[My life] is bigger than basketball.'"
He's become famous, but the responsibility to make that fame matter is what drives him. "When I get through playing basketball, I want to be able to rest my head and say that 'I tried,' that I gave kids the opportunities to try to do things in life.
"I learned from Alonzo [Mourning] that there are things in life that you don't want to do that you have to do because this life that we have is not really about us. You have to go let people see that you are really and truly about this, that you are committed to something more than just this game, that you aren't bull-crappin'."
It's as if he wants to be Oprah and Magic Johnson at the same time -- and not the talk-show host or the basketball player. He sees the life that he has been given as a calling to do something greater, similar to Oprah opening a school in South Africa and starting an Angel Network that gives hope to millions. He could be like Magic and open businesses (Starbucks, movie theaters, T.G.I. Friday's) never seen in the inner-cities because those neighborhoods are forever overlooked due to the devaluation of the economy in the 'hood outside of liquor stores, churches and Foot Lockers.
Wade refuses to let his life go by without doing something now. Not before it's too late, before his true power is gone -- the power most athletes lose when they leave the game.
"The numbers are short," he says of the Robbins 'hood he came out of. "I was the only one in my neighborhood that got out. There were a lot of people at the door, but they didn't go through the door. So there may be one kid that's destined, maybe two. But I'm trying to increase those numbers because they shouldn't be that low."
But before he gets to do that, the limo pulls up to the church. His mother has no idea he is here. He's on God's time now… -- God's and his mother's.
Feb. 16, 2007
NBA All-Star Game. Media Availability.
Las Vegas
The business side of the mission starts here. The face (as witnessed on the side of the Mandalay Bay), the endorsements, the full-tilt schedule. It's more than just social responsibility, more than just protesting wars with T-shirts and taking necessary political, racial and oft-considered unpatriotic stands.
Look around the room, stars everywhere. There is this lingering belief that professional athletes -- most of these same stars -- hold no responsibility. That they don't care about anything outside of self, that their generosity is superficial, that they aren't serving the people who really need help; that they are philanthropic with money when the people and causes in need really need their time. That all of the Make-A-Wish, NBA Cares, UNICEF, and Boys & Girls Clubs promotional appearances are just that: promotion.
To sit back and watch Dwyane Wade try to avoid that perception and navigate his business ventures in front of the media is interesting. To know that everything he is doing, every move he is making, is all set up for more than what's on the surface. The people he hires and surrounds himself with, the corporations and clients he aligns himself with, everything done with a purpose (or mentality) to provide opportunities years from today. Not for him, but through him.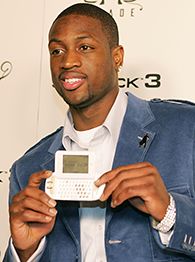 Melissa Majchrzak/Getty Images
The T-Mobile D-Wade Sidekick 3 is
just one of Wade's many business endeavors.
"Last night," he tells us, "my [Converse] 2.0 shoe was released, my clothing line was officially released last night [at a fashion show]. My Sidekick 3 is coming out on Saturday, the D-Wade Special Edition. I have a lot of things with Gatorade coming, my first solo commercial airs during the Rookie Game…." There's more. Then he explains how he's able to make it all happen: "I have a very understanding wife. She understands what I'm doing and as long as I continue to be the person that I am."
What he doesn't tell us about is the Staples Dream Park Challenge in Miami where he's personally involved in rebuilding and improving 14 city parks or the free week-long camp (not underwritten by any company) he holds in Robbins every year, the Christmas party for 250 kids he holds in South Florida, the shoes he donated to soldiers in Iraq, the shoes and clothes he sent to families affected by Hurricane Katrina, the tickets he gave away to three random families to attend the Rookie Game, or how while he was injured he watched the April 1 Pistons-Heat game with 75 kids at the Miami Children's Hospital.
It's about an athlete trying to make a commitment to be deeper than the endorsements because from his vantage point the void of the future can't just be filled in 30-second television spots, billboards, print ads and guest appearances at parties. But this is All-Star Weekend. Dwyane's not stupid; he knows how the game works. The microphones surround him. He gives a glimpse of what D-Wade Inc. is building and how he's trying to four-corner hustle the market that LeBron seems to have on lock.
Again, this is the person he is, the person he wants to become. His wish: to have the impact of a "Livestrong" bracelet.
March 19, 2007
H L Richards High School. Court Dedication.
Oak Lawn, Ill.
It's one of those things that happens to athletes, their equivalent of a star on the Hollywood Walk of Fame: to have the court you played high school ball on renamed after you -- and you (in a business venture with one of your business partners, in this case T-Mobile) finance the new court. He entered the gym via satellite, gave a short speech, spoke to people he couldn't see ... and stayed. Yes, stayed. For the whole hour or so, just him in a room in Miami with a camera while a gym full of students just looked at his face.
"I don't know any other athlete who would have stayed for this," the person sitting next to me said. "Anyone else would have said thanks, figured they'd written the check for this and left. Ten minutes tops. Him? It's things that he does like this that make him different than most other athletes."
The most beautiful part of the day was to see Dwyane's face when he hears his mother speak to the 1,700 kids who filled the high school gym. She gave a sermon, standing on no mount. Her words of "integrity … don't let it stop with Dwyane Wade Jr., you, too, have a calling" moved the crowd. The words moved him. You had a sense by looking at his face as he was listening to her -- and seeing his face in hers -- that maybe the Bible verse of "and a child shall lead them" applies to Jolinda's child.
April 19, 2007
Miami
After pre-taping an ESPN "Sunday Conversation" with Rachel Nichols, after team meetings, after doing a promotional television segment for the Heat, after finally being able to spend the evening with his wife on the anniversary of their first date (he and Siohvaughn have two anniversaries a year), Dwyane told me about the dreams he has and the impact he wants to leave. "What I want out of my life is real simple," he said. "It's to make a difference. Everyone I ever meet, everyone I run into that meets me, I want them to walk away saying I changed their perspective on something. I would like to have some sort of impact on them. Now, I don't know what that difference or impact is that I'm going to make because as you grow you learn more and more about yourself. But I believe God has put me here to do that, to make a difference in other people's lives."
A 25-year-old should not have this on his mind. A superstar about to turn American icon should not think like this, not at this stage of his career or his life, not with this much fortune (and fame) staring him in his face, pulling him away from what's inside of his heart.
I began to think how hard that must be for the people in his life to understand this. How hard it must be for them to see him fight this, how hard it must be to "share" him. He's about to be a father again in less than a month. Babies change you. They force you to want to be the biggest impact in their lives. I wonder how much time fatherhood is going to take away from Dwyane's giving to the world?
April 20, 2007
Miami Heat team hotel.
Chicago
Alone. Just him. Finally. It's playoff time and mentally all of the save-the-world thoughts should be out of Wade's head. His focus: defending the title he (yes, he!) took last year from the Dallas Mavericks. The outside pressure put on him to come back from missing those 23 games due to the separated shoulder was nothing compared to the pressure he put on himself. ("Gary, Zo, Shaq are not going to play this game forever.… No one in the organization put pressure on me to come back… once I heard there was an 'if I can come back.' I was already back mentally. That's all I needed to hear.") Yet, he's found a way to compartmentalize everything in his life, even in times like this when it's most hectic. He's focused, man. Like never before. The focus of D-Wade Inc. is strictly basketball now. All outside projects are shut down until either the Heat win 16 games or loses four out of seven to someone. Dwyane's not even thinking about the four.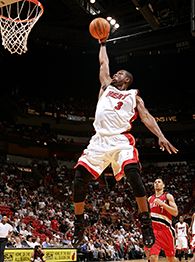 Issac Baldizon/Getty Images
In addition to his off-court pursuits, Wade can still bring it on the hardwood.
Still, I ask him at this point if he feels too obligated to do everything he feels he has to do, to be more important in life than just a great ballplayer, to be the antithesis of the perception of what professional athletes have become?
"Yeah," he responds, "the public perception is out there for you to be a person that they think you are. Sometimes it's hard. But I'm just being me. This is how God made me. I'm not putting on a show for anybody. There are days though where I want to take off, you know."
But Dr. King did not take off, Desmond Tutu did not take off, Jimmy Carter did not take off. Muhammad Yunus and Grameen Bank, last year's Nobel Peace Prize winners, didn't take off when they were exalted to laureate status by winning life's MVP. And while it might seem far-fetched to consider an athlete capable of making contributions to humanity that would be great enough for Nobel recognition, consider that U2 frontman Bono was nominated for a Nobel Peace Prize in 2005. Why not an athlete?
"That would be life-changing, even though I'm not into personal awards," Wade says laughing, almost embarrassed by the idea. Now read into his final words and see if they don't tell you who Dwyane Tyrone Wade really is.
"That would be something my mother could smile about, my grandmother could smile about, my sister could smile about, something my kids could say, 'My daddy didn't just settle for what everybody else thought he should. He went out and did more.'"
See.
Scoop Jackson is a columnist for Page 2 and a contributor to ESPN The Magazine. He's also the host of ESPN Original Entertainment's "NBA Live: Bring It Home". Sound off to Scoop here.