You are never supposed to say, "I told you so," are you?
Even when nine months ago, you discussed on a radio show that even after acquiring the biggest name in offseason free agency, the success of the team all depended on another player. And when you mentioned that player, the people in the booth laughed at you.
Even when you were on a nationally televised talk show in January and argued with the host and a former NBA player-turned-broadcaster and told them this other player should be on the All-Star team and they straight dogged you on the air, basically calling you "Gnarls Barkley."
Even when you are the only one in a group of 16 confirmed NBA experts that cast your vote for him to be recognized as the most improved player in the Association. And even though he didn't win it (he came in seventh), the two games he has played in the playoffs have validated everything you have been saying about this player all season long … at no point are you supposed to say, "I told you so."
Are you?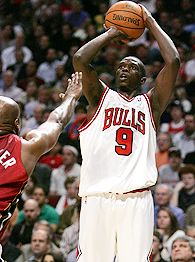 Jonathan Daniel/Getty Images
We don't want to jinx it, but Luol Deng is averaging a gaudy 29.5 ppg through two playoff games this season.
All of a sudden, Luol Deng is the quiet, real quiet, talk of the NBA. If you listen closely -- on the streets of Chicago, in the bars on South Beach, in Hoop this month, SI this week, as afterthoughts on Fox Sports, before commercial breaks on TNT -- you can hear his name creepin' up on everyone the same way his game has on those who chose to play dumb … not stupid, but as if this wasn't going to happen.
But it did and it has. And even though it's only two games into a series that many said the Bulls are not supposed to win (most had Miami in six or seven, including me), the fact that Deng is playing more like D-Wade than D-Wade is right now is something that shouldn't go unrecognized -- even if the humble dude from the Dinka tribe via Brixton via Duke doesn't want to take it there.
"It's only two games," Deng says to me after practice before the team jumps on the flight to fight the Heat in Games 3 and 4 in Miami. "You remember what happened to us against Washington two years ago in the playoffs [the Bulls were up 2-0 and lost the series in six]? You saw what [the Heat] did in the Finals last year?"
But this isn't the same Luol Deng as two years ago, and these aren't the same Bulls. Not even close.
"I appreciate what you are trying to say, but I know all of a sudden I can have a bad game and then all of [the talk will be], 'Ah, he just had a couple of good games,'" Deng says. "The playoffs are long and I don't want to jinx myself."
So far Deng's playoff scoring average is 29.5 points per game after averaging 18.8 during the season. He's shooting 60.9 percent and has yet to miss a free throw. As Sean Salisbury and Steve Rosenbloom said on their radio show after Game 2, "Luol Deng is the best player in the series so far, and that includes Dwyane Wade." And even though Dwyane is not 100 percent Wade, it's Flash that has to outplay Deng now in order for the Heat to, in the words of the late, great Billy Preston via the Beatles, "get back to where you once belonged."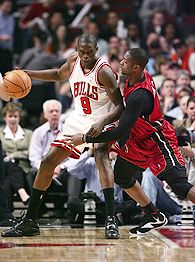 Jonathan Daniel/Getty Images
The best player in the Bulls-Heat series so far is the guy on the left.
What makes this such big news is that going into this series, no one (except those arrogant "I told you so" types) would have begun to think that anyone would be having this kind of "quiet" conversation about Deng. Maybe Ben Gordon, maybe Kirk Hinrich, maybe even Shaquille from the Heat side of things, as the best player in the series and the player all others have to rise above in order to secure victory. But
Luol Deng
?!? Not the player that only received two first-place and seven second-place votes as the man who best took his game to the next level this year.
Not the player who has taken that next level to another level since the playoffs began.
"I think a lot of what's going on with me and my play right now has to do with the disappointment I had last year," he said. "I had a concussion right before the playoffs, and I went into the playoffs averaging about 11 points per game. And before [the concussion] I was averaging about 18 a game. I was really upset about that."
"So does that make this your coming out party?" I ask him.
"You could say that," he says, careful not to give the Heat any bulletin board material. "I mean, I'm playing my best basketball, but then again, it's only two games. We're up two, but what happens if they come back? Then what I've done is all nothing."
He is the last Bull to leave the court after practice. The cameras swarm him. His bright and gentle smile are a perfect complement to his strong African features. In the new international game of basketball, he stands before all as a different type of player. One whose route to get in front of these cameras was vastly different than others who came from different soil to find freedom in this game, in these playoffs.
Escape from Sudan with your family at age 3, flee to Egypt, reside in the 'hoods of London, discover basketball, have the spotlight find you at Blair Academy in New Jersey, lose that spotlight when you get to Duke, enter the draft after one year, play two years of unspectacular basketball in Chicago, have a breakout season behind quasi-superstars (Hinrich, Gordon, Ben Wallace), go 33/8/2 in Game 1, 26/5/6 in Game 2, be the one player Pat Riley has to worry about containing for the rest of the series, become the player most responsible for (possibly) dethroning the champs.
The cameras keep rolling.
I tell him about the "Sports Unplugged" radio show where I put it all on him last summer. I tell him what I told Stephen A. Smith and Tim Legler on "Quite Frankly" in January. I tell him about being the only one to vote for him on ESPN.com for most improved player.
He said thanks. Wants to keep it humble. In his mind he's done nothing yet. Wants to take it one game, one series at a time.
Wants me not to write this column. Wants me to not to write, "I told y'all so" about him.
So I won't. Don't want to jinx him.
Scoop Jackson is a columnist for Page 2 and a contributor to ESPN The Magazine. He's also the host of ESPN Original Entertainment's "NBA Live: Bring It Home". Sound off to Scoop here.