What do you do when you are asked to speak at a camp?
You know nothing about the camp, just that they are playing ball. The camp has been around for only eight years in Chicago and has no NCAA, pro-am or shoe company connection or backing. You ask what big names have come through or been a part of the camp, and they tell you no one. But they tell you that the theme of the camp this year comes from the mind of Nelson Mandela.
You investigate. Find out that the camp is not really about basketball, but about education through basketball. It's called "Books 'N Hoops." Emphasis on books. A camp where both girls and guys play ball in T-shirts with "The greatest glory in living lies not in never falling, but in rising every time we fall" on their backs. Mandela has their backs.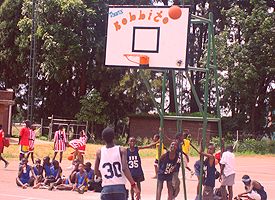 Bobbito Garcia raised funds to build this basketball court for kids in Zimbabwe.
"Our goal each year is to bring together youth with the common goal of basketball and to get them focused on education and set goals for them for college," camp counselor Claudine Randolph says to me.
A camp where they have very little outside funding, where the counselors reach into their own pockets. A camp where everyone is walking around with "LE" (short for Lamont Enis) written on the left sleeves of their shirts as a tribute to one of the camp members who was critically injured in a car accident the day before camp started. A camp where kids who may never have thought about college as an option are now looking forward to maybe one day getting academic scholarships.
What do you do when this camp asks you to be its guest speaker and introduces you to one of the most special basketball camps you've ever heard of?
You speak.
---
What do you do when your nephew calls and says, "Unc, I have an idea and I need your advice"?
The idea is one of straight compassion. Your nephew had NBA dreams, with CBA game. Good, but not good enough. He just graduated from Bethune-Cookman College and cannot land a decent job in his field of study, so he decided at 22 years old and unemployed but extremely employable that he has to begin "giving back."
"My friends and I want to start up this organization for kids called Jamoja," my surrogate nephew, Anis Taylor, tells me. "It's a business concept where we give others the opportunity to have sports mean the same thing in their lives as it does in ours. Our goal is we want to give kids hope through sports. We want to create a community, a sports community, where they can talk and discuss and learn and grow in sports by sharing their stories on a Web site and at a camp. And not just tell their stories to each other, but to coaches, scouts, teachers, counselors, to the world."
He went on to talk about scholarship funds they'd like to create based on merit, on the possibility of creating jobs once the kids finished school. He even told me about the meaning of the name they want to give their business and how it incorporates giving a rare piece of yourself to others to make their lives better.
In my mind I'm like, "Here's a kid who can't find a job who wants to develop something for others so that they won't have to go through some of the same struggles that he's going through?"
"I just don't want any of these kids out here to lose hope, Unc," is what he said was his reason for wanting to do this.
The advice my nephew wanted? "I just need to know if you think this is a good thing for us to do."
What do you tell him?
You tell him how proud you are of him. You tell him how it takes grown men who are no longer kids to do something like this, that it takes special people to even think like this.
You tell him he must do this.
---
What do you do when you read a story about a man in The New York Times who is wrongly accused of a crime?
The man is a former boxer. It's like "Hurricane" Carter all over again. Someone else reads that same story. That person is a friend of yours. But unlike you, he decides to do something about it.
"I read Gary Tyler's story and felt that I had to do something, I just couldn't sit on my ass and watch this man continue to serve time for something that he didn't do," author Dave Zirin told me. "So I started Jocks 4 Justice."
He set up an organization built to right the wrongs of the justice system and provide support from athletes for causes that often go overlooked and unheard. It's social consciousness of athletics without the politics. It builds public awareness and provides support for those who are in dire need, such as the cases of Tyler, and most recently Kenneth Foster Jr., who is scheduled to be executed Aug. 30 in Texas for a murder he didn't commit. Even though prosecutors know Foster didn't commit the murder, as an accomplice he's subject to the same sentence as if he had pulled the trigger under Texas law. Although Foster isn't an athlete or former athlete, J4J still feels the need to have a voice in his case.
The names that appear on J4J petitions fighting for justice? Tommie Smith, 1968 Olympic gold medalist; John Carlos, 1968 Olympic bronze medalist; Lee Evans, Olympic gold medalist; Rubin "Hurricane" Carter, boxer and author of "The 16th Round"; Etan Thomas, Washington Wizards center and author of "More Than an Athlete"; Jim Bouton, former New York Yankees pitcher and author of "Ball Four"; Eddie Mustafa Muhammad, former WBA light heavyweight champion and head of Joint Action for Boxers; David Meggyesy, former NFL linebacker and retired Western Regional Director, NFL Players Association; Jeff "Snowman" Monson, Ultimate Fighting Championship fighter; Toni Smith, former member of Manhattanville College women's basketball team; Dr. Phil Shinnick, member of the 1964 U.S. Olympic team; Bill "Spaceman" Lee, former Boston Red Sox pitcher and author of "The Wrong Stuff"; and others. And it's growing.
"Athletes have a voice," Zirin says. "But it's almost as if they have been conditioned not to use it. I wanted to provide something where collectively they would be able to speak and make significant change at the same time."
So what do you do when your friend asks for your signature?
You sign.
---
What do you do when one of your role models takes it to another level?
Writer, author, ballplayer, legendary dj, all-around renaissance man of the hood, Bobbito Garcia has done just about everything someone can do using a pen and pad to make a living. Columns in "Vibe," founder of "Bounce" magazine, the whole nine. Kool Bob Love, as we call him, has always been my guy and guide, always an inspiration on how to hustle.
But recently, I found out more. In Africa, there is a backboard on a basketball court with the words "Thankx Bobbito" painted on it. It got there through Hoops 4 Hope (H4H), a global, not-for-profit organization designed to enrich the lives of kids in the southern regions of Africa through sports. Garcia, a huge shoe collector and former host of "It's The Shoes," decided to do something. He sent out messages and e-mails to everyone to donate sneakers to H4H because a lot of the kids over there didn't have shoes to ball in. Then he went further. He began, with the sole purpose of urban philanthropy in mind, to get signatures of ballplayers and superstars -- from TO to AI -- on shoes. Then he'd donate to H4H the money that he accumulated at an auction selling the shoes. The funds he was able to raise just from those kicks were enough for them to build a basketball court right outside of the City Sports Centre in Harare, Zimbabwe, in his honor. Where they said "thankx" to him on the backboard.
"I helped raise a couple of thousand dollars for them, donated a couple of hundred shoes over the years," he said in supreme humbleness over the phone. As if it were nothing, as if there is so much more he needs to do.
Or as Mark Crandall, co-founder of H4H said to me, "Bobbito's support of H4H and our efforts to get a pair of sneakers on each kid in our basketball and HIV prevention programs in Africa has been amazing. His continued recognition and exposure in his magazine and on his TV show "It's The Shoes" has inspired so many individuals across the U.S. who have started used sneaker collection drives, or like Bob, just put a pair in a box and sent them to us for the kids in Africa. Bobbito knows the real power of a pair of sneakers and the soul contained in each sole."
Now … what do you do when one of your peers takes it to another level?
Someone like Mike Lupica, who happened to open the doors of his home last month for a party and an evening of fundraising for H4H.
What do you do when you find out two of your contemporaries are that committed to something so necessary?
You follow their lead.
---
These are just a few. Look around you. Search. You will discover more. Much more. Enough to restore your faith. Enough for you to leap, to do the same. Because when sports is overtaken by scandal as it seems to have been recently, it is said that the only way out is through inspiration. Be inspi(red).
So in the midst of corrupt refs; confused commissioners; superstar QBs, pit bulls and felonies; federal investigations; doped-up cyclists; NBA players getting duct-taped and robbed; an NCAA coach trying to cover up a player's death and so many asterisks floating over baseball that it's beginning to look like snowfall, there still are some heroes left in sports. They just aren't in sports.
Just look around you. You never know.
Scoop Jackson is a columnist for Page 2 and a contributor to ESPN The Magazine. Sound off to Scoop here.