CHICAGO -- Ever think that, one day in your life, you'd get a phone call and someone would request your presence at a once-in-a-lifetime event? Something that every sports fan, basketball fiend, kid from the 'hood, child of God, wished they could experience?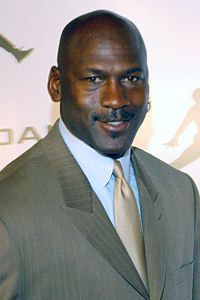 Michael Schwartz/WireImage.com
Walking in MJ's footsteps ... not a bad way to spend a day, eh?
Ever think that, just a few days later. you'd be in a hotel lobby (W) in your home city, standing side-by-side with so many iconic figures in the world of urban journalism: Bobbito Garcia (Bounce), Tony Gervino (Antenna), Datwon Thomas (King), "Hawaii" Mike Salman (LTD), Jay Corbin (Rise), Ben Osborne (Slam), Steve Mullholand (Sole Collector), Memsor Kamarake (Vibe), the ridiculously attractive representative Smokey Fontaine sent over (Laura Fernandes, sportswear and entertainment manager, Giant). All waiting to get on a bus? At 10 in the morning?
Ever think that you'd be on a bus taking you to the United Center -- the home of the Bulls, the house that Jordan built -- and that you'd enter the building the same way MJ did, with flashes poppin' off the minute you stepped off the bus, photographers screaming your name and security guards giving you the nod? And that, once you went into the locker room, you'd see your name posted above a locker, a uniform hanging inside and a pair of autographed Jordan I's (in your size) waiting to be worn?
Ever think that, for one day in your life, you'd get to "be like Mike," literally? Meaning you'd get to know what it felt like to dress in the same locker room he did, get game-ready, and feel the same cold inside the tunnel before you took the court?
Ever think that someone would tell you to "wait" before you walked onto the United Center floor? With the arena dark, except for the lights coming from the Jumbotron, which surprisingly has your name on it? Ever think you'd hear the same synthesized music that MJ heard before almost every home game he played in -- the drums beneath that sound, the Ray Clay voice -- but your name would be called out instead of his?
"Aaaand nowwww, from ESPN.com ..."
Ever think that you'd be standing on the United Center floor, bouncing up and down, waiting for your "teammates" to be called out to join you? "From Slam magazine ..." "From Hoops ..." "From Dime ..." "From Men's Fitness ..." Ever think that when they introduced the coaches, the gods of sneaker design -- Tinker Hatfield and Mark Smith -- would run out of the tunnel? Ever think, after they'd come out -- high and low-fiving everyone -- that the music would stop, then start again, then ... "From North CAROLINA ..."
Ever think MJ would run down the line and give everyone dap, including yourself -- just like he did Scottie, Dennis, Horace, Steve, Craig, Judd, John, both Bills and every other teammate he had?
Ever think that you'd get to spend an hour with Michael Jordan talking about shoes? Not interviewing him, but talking with him? Talking about his life in those shoes? And at the same time, Tinker is talking to you, lending you insight into the craft. Then a shoe is unveiled. Then you are reminded of the embargo you signed before you entered. That nothing said, heard or seen leaves this arena. Ever think you'd be one of only 28 people invited to see the new Air Jordan XX3s?
Ever think that, right before he left, Jordan would walk around and personally hand everyone a special key chain with his fingerprint on it? And that, when someone made a comment about eBay, he'd say, "I better not see any of these on eBay"? And that afterward -- after Jordan left the building -- you'd get to play ball in the United Center for an hour?
Ever think that, like Jordan after a game, you'd have a hot milk and almond pedicure prepared for you in the W at Bliss by Eboni? Ever think you'd have chill-out time after the pampering -- to do an interview, relax in rooms with mink pillows, then sit at the bar and have in-depth conversations with media luminaries like Ric Bucher and Otto Strong of ESPN The Magazine? Ever think that, everywhere you went that day, people would treat you like you were Him? That you'd have dinner at his restaurant (One Sixty Blue) with Jordan? That he'd come down from his private room, buy everyone a drink and thank us for coming, and say that he hoped we enjoyed "his experience"?
Ever think that you'd be given the opportunity to be Michael Jordan for a day? Ever think that, in your lifetime, any of this could happen to you?
Neither did I.
Scoop Jackson is a columnist for Page 2 and a contributor to ESPN The Magazine. Sound off to Scoop here.
Also See
ESPN Top Headlines