"My assumption without knowing this from them is that what guys appreciate from me is that I'm a guy that does things a certain way in a way that I think is best not just for me but for those around me. And they are able to observe that and kind of sponge that into something they can make into their own. Where they can say, 'I like the way D-Fish does that, I'ma add that to what I do in my own way.' At least that's what I hope." -- Derek Fisher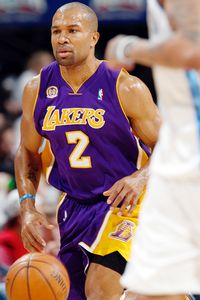 AP Photo/David Zalubowski
Is it a coincidence that the Lakers' chemistry seems to be better since Derek Fisher returned?
Look at their record. Look at where they sit in the standings. Listen to the experts and "know-it-alls" that talk around the League.
The Lakers are for real this year because …
The blank gets filled in with so many different things: of the maturity and development of Andrew Bynum; Lamar Odom is finally able to play his natural position; Kobe Bryant no longer has to average 35 and carry the team by himself; of Jordan Farmar's emergence; Luke Walton, Ronny Turiaf and Sasha Vujacic have finally found their roles; Phil Jackson is coaching with more clarity and taking more calculated (and often brilliant) risks in games. Everything but the obvious.
As much as all of us want to believe that Bryant is the Lakers, he's not. Not anymore. There's a difference between being the best player on a team and being the most important player to its success. In some situations, the team's (or League's for this matter) best player isn't the reason the team wins. In L.A., so far, 34 games in, the black Jack Bauer finally has what he's been asking for since the summer. He just had no idea his wish would come through in an old-school veteran package so "unsuperstarish" and with so little media fanfare, that he -- like everyone else -- might be missing who the real savior is.
"I definitely think he's changed their team and is an upgrade from last year," Phoenix's Steve Nash said.
Nash can't lie. Not about this. He knows the reason his squad has lost to the Lakers twice already this season isn't because Kobe killed them.
This 12 games over .500 record (23-11) they have seems to be better proof of how they are going to make the playoffs this season than the 13 games over .500 mark (26-13) they had around the same time last season, before it all began to fall apart.
It's deeper than Odom saying Derek Fisher "understands the triangle, understands the system, and understands how to win and what it takes to win games." It's deeper than Walton saying Fisher is "the most professional guy on this team." It's about Fish's ability to deeply connect to everything that surrounds him. Deeper than his professionalism, deeper than his 12.6 points and 3.6 assists per game, deeper than his position as the president of the NBA Players Association. It's an intangible that will never show up on any stat sheet or be mentioned in any of those "20/20"-esque halftime packages on his daughter that seem to appear any time the Lakers play on national television. It's the sole and soul reason no one in the NBA is no longer taking the Lakers for a joke.
"When I got traded to Utah," Fisher reminisces, "I went on the Stephen A. Smith show ["Quite Frankly"] and … I told him that I felt I could help that team win eight to 10 more games. They had won 41 games before I got there, and sure enough last year we won 51 games and went to the Western Conference finals.
"Now I know that Deron Williams, Carlos Boozer, Mehmet Okur, Jerry Sloan and so many other guys had so much more to do with that, but in my mind, I definitely like to think that some of the things I bring to a team do make a difference over the course of a season."
Maybe it's the confident humbleness. Maybe it's the shy self-assuredness. Maybe it's because he's been in -- and won rings in -- this offense and on this team before. Maybe it's because he's so organized. Maybe it's the fact that it was Smush Parker that he replaced. Maybe it's because he makes Jackson's job so easy he can do a Pat Riley and leave, then come back. Maybe it's just the calming effect he has on chaos and uncertainty. Maybe it's his natural ability to restore and maintain order. Maybe, as I told him, it's because he's the "other" Sam Cassell, in that every team he goes to instantly gets better. Maybe it's simply because no one in the NBA (with the exception of Cassell when healthy) can do what Derek Fisher does.
"I came back to L.A. because of my daughter, but once my focus became only basketball, I was able to see that this is a young team that's right on the verge of going from a seven, eight seed in the playoffs to a three, four or five seed with home-court advantage in the first round, and anything can happen from there," Fisher said. "I really felt that we could be good and that my contribution could be that reason."
And what about you being the most important player in a Lakers uniform every time you step on the court, I ask him.
"Yeah," he said with a laugh. "I'd like to think that, too."
A few years ago, during the All-Star Game in D.C., I'd gotten into an argument with Shaq about the status of the Lakers. I said at the time, because the Lakers were struggling and Fisher was injured, that "the Lakers were going to be [expletive] until Fisher came back." Shaquille rolled up on me and demanded that I say what I really meant. I repeated what I had said earlier. Verbatim.
"You all aren't going to win anything until Fish gets back in the lineup!"
Funny how history just keeps repeating itself.
Scoop Jackson is a columnist for Page 2. Sound off to him here.