The world has finally given up on Shaq.
Many feel the gimmick is up, there's no room left for the games, that he's not worth his weight or contract on anyone's roster anymore. "Damaged goods," is how one man described him. "Stupid," "Dumb," "Doesn't make any sense," and "What in the #@$% were they thinking?" are some of what's being said. If you've read ESPN.com or any blogs, listened to any sports talk radio or had time to peep the sports pages, you'd know that the Suns are catching heat for bringing Shaquille O'Neal into their almost perfect basketball universe.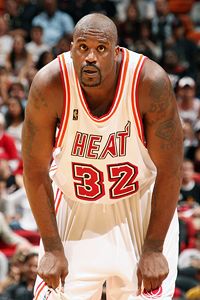 Victor Baldizon/NBAE via Getty Images
At age 35, Shaquille O'Neal insists that he still has gas in the tank.
The same kind of heat the Lakers caught when they gave him up and gave up on him almost four years ago.
But this time the world is looking at this wrong -- too caught up in "Shaq is no longer Shaq" to see how this plan in Phoenix can come together like something originated by Hannibal Smith. See, Shaq doesn't have to be Shaq for this to work. It's just a matter of if it's financially worth it to the Suns in the short run and if Shaq is willing to go along for the ride. If so, SHQ to PHX could be the next-to-best thing that ever happened to the Suns. It's all about how "the best team in the NBA to not have a championship" decides to play it.
Shaq doesn't fit into their style of play. Even if he's in the best shape of his life, he can't get up and down the floor with the Suns. He'll be worthless on offense, and he's going to destroy their flow. He's lazy. He's not going to work hard. He's injury-prone. He's not worth the money. They still won't win a championship with him there.
Wrong. Wrong. Wrong. Sorta wrong. Maybe. Yes. Wrong. Wrong.
In Miami (and in L.A. and Orlando before) Shaq was Option 1 or 2, and over the past two seasons that became a problem. In Phoenix, he'll be Option 4, maybe 5. Mike D'Antoni should have no plans to depend on Shaq for any offense -- heavy emphasis on "depend." Not in the conventional way that everyone is thinking. The pressure on him to score 20 and grab 10 is finally over. Now he'll be the Big Decoy. And because he won't be double-teamed (remember he's still one of the best-passing post players in the game, and the Suns are one of the best outside-shooting teams in the League, hitting 38.7 percent on 3-pointers along with four players capable of dropping 20 to 30 every night), Big stands a chance of being more valuable by doing less in Phoenix.
The beauty is -- again, if the Suns play this right -- Shaq doesn't need to be a part of their transition game, he just needs to ignite it.
Rebound, turn, outlet! Rebound, turn, outlet! Precision. Execution. Buckets. Only six seconds off the shot clock. Back on D. Repeat. So unfair.
It will be so systematic that no one will be able to stop it once it gets perfected. And for those who think it's predictable and defenses will be able to shut it down, here's one to grow on: Whenever teams played the 49ers, they knew where, when and how Jerry Rice was going to get the ball. Yet for years, the best defenses in the game could not do anything to stop it. Nothing. The Niners won four rings with Rice, proving that predictability when perfected, works.
On defense, all Shaq needs to do is breathe, partially because Amare Stoudemire is so active. As long as Shaq doesn't move (and get in foul trouble, which my be a bigger problem on offense), no one'll get hurt. Remember Chief from "One Flew Over The Cuckoo's Nest"? That's Shaq all day on defense. Just play the paint, don't protect it.
There's more grief from the world about this. Grief of how "the Suns should have kept Shawn Marion," how he was "their best defensive player and best rebounder" and how "there's no player in the league like him." All true. But Marion wanted to go. He wanted out of everyone's shadow and the organization's underappreciation of him. And before the Suns ended up like the Grizzlies after trading Pau Gasol and getting "the twin of nothing" in return for the Matrix, they decided to get someone who, if you checked his history, guarantees your team will either get to the NBA Finals or win a ring.
Orlando? Finals in three years. L.A.? Finals in four years, three rings in eight. Miami? Finals and ring in his second season.
See, the Suns are outthinking all y'all. They know that one thing comes almost assured with this trade: They will win a title with Shaquille O'Neal in the lineup. It's just a matter of whether the one ring they get with him is worth the years they won't win while he's still there. The Suns have never won an NBA championship -- just like Miami before Shaq arrived. And if they're smart, they can take the one they'll win and milk it for 30 years -- just like Portland. The question is if $20 million per for the next two seasons is worth getting the one year of ring service they're going to get from Shaq.
There are so many other variables that play to the Suns' favor in this: a front line of Stoudemire, Shaq and Boris Diaw that no squad in the West can match -- not even the Lakers, when Andrew Bynum comes back with Gasol in the slot. Amare will be able to play his natural position, power forward, which causes matchup drama for any other team. Steve Nash is going to get open looks because of Shaq's presence and how coaches automatically forget about other players on the court because they are still afraid of getting killed by Shaq in the playoffs. Shaq's and Grant Hill's passing ability in the half-court will be more dangerous than Nash's, which will now increase the assist-per-game ratio for the team, which is the most difficult stat in the League to alter and one that correlates most to a team's ability to win. Big might come to town rejuvenated. He probably hears everything that's being said about him, which could send him back into 2005-06 mode. Just being gone from Miami with all of the hot mess surrounding his divorce will give him a new lease on his life. Robert Horry might think twice about running a Suns player into the scorer's table next time.
Variables that no one outside of Steve Kerr's office and Robert Sarver's bank account could possibly comprehend. The fact is, by attaining the services of Shaquille O'Neal and not expecting or needing much from a productivity standpoint in return, the Phoenix Suns may have made the most ingenious move in the NBA in the past 10 years. Only time will tell. It's just a matter of how wrong they -- and he -- really want to prove the world to be.
Scoop Jackson is a columnist for Page 2.