If honesty is the most respected policy, then the time has come to be honest.
Seattle, Miami, New York, Sacramento, Milwaukee, Charlotte, the L.A. Clippers (even though Elton Brand is coming back), Minnesota (even though Al Jefferson has established himself as a franchise player this season) and Memphis: It's time to start losing, for real.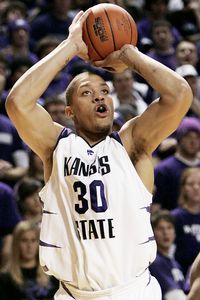 AP Photo/Charlie Riedel
Hard to believe, but Beasley's put up better numbers than Kevin Durant did a year ago.
No more joking around like you're trying to win games and acting like the playoffs are still an option. It's time to start losing with dignity. Not losing like you've been doing all season long, but losing for a purpose;
on purpose
.
And that purpose's name is Michael Beasley.
Yes it's wrong, unethical, immoral and downright sinful. But someone had to say it. So before Beasley wraps up his first (and most likely only) college regular season against Iowa State on Saturday, it's time that someone voices the obvious and brilliant business move one of these lottery-bound teams needs to make in order to have the best chance of grabbing the player who is, right now, better than Greg Oden or Kevin Durant was at any point last year.
Yes, Psycho T (Tyler Hansbrough) will be named Player of the Year. And yes, Kevin Love's more likely to wind up being the MVP of the Final Four. But what Beasley has done -- and will continue to do, as deep as he can carry Kansas State in March -- is worth every cent David Stern will fine a team which begins to tank games in order to improve its chances of getting the No. 1 pick.
Numbers don't lie: 40 points and 15 rebounds against Winston-Salem, 40 and 11 against Missouri, 39 and 11 against Kansas, 44 and 13 against Baylor, 35 and 13 against Nebraska. Heck, in his college debut he served up a 32-point, 24-rebound performance against Sacramento State that only Jennifer Hudson and Diablo Cody could comprehend. In his last six games, the kid who was kicked out of Oak Hill Academy for writing "MB-EASY" on the dean's car has been averaging 34 points and 13 boards.
Granted, Beasley's posting those numbers against college competition. But if he even puts up half those numbers next season, he'll be doing as well as Durant and Al Horford -- this season's NBA Rookie of the Year candidates. Add five points and three boards to that, and Beasley would be an NBA All-Star. Add one more year to get accustomed to his teammates and adjusted to the league, and you'll have LeBron all over again.
And you wonder why I'm advising teams to start losing games to get this kid?
This is not the time to be naive. It ain't the time for amnesia to set in, as if this hasn't happened before. I'm not going to say Cleveland laid the blueprint in 2003. I'm not going to say Orlando threw in the towel when Dwight Howard made it known he was skipping college. You'd never catch me saying San Antonio held David Robinson back from returning from his injury in 1997 to improve their chances of getting Tim Duncan. I won't even say that last year Boston was plotting to get Greg Oden and it backfired.
I'd never say any of those things. But I will say that, during the last 25 years in the NBA, teams have had notoriously b.a.d. seasons (especially after the All-Star break) when certain prodigies are due to enter the draft.
And all I'm saying is, this year should be no different. Michael Beasley? Easy. Worth it.
I hope the Heat, Clips, Grizzlies, Kings, Wolves, Bucks, Bobcats and especially the SuperSonics (seeing how Durant and Beasley have been tight since they were 11 years old) take heed of what I didn't say. I hope they don't take the whole losing-games-on-purpose idea seriously and realize that this is just a joke; my shot at cryptic, tongue-in-cheek NBA sarcasm. Because no respectable professional team would ever do what is written at the top of this page. Not even the Knicks.
Michael Beasley's only one player. Totally disregard what I wrote.
I was just being serious.
Scoop Jackson is a columnist for Page 2.