TORONTO -- This -- you see -- never happens. Ballplayers who coexist in professional sports the way these two do aren't supposed to make it to this point. Experiments like this go bad at the point of concept. You see, this here wasn't supposed to be written the way it is about to be told.
You see, this is the story of a friendship that was supposed to end the minute it began. It's the story of two point guards, both gifted to the degree that they should lead their own teams. Both should be the focus of different squads making playoff runs. Both are supposed to be figurative versions of Chris Paul.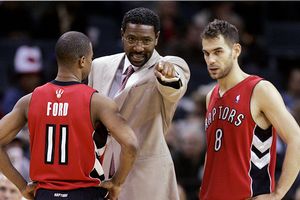 AP Photo/Chuck Burton
Under the eye of coach Sam Mitchell, T.J. Ford and Jose Calderon have competed for playing time in the Raptors' backcourt.
"It's one of the most unique situations I've ever seen in this league," said a media relations member of the NBA who's been with the league for more than 15 years. "I can honestly say I've never seen anything like this."
For T.J. Ford and Jose Calderon, the platooning, time-sharing, co-starring, interchanging, and until recently, dual starting point guards for the Toronto Raptors, this season has been nothing like anything either one has experienced. Ford and Calderon have been forced not to love each other but find love for each other in a way that would have made lesser players -- lesser individuals -- demand trades, sit out or happen upon a mysterious injury to avoid the saga altogether.
But that would have been too easy, too par for the course, too un-unique. Somehow Ford and Calderon saw through all the typical baggage and went atypical. They found a way to make what was supposed to tear them apart work for them. They found a way to maintain a friendship and develop an admirable amount of respect for each other while -- literally, in game situations! -- playing for the commander-in-chief position of the team. In something not yet scripted for Jerry Bruckheimer, they have made their world the best for both in ways Kelly and Carter coulda never dreamed of.
---
You see, that was the story a month ago.
Since then, times have changed. The Raptors recently lost three games in a row to cap a 6-15 stretch. They are now a .500 team, more like Philly than Orlando. And at the center of all this: them. The two PGs who were making the impossible happen, making GMs think that Ford/Calderon's version of Leak/Tebow could actually work in basketball.
But when Ford went down with that ugly nerve injury after being hit by Al Horford on a breakaway in a December game against Atlanta, followed by a strained wrist in February that kept him out for nine days (two games) and Calderon took over, something happened. It was at that point that some began to point the finger as to when this too-good-to-be-true story began to fall apart.
"Ford was playing like a frantic moth in a trapped jar on the court and pouting off it," wrote Bruce Arthur of the National Post. "It added up to a man who could not be a backup."
At the same time, Calderon, who was the starting point guard at the time, came off like a saint when he went to coach Sam Mitchell and said he wanted Ford to have the starting job back because he felt it was in the best interest of the team.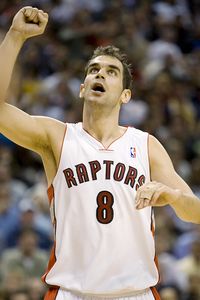 AP Photo/Adrian Wyld
In the eyes of many Raptors fans, Jose Calderon can do no wrong …
"The thing is, their style of play is so different from one another that together they actually make the perfect point guard," said Eric Smith a Raptors radio analyst for The Fan 590 AM in Toronto. "Both do what the other can't. But I do believe that the fans here fell in love with Jose's game. Therefore, I think there is a longer lease for him. It's like he can do no wrong, and T.J. can do no right."
In their coexistence, in their "Ford-Calderon divide" as it has been called, one became heaven-sent, the other hell-bent. It was the classic tale of the perception of one being good while the other inherited the role of evil. So Wicked.
"I don't mind people writing whatever they want to write," Ford said in response to media coverage, of being Darth Vader in the Raptors' personal war of stars because he allegedly sulked, let his attitude hold the team hostage and stopped being the same player once his starting job was taken from him. "But [I have an issue with them] writing on my behalf. If you make your own assessment about me, make sure you state it that way. Saying that I'm unhappy or that I don't like the situation, I never said that, and I don't think I ever showcased that. Everyone in this league wants to play. I want to play. Just because I get mad for a split second does not mean that I'm unhappy about an entire situation. That's just the competitive nature when you are out there battling. But people don't see it that way."
Over the last 20 games (a stretch that included him averaging 14 points and seven assists per game while shooting 54.3 percent from the floor), since he returned to the lineup after missing a total of 25 games because of that injury (an arm stinger that many relate back to the neck and nerve injury he sustained as a member of the Milwaukee Bucks in his second year in the league), he's been painted as the devil. That's something he's far from. But when you -- as he did recently in a game, coincidentally against the Bucks -- start the game, split time in the first half, then have 10 points and six assists in the third quarter and help build a two-point halftime lead into a 16-point cushion, then get taken out of the game with 58.7 seconds left in the third and never return, how are you supposed to act if this becomes the standard method of operation? Happy? Content? Life in the NBA is not a Bobby McFerrin record.
His feelings about Calderon are what make T.J. Ford able to deal with the hand he's been handed.
"He's played so well this season," Ford said, his face lighting up when he talks about Calderon. "It has been a big year for him, and he showed the whole NBA that he's capable of being a starter in this league. I really respect what he's been able to do this year. I think he earned everything he's received. And I think that's what people don't see, because if [respect] didn't exist, you'd see a conflict between me and him. But there is no conflict. We support one another. Now everyone gets mad or upset during the course of a game, but that's just part of it, part of wanting to be the best and not settling."
Now how does one sustain a friendship through something like this? It's not just the internal battle of leadership that they face every day, it's the outside sources of picking sides that forces them to look at themselves and maybe, just maybe, each other in a different light. Am I really good? Am I really evil? Is he? When fans in your home arena boo you for missing a 3 (as fans did to Ford recently), it becomes easy to think these things. When the media starts dubbing you "Saint Jose," it becomes easy to fall into that trap.
"I [do] not get caught up in it," Calderon said of the sainthood placed upon him, especially after he gave up his starting position to Ford on March 26 in a game against the Pistons. "[It was] no big deal, not for me. The team wasn't working very well at the time, so I just tried to do another thing, something else. I just said to Sam [Mitchell, coach], 'Let's try it. Let's try to change things.'"
And in Calderon's eyes, he just doesn't see Ford as someone in the way of him reaching his NBA potential or someone roadblocking what should be rightfully his. Even though he is fifth in the NBA in assists.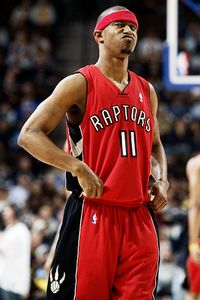 AP Photo/David Zalubowski
… and T.J. Ford can do no right.
"I think we understand each other," Calderon said. "Even if we are to play for the same position or fight for the same spot, we can still be friends because of respect. That's what I'm trying to say. I don't know why sometimes some players have to have problems with one another. The thing is, it's not [about] 'me.' Understand? At the end of the day we play for [a team], not for ourselves."
Their lines over the past few games have been eerily similar. Example: Both played exactly 24 minutes in the last two wins. Ford had 11 points and four assists, while Calderon had two points and 11 dimes in one (Miami). Calderon had 11 points and 10 assists, while Ford had 14 points and eight deliveries in another (New Jersey). Their stats almost guarantee average performances of 19 points and 16.5 assists from your staring point guard every clip. Again, a figurative version of Chris Paul. It makes Sam Mitchell come off like some diabolical genius who has found a secret way to construct the perfect point guard by combining these two, instead of having one play the lead and the other play backup.
When asked how he does it, Mitchell simply said, "Communication. All guys have egos, but I believe if you communicate, talk to the guys the right way … " He talks them through his vision, makes them see the picture big and with clarity. He says he tells them, "One: Do your job as best you can. Two: Do your job as best you can within the team concept. And three: Don't read what you guys write. This is a big-boys league. If you can't handle it, don't get in it."
While we look at the Ford/Calderon situation game-to-game, Mitchell ESPed the whole season. He saw all 82 games, and he'll see the ones that begin come Sunday. Over this period of time, he has made Ford and Calderon look at basketball this way. He's been able to make them understand the uniqueness of their existence on this team at this time in their lives.
---
No one expected any of this. Not this situation, not this season. The expectations were to finish way above .500. But somehow, the basketball gods had something different in mind for them. It's as if they felt the Raptors needed to be tested from the inside.
As Smith said, "Internal competition is a good thing; it stops complacency."
The T.J.-J.C. Experiment has become a small piece to a much larger puzzle that will determine either the success or underachievement of the Toronto Raptors. And just as they have turned a situation that would have destroyed a lesser team into something of a tao of ways, the Raptors realize that their way won't be considered brilliant until they win a ring or one of the two players at the center of this adventure is gone.
(Note: Calderon will be a restricted free agent at the end of the season.)
When you are content to be simply yourself and don't compare or compete, everybody will respect you. -- from the Tao Te Ching
If only everyone understood.
"I just want to be the best," Ford said, still trying to explain himself while the team is winning. "That's my competitive nature. That's where I'm at."
Funny thing is, that's also where Calderon is. In much the same way, but received and perceived differently, Calderon wants the same thing Ford wants. No one -- especially in Toronto -- sees it but them, because human nature forces us to read their personalities as differently as we judge their play. It's a matter of understanding each one of them separately -- their differences as people, their similarities in beliefs, their hidden belief of each other. Their respect.
You see, it's about that respect, as we are told. Nothing more, nothing less. Once respect between two people -- especially two who are being forced to share something that rightfully is both of theirs -- is earned, nothing else really matters or can get in the way to destroy it. You see, T.J. Ford and Jose Calderon know something we don't.
Scoop Jackson is a columnist for Page 2.