I was supposed to bring up this question four weeks from now. This question about the one player left in the NBA who all of us love. It was to be a question of how we all were going to feel once he got his hands on that trophy, once he got that ring on his hand.
There was supposed to be that feeling that would come over all of us -- that feeling of joy indicating that, after all this time, something went right for the right person. That in this cynical and unforgiving existence of the smug, arrogant and pampered professional athlete, the good guy -- the Kid, the one who holds all that is still true and pure about the game and puts it on display every time he steps on the court -- finally won one.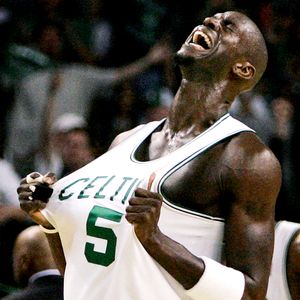 AP Photo/Charles Krupa
Despite Kevin Garnett's enthusiasm, some of the joy has been removed from his quest for an NBA title.
The question was simple: How will you feel when Kevin Garnett finally wins a championship?
It was a question that was to be based on the passion he and the Celtics played with to get to the NBA Finals, their sense of desperation, urgency and hunger. It was a question that was based on the focus and determination he and the squad were supposed to put on display during their championship run in these playoffs. It was a question based on perceived dominance, superiority and separation. It was a question that was on hold until we saw KG -- maybe more valuable to his team's success than anyone, even Kobe Bryant or Chris Paul -- run through three Eastern Conference playoffs series and the Finals like Moses and the Sixers did in '83. Fo'-five-fo' … and fo'.
And because of one series, that question might never be asked.
Yes, Boston won Game 7 on Sunday. Yes, Boston beat Atlanta like the Hawks stole something … or were thinking about it. True, the Celtics did what they were supposed to do. But in the process of doing that, they not only lost the "mystique" that was their selling point, they lost some of the love hidden deep inside many of our souls who almost secretly wanted to see something special happen to the Celtics because we wanted something special to happen for Garnett.
And because of the apathetic nature in which they played on the road against an eighth-seeded, 37-win team and the fact that the Celtics almost let Dallas' loss to the Warriors last year become the second-largest upset in NBA playoff history, the joy surrounding the feeling some of us may have if KG finally wins one will by then be an afterthought. Gone. Lost because our pursuit for his happiness seems like their pursuit for simply getting the job done.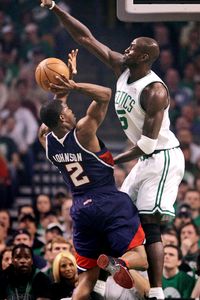 AP Photo/Charles Krupa
Don't say that nobody on the Celtics defended Joe Johnson.
In KG's case, it has been how in every last game of every season he's literally left it all on the court, how he cries in interviews when he talks about not winning, how he smiles when he talks about the feeling he had once these playoffs began and he knew he had a chance, the first real chance he's ever had, to win a chip in his life. How over those years an alarming stat (that he'd gotten out of the first round only once in a career that spans 13 seasons) came to define not just his career but who he was. And because of this, because we feel like we
know
Kevin Garnett, we've developed a
different
feeling for him, one that allows us to pull and root and cheer for him differently, and for different and extending reasons.
It's just a shame that all it takes is one series to erase all of that love. Even though the way Boston played is not his fault, he will catch the blame, and that feeling of compassion many of us feel specifically for him and his plight may be lost once the Celtics do win it all. Essentially now, he can't win for winning.
But KG's not the first, he's just the right now. Many felt this same way about Peyton Manning. For years there were those who almost prayed that he'd break through that "jinx." They felt that the way he played every year come playoff time made the "accusations" of his not having the fortitude to make it to the Super Bowl unfair. So when the Colts finally got there and won it, there was a different feeling that came over those who were along for Manning's entire ride. While we were dealing with the reality that he couldn't win the big one, we disregarded how every year in the playoffs he would lose to a team that honestly was better than his.
Phil Mickelson dealt with the same issue for years and got the same empathetic love. Soon, so will Ichiro Suzuki.
It's the same term of endearment that we hold for Steve Nash never playing in a Finals, for the Cubs going a century without winning a World Series and for Danica up until a few weeks ago.
For Scorsese winning the Oscar, for Lucci winning the Emmy, for Luther winning a Grammy.
It's that feeling that is close to unexplainable that is only reserved for those very special and rare people who have grabbed our attention in a way that transcends what they do. Over the years, we develop a sense of empathy for them without feeling what they feel -- sympathy for them without actually feeling sorry for them. It is something built on the way they leave it all out there but somehow can never will that most important win to go their way. And it's no longer about winning, but how you win now that your time has come.
Truth is, we want to feel happy for KG when he wins his ring. That's the answer to the question. We want that sense of joy to overcome us that we will not have for any other athlete because we've been so wrapped up in his journey for so long and we know that sweat coming out of him on those Gatorade commercials is blood, not electrolytes. But if the Celtics continue to play the rest of the playoffs the way they did against Atlanta, no one is going to give a damn whether KG makes it to the Finals, whether he wins a ring.
And that's the sadness of it all. KG deserves so much better than this from all of us. But then again, so do we from his team.
Scoop Jackson is a columnist for Page 2.
2008 NBA PLAYOFFS Round 2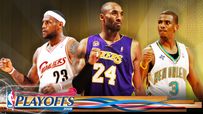 LeBron, Kobe and CP3 dominated Round 1 of the 2008 NBA playoffs, where the top four seeds in each conference advanced to the second round.
Playoff schedule | Playoff bracket | Playoff home
Daily Dime
•
Daily Dime: Lakers end Jazz season in Game 6
•
Daily Dime: Spurs dominate Hornets in Game 6
•
Daily Dime: Rondo gets C's rolling in Game 5
•
Daily Dime: Hornets one win from advancing
•
Daily Dime: Celtics with road woes
•
Daily Dime: Williams puts Utah on his back
•
Daily Dime: Cavs roll in Game 3 victory
•
Daily Dime: Boozer makes impact in Game 3
•
Daily Dime: Spurs keep head above water
•
Daily Dime: Kobe's most valuable promise
•
Daily Dime: Beauty is in eye of beholder
•
Daily Dime: CP3 making Spurs look old
•
Daily Dime: Kobe free to reign in Game 1
•
Daily Dime: Hornets sting the champs
Columns
•
Hollinger: Handing out some playoff awards
Cavaliers vs. Celtics
•
Windhorst: LeBron's chance to be Jordanesque
•
Sheridan: Legacies on the line for Celtics
•
Sheridan: Screwball finish to Game 6
•
Sheridan: Allen finds his range
•
Windhorst: Cavs search for offense
•
Windhorst: LeBron likes his chances
•
Scouts Inc.'s series breakdown
•
Wojciechowski: Rest easy, Celtics ... for now
•
Jackson: Do you still love the Celtics?
•
Series page: More coverage
Magic vs. Pistons
•
Magic eliminated, but won't disappear
•
Hollinger: Hunter dusts off rust
•
Hollinger: Pistons win without Billups
•
Scouts Inc.'s series breakdown
•
Series page: More coverage
Jazz vs. Lakers
•
Adande: Kobe plays supporting role
•
Adande: Jazz find Lakers out of tune
•
Wojciechowski: Miller won't listen on the Sabbath
•
Adande: A year to remember for Fisher
•
Scouts Inc.'s series breakdown
•
Series page: More coverage
Spurs vs. Hornets
•
Stein: Spurs knew Hornets were trouble
•
Neel: Enjoy Chris Paul while you can
•
Hollinger: Champs back to winning ways
•
Palmer: Birdman's redemption bittersweet
•
Adande: Chris Paul's mean streak
•
TrueHoop: Spurs stung twice by Hornets
•
Scouts Inc.'s series breakdown
•
Series page: More coverage
TrueHoop
•
Stat Geek Smackdown: 2008 playoffs
SportsNation
•
Which teams will advance to conference semis?
•
Rank the remaining eight playoff teams
ESPN Top Headlines