Here we go again.
Are you ready? Am I? They are about to either send me into a nonoptional state of euphoria or rip my heart apart. But if you are a fan or follower of Detroit Pistons [sing it] bas-ket-ball!, you are used to this. With them, we live life B.I.G., ready to die.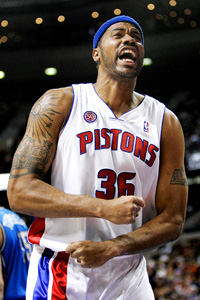 AP Photo/Paul Sancya
Rasheed Wallace plays brilliantly. Then …
It's dysfunction. Them. Us. Together. A relationship built on hope without trust. They make you believe they can win it all, then …
The fallout. Year after year. Potential unreached, business unfinished. Then …
They reach a level of basketball no other team seems to reach. They play a brand of basketball no other team can play. They become heroes, gods of the moment. 'Sheed is everyone's favorite player. Smooth and Rip are one of the best guard tandems ever. Then …
The arrogance sets in, and that typical Pistons malaise begins. You know, when they start playing down to the level of their competition. When they allow a sub-.500 team, the Sixers, to take a 2-1 lead in the first round after they supposedly learned their lesson in last year's playoffs by losing to a one-man team called LeBron after being up 2-0. And right when you are about to give up on them, about to claim another team as your own, Tayshaun makes a thaumaturgic block, and you are hooked again! Sucked back into believing that this a team of destiny and dynasty. That no team -- even one with Shaq and Kobe on it (remember 2004?) -- can beat them. And they prove you right. Then …
They lost to San Antonio in Game 7 of the 2005 Finals because they didn't push themselves during the regular season to earn home-court advantage -- which should have been the difference in the organization having four rings instead of three. Then they came back the next year and played like the 1995-96 Bulls during the regular season, only to let D-Wade outplay their entire team in a series that, on paper, they were supposed to have finished in five games to set up a sweep in the Finals against Dallas.
Now they find themselves in the Eastern Conference finals for the sixth year in a row. Only one ring. The Atlanta Braves of the hardwood.
They are a team that is so consistent in being good that they elude greatness -- sometimes, it seems, on purpose. Like the brilliant kid in school who has an IQ of 140 but flunks classes by design because he's afraid of the responsibility of maintaining valedictorian status, afraid of what being smart really means, afraid of success. Then …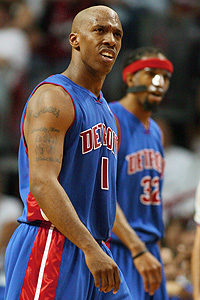 AP Photo/Luis Alvarez
Chauncey Billups and Richard Hamilton dissect opposing backcourts. Then …
It clicks. That light goes off, and they realize this is no longer a game. So they knuckle down, get serious, win games they are supposed to win and some they aren't, and finish a series against Orlando in five games when it should have gone seven. They begin to overachieve. They start to
will
victories in collective efforts, with a different leading scorer and rebounder every game. Then …
They go back to playing that overconfident, impassive, phlegmatic, fearful and loathing Detroit [expletive] bas-ket-ball! that makes you wonder not only why Ben Wallace was the only starter not asked to come back, but why Flip Saunders still is coaching and why Joe Dumars still is considered one of the league's best GMs when his team plays basketball with an insolence that would make Kanye seem humble.
It is this that we have to live with because this is the way they play. A squad unpredictable as hotel showers. A squad you learn to love and hate synchronously schizophrenically. A squad that will give you more gray hairs than Rasheed's premature spot. It is an affair held with a team that will eventually disappoint you, but there's nothing you can do about it. For years I've tried to leave, but couldn't. Can't.
Because now they have to play the Celtics and shock the world. They have to live up to their expectations and get past the reality that this is the series they aren't supposed to survive. No home-court advantage against a team that wins only at home. No chance of beating a battle-tested team that was built to win a ring and has played two Game 7s like its life has depended on them. But because of the way the Celts played in games one through six during their past two series, even non-Pistons fans are beginning to think -- believe -- that Detroit will be the team playing beyond this series.
But us gluttons-for-disappointment Pistons fans know better. We know the dysfunctional co-existence that lives within our team and us. We know the Pistons will win a game in Boston, that they will take the lead in the series, that they will finally play like the team we all know they are capable of being, the unquestioned best team in basketball.
Then …
Scoop Jackson is a columnist for Page 2.