There's a term used in the community called "thirsty."
It means what you think it means, but it's now being used in different contexts. Only to make a point of the extremes to which some people will go to get what they want. More severely, what they need.
Kobe Bryant, for lack of more sophisticated terminology, is thirsty.
His thirst for another NBA title is that of an amplitude we may not have ever seen before. Not in sports, business, crime, corruption or politics. Keeping it community: He's thirsty like a fiend.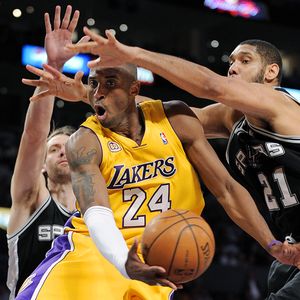 AP Photo/Mark J. Terrill
Kobe Bryant needs to win a title without Shaq.
Now I understand how Bill Maher it is to use a dependency as an analogy to describe Kobe's mental range, scope and capacity and how wrong it probably is to compare "the greatest player of his generation" (as TNT labeled him to promote the Western Conference finals) to Ashy Larry or Bubbles, but it fits. Like disloyalty and Scott McClellan. In technical terms, Kobe is an obligate anti-carnivore.
This thirst -- whether he admits or denies or realizes it -- comes from a needing to do this without Shaquille O'Neal. It's a needing to come as close to Jordan and Jordan's legacy as any other basketball player alive right now … and maybe in the future. It's a needing to prove to himself what he's known and told himself ever since he challenged Brian Shaw to play one-on-one at age 11.
Redemption, chip on his shoulder, edge, anger. None apply. There's a fiend-like component inside Kobe that exceeds all of the above labels that no athlete in any other sport possesses, and the closer he gets to attaining another championship ring, the more impossible it is going to be for anyone -- or any one team -- to deny him. His want has gone into an almost dependence stage of validation, of recognition, of being the last man standing. There is no player or collection of players on Boston's squad -- no player(s) on any team that the Lakers have faced throughout the playoffs, no entire 12-man roster in the league, to be honest -- that can match his need to win this championship.
A compulsion to prove to himself -- and us -- that he's been right all along is what's at the center of this. Right that he's not a bad guy, a prima donna, arrogant, aloof or antisocial. Right that he is engaging and personable. Right that he might be the best basketball player your kids will ever see. Just as he was right about publicly forcing the Lakers to make some roster moves, in every fabric of his being he has to be right about how he sees himself and what he sees himself as. Even though he said in the ESPN Sunday Conversation that he was comfortable being the No. 2 guy while winning rings with Shaq, and in so many words to please stop the Jordan comparisons because there will never be another ("He's a different person … the greatest ever … let me do me …. Thank you!"), those who have watched his evolution -- his ascendance -- know better. He tries to cover it up in interviews and private conversations, but once he gets in "black" Jack Bauer mode it becomes clear as Claritin. He's on something extra. Something that once he calls it quits about five years and three more rings from now, he's going to need some serious form of detox to get out of his system.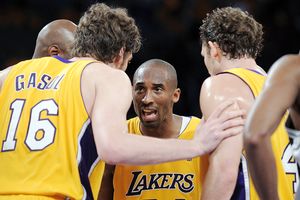 AP Photo/Mark J. Terrill
Does this look like the face of a man who will let anything get between him and the championship?
To everyone else, this is about basketball. To him … this is about survival. His.
It's the life of a fiend. Trapped inside the shell of a basketball player who almost had the game taken from him. The fact that he could have been responsible for not being able to show the world this stage of his life probably still eats at his mind. It might be what ultimately drives him. Maybe it's something deeper, something that revealed itself at birth. Who knows? And the beauty, he'll never -- not even in Spike Lee's documentary about him -- be the one to tell.
The Celtics are thirsty for that ring, too, but they aren't dying of thirst. Which essentially is the difference between Kobe and them -- maybe Kobe and maybe all other human beings. And until KG, Truth and Jesus (anyone: Tiger, Roger, Peyton, LeBron, Kimbo, etc.) can equate death with what it will mean to not win a championship on these terms, until they can make themselves believe -- as Kobe has -- that their survival depends on getting this ring, then their collective and collaborative effort may not be enough.
Winning is the difference between a mission and an addiction. The Celtics are on a season-long mission against a dude that for the last five years has forced an addiction on himself to win. Winning substantiates this dude. It eliminates every doubt that may have somehow crept into his überconfident mind about his ability to carry and lead a team at the highest level of this sport. He has tasted something his competition (outside of Sam Cassell and James Posey) has never tasted, is hooked on something they've yet to sample. Addiction does not come by osmosis, whether it's meth, crack, coke, chocolate, caffeine, nicotine, sex, gambling, drinking or body art. To feel what it feels like to want to experience that same feeling again, you would have had to have it in your system before. The power of that feeling always makes those who reach that level of necessity more powerful than those who wish they knew what it felt like.
Kobe has that feeling. The others don't. And he is still thirsty.
As those who are close to the game and those who still hate him despite what he's done since the playoffs started will testify, you can't beat a fiend at his own game when his game is basketball and basketball is all he has.
Which leaves only one thing left that Kobe Bryant can do: Obey his thirst.
Scoop Jackson is a columnist for Page 2.
2008 NBA FINALS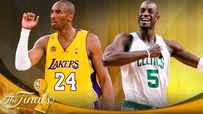 And then there were two -- the Lakers and Celtics. Who will win the NBA Finals? Let the games begin.
Finals schedule | Playoff bracket | Playoff home
Daily Dime
•
Celtics win 17th championship title
•
Did C's lose Regret Game?
•
A little help from Kobe's friends
•
Time for L.A. to go small
•
The Finals Can't Shake Donaghy Mess
•
Unlikely Game 4 comeback gives C's 3-1 lead
•
Rondo's ankle could change L.A.'s game plan
•
Kobe leads Lakers to Game 3 win
•
Lakers need to attack the paint
•
Lakers learn Powe's name in Game 2
•
Time for Gasol to step up
•
Lakers need better defense in Game 2
•
Pierce sparks Celtics in Game 1 victory
•
Expert predictions, clutch stats
•
Pierce loves playing Lakers
•
Celtics to meet L.A. in the Finals
Lakers vs. Celtics
•
Stein: Q&A after six-game "sweep"
•
MacMullan: Pierce's long road to greatness
•
Hollinger: From camp to champs
•
Stein: Boston's big three shine
•
Adande: Questions loom over Lakers' future
•
Hollinger: Celtics commit to defense
•
Scouts Inc.: Game 6 breakdown
•
Hollinger: Farmer steps up in Game 5
•
Sheridan: Late-game letdown for Celtics
•
Stein: Lakers ready to make history?
•
Adande: Greatness eluding Phil and Kobe
•
MacMullan: Doc adheres to dad's lessons
•
Jackson: Time for L.A.'s concession speech?
•
Stein: Game 4 not Kobe's finest hour
•
Adande: KG dominates Gasol again
•
Hollinger: Rivers makes all the right moves
•
Hill: Kobe's Laker legacy on the line
•
Hollinger: Vujacic lends helping hand in Game 3
•
Jackson: Jump shot Jesus has returned
•
Stein: Lakers need to earn sympathy
•
Adande: Lakers feel foul over whistle disparity
•
Jackson: Leading role suits Pierce
•
Adande: Kobe turns away from the pass late
•
Stein: Pierce's knee key to rest of series
•
Finals factor 1: Kobe Bryant
•
Finals factor 2: Celtics Defense
•
Finals factor 3: Paul Pierce
•
Finals factor 4: Home-court advantage
•
Finals factor 5: Battle of the benches
•
Hollinger: Lakers offense vs. Celtics defense
•
Broussard: Turning back the clock

•
Adande: How did Kobe get here?
•
Scouts Inc. breakdown: Lakers vs. Celtics
•
Coaching comparison: Red vs. Phil
•
Smith: Kobe's moving forward
•
Scoop: Fiendin' for a ring
•
Top 10 moments of Lakers-Celtics rivalry
•
ESPN Classic schedule: Relive the rivalry
TrueHoop
•
TrueHoop: Finals reflections
•
TrueHoop: Doc Rivers' redemption
•
TrueHoop: Lakers got Rondo'd
•
Tough night for Allen
•
Game 5 live blogging
•
Laker nation vs. NBA refs
•
Pierce and the evaporating knee story
•
Game 2 live blogging
•
Coaxing Kobe Bryant into hero mode
•
Game 1 live blogging
•
Today's game isn't so different
Simmons
•
Notes from the C's winning night
•
Boston's X factors
•
Game 4 running diary
•
Time for NBA Finals answers
•
The C's and city both look good
•
The Truth comes out in Game 1
•
NBA Finals forecast
•
Chat: NBA Finals preview
•
Simmons: You want a piece of Kobe, Boston?
ESPN The Magazine
•
Sporting Equivalency: NBA Finals meets hip hop
•
Broussard: Reporting from the NBA Finals
Fantasy
•
Join the fun of NBA Finals: Playcaller
Audio
•
Dish: NBA Finals recap
•
Wyc Grossbeck on C's championship
•
Ray Allen on how the Celtics evolved
•
Bob Ryan compares '86 C's to current one
•
Jon Barry credits Tom Thibodeau's team defense
•
Game 4 reactions
•
Rajon Rondo on Pierce, Game 2 plans
•
Bill Walton on Celtics-Lakers history
•
Dr. J on Finals, '80s hoops
ESPN Top Headlines