Kevin Garnett Talks After Celtics' Championship
"I actually didn't say a word to him. I sent Kevin Eastman in to check on him and he said, 'I think he's good.'"
--Boston coach Doc Rivers on Kevin Garnett prior to Game 6
---
BOSTON -- If you knew Kevin Garnett's life, you'd know why he was speechless but could not stop talking.
"Man … man … man."
It's what a man says when he can say nothing but wants you to know just how it feels after his life's search has been completed.
The same way he didn't say anything before the game when his coach went to search him out to possibly share a moment. The same way he couldn't speak, then screamed "Anything's possssiiibbbblllleeee!!!!" and broke down when Michele Tafoya interviewed him on the court immediately after the game. The same way he couldn't say anything else to the greatest Celtic ever as the two embraced on the floor except, "I got my own. I got my own."
It's those speechless moments for a man who can't stop talking. Those are the ones he's been waiting for.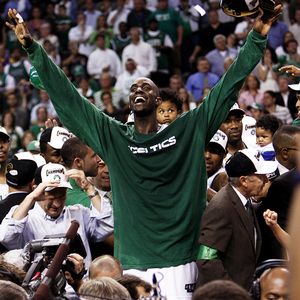 AP Photo/Winslow Townson
How does it feel, KG?
He breathes. Exhales. "I just want to say, other than my kid being born, this has got to be the happiest day of my life right now." He says a few more things. Things about not sleeping for a week, things about changing his cell phone number so no one can find him. He breathes out once again. Bows his head.
"Man … man … man."
And this is how the end of this chapter of Kevin Garnett's life begins.
---
Was he waiting for this moment or was the moment waiting on him?
The moment that will eventually define a career that has placed him not only in conversations about Bill Russell but in conversations with Bill Russell. The moment when he was able to shed all the talk of what he couldn't, can't and won't do on the basketball court. The moment when he showed us that he can come up big in big games, put games on his shoulders and not defer to teammates, win when questions swirl about whether he's one of the best we've ever seen or just a taller, more skilled version of Scottie Pippen. The forever a No. 2 player, but not a No. 1.
It was that moment when he could answer all of the doubters, who for 13 years have believed -- since he first drove around Chicago, too young to get into bars, in an Audi with the license plate that read KG PICK 5 -- that he was less than the elite player he was being sold to the world as.
"You don't understand what this moment means to him," said Jimmy Jam, half of the famed record-production tandem Jam and Lewis, a friend who embraced KG when he first arrived in Minnesota. "On so many levels this is more than just being a world champion. He's a 'we' guy. This is about everything that is good about basketball. This is about the basketball gods that are looking down on this and saying, 'It's time for Kevin.'"
As the walkway between "media-can-go-no-further" and Moet showers got crowded, KG hugged Brian Scalabrine as if they were depending on each another for oxygen. Brian Scalabrine!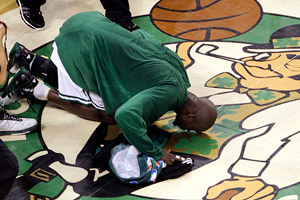 AP Photo/Charles Krupa
After the winning the title, KG kissed the floor where he had the greatest game of his life.
As he watched this moment, Jam said, "For me personally, it's almost like watching one of my sons. … From the time Kevin walked up to me in the parking lot of a grocery store and stopped me and introduced himself and asked me, 'How do I conduct myself in Minneapolis? How do I handle this? How can I be the next Kirby Puckett?' … Watching this is unbelievable."
It's the difference in being an emotional leader and a team's leader, which always gets lost when Garnett's legacy is discussed. And what got lost this season in us finding KG -- outside of watching him give the same amount of love to a teammate who didn't make the Finals roster as he did the man who won the Finals MVP -- was how we cannot make him someone we want him to be.
All season long and most evident in these last six games, we so desperately wanted him to be more dominant, less passive, more like Sam Cassell in a crucial fourth quarter than Tracy McGrady. Throughout the Finals, doubts and statements about him "not posting Pau Gasol up all day and puttin' in work" found more airtime on sports talk radio than Cialis spots. "Expect Great" became an inside joke as a slogan he had loaned to the WNBA.
Expect great. That's the stigma that had been placed on him, one he had yet to overcome in many hearts and minds. And one that he's had to live with. Until this moment in his life. When he could finally let the world know what it felt like to be Kevin Garnett.
You may not have seen that moment. It wasn't when he came out of the locker room before the game, before the rest of his teammates, to get his 90 seconds of alone time before his band of brothers entered the stage. It wasn't the play he made with 47.5 seconds left in the first half when, fouled by Lamar Odom and falling to the floor, he made that Julius Erving-esque one-handed shot. It wasn't about how he lay on the court after that foul with his fist slightly pumped in the air, a picture many writers in the press box felt was the defining moment of his career.
It wasn't found in his teaching Big Baby Davis during the game how to guard Gasol while Gasol stood right there next to them, or when he dove for a loose ball one play later, or how he capped a 13-4 run with a bucket in the lane the play after that, or when he stood under the basket on a dead ball waiting for Paul Pierce to shoot free throws and put his head on referee Joey Crawford's head and talked to him in a way no other player in the league could because no ref would listen to any other player the way they listen to KG. It wasn't in the 26 points and 14 rebounds he ended with in the greatest game of his life.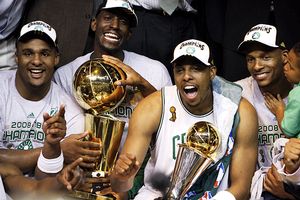 AP Photo/Winslow Townson
Garnett finally got his moment alone with the championship trophy.
No. The moment that Kevin Garnett had been searching for his entire career came while his team, everyone from Doc Rivers to P.J. Brown, sat on the front of the stage singing Queen's "We Are The Champions." He sat between Big Baby and PX2 with the championship trophy in his hands. He closed his eyes, as if to block out everything around him, and said a few words to the trophy. Then he kissed it. He put his head on it. Then kissed it again. And held it there.
Five seconds later, it was over. That was his moment. And if asked he'll tell you that single moment with that trophy was all he ever wanted from this career. And in the most chaotic scene seen in Boston basketball in 22 years, he found a way to have that moment. Surrounded by 20,000 other people. All by himself.
---
But Kevin Garnett wasn't asked that question.
He was asked about his soul in front of a room full of media with a gold championship basketball next to him. After one last "Man … man … man" left his body.
After he had unabashedly let his emotions go in screaming to the rafters, after he had lost himself after the win, his inner kid released itself. He explained what it's been like to be that active, hyper, ever-moving, ever-talking person who had to suppress himself to win the title. What it's like to finally let it all out. To explain what it feels like to finally let this out of your soul.
His analogy revealed who he really is: still the kid. The beauty and innocence of what this game is supposed to be about when money, power and disrespect are not the guiding forces in your life. His answer, one of the ageless. One for the ages.
"You ever go to school," he said, finding the perfect words, "and you had a bully mess with you every day? I know everybody ain't no tough guy here. It's like that bully that you go to school every day [with] and you know when you get out of your mom's or dad's car, you know you're going to see him as soon as you walk through the doors, he's sitting there waiting to pat your pockets and mess with you. Then one day you say, 'This is going to stop today!' You walk in and as soon as the bully pats your pockets you lay his ass out and you see the expression on his face. You're sorta shook because you know what, you just knocked the bully out and you don't know how he's going to come back. The next morning when you come in and he's not there, it's like a sigh of relief. It's like getting rid of the bully. It's like I knocked the bully's ass out! I knocked his ass clean out. That's what it feels like. For all y'all who ain't been bullied, y'all got no idea what I'm talking about. But for y'all who have, you understand my story."
I think, now, we finally do.
Scoop Jackson is a columnist for ESPN.com.
2008 NBA FINALS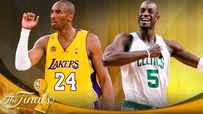 And then there were two -- the Lakers and Celtics. Who will win the NBA Finals? Let the games begin.
Finals schedule | Playoff bracket | Playoff home
Daily Dime
•
Celtics win 17th championship title
•
Did C's lose Regret Game?
•
A little help from Kobe's friends
•
Time for L.A. to go small
•
The Finals Can't Shake Donaghy Mess
•
Unlikely Game 4 comeback gives C's 3-1 lead
•
Rondo's ankle could change L.A.'s game plan
•
Kobe leads Lakers to Game 3 win
•
Lakers need to attack the paint
•
Lakers learn Powe's name in Game 2
•
Time for Gasol to step up
•
Lakers need better defense in Game 2
•
Pierce sparks Celtics in Game 1 victory
•
Expert predictions, clutch stats
•
Pierce loves playing Lakers
•
Celtics to meet L.A. in the Finals
Lakers vs. Celtics
•
Stein: Q&A after six-game "sweep"
•
MacMullan: Pierce's long road to greatness
•
Hollinger: From camp to champs
•
Stein: Boston's big three shine
•
Adande: Questions loom over Lakers' future
•
Hollinger: Celtics commit to defense
•
Scouts Inc.: Game 6 breakdown
•
Hollinger: Farmer steps up in Game 5
•
Sheridan: Late-game letdown for Celtics
•
Stein: Lakers ready to make history?
•
Adande: Greatness eluding Phil and Kobe
•
MacMullan: Doc adheres to dad's lessons
•
Jackson: Time for L.A.'s concession speech?
•
Stein: Game 4 not Kobe's finest hour
•
Adande: KG dominates Gasol again
•
Hollinger: Rivers makes all the right moves
•
Hill: Kobe's Laker legacy on the line
•
Hollinger: Vujacic lends helping hand in Game 3
•
Jackson: Jump shot Jesus has returned
•
Stein: Lakers need to earn sympathy
•
Adande: Lakers feel foul over whistle disparity
•
Jackson: Leading role suits Pierce
•
Adande: Kobe turns away from the pass late
•
Stein: Pierce's knee key to rest of series
•
Finals factor 1: Kobe Bryant
•
Finals factor 2: Celtics Defense
•
Finals factor 3: Paul Pierce
•
Finals factor 4: Home-court advantage
•
Finals factor 5: Battle of the benches
•
Hollinger: Lakers offense vs. Celtics defense
•
Broussard: Turning back the clock

•
Adande: How did Kobe get here?
•
Scouts Inc. breakdown: Lakers vs. Celtics
•
Coaching comparison: Red vs. Phil
•
Smith: Kobe's moving forward
•
Scoop: Fiendin' for a ring
•
Top 10 moments of Lakers-Celtics rivalry
•
ESPN Classic schedule: Relive the rivalry
TrueHoop
•
TrueHoop: Finals reflections
•
TrueHoop: Doc Rivers' redemption
•
TrueHoop: Lakers got Rondo'd
•
Tough night for Allen
•
Game 5 live blogging
•
Laker nation vs. NBA refs
•
Pierce and the evaporating knee story
•
Game 2 live blogging
•
Coaxing Kobe Bryant into hero mode
•
Game 1 live blogging
•
Today's game isn't so different
Simmons
•
Notes from the C's winning night
•
Boston's X factors
•
Game 4 running diary
•
Time for NBA Finals answers
•
The C's and city both look good
•
The Truth comes out in Game 1
•
NBA Finals forecast
•
Chat: NBA Finals preview
•
Simmons: You want a piece of Kobe, Boston?
ESPN The Magazine
•
Sporting Equivalency: NBA Finals meets hip hop
•
Broussard: Reporting from the NBA Finals
Fantasy
•
Join the fun of NBA Finals: Playcaller
Audio
•
Dish: NBA Finals recap
•
Wyc Grossbeck on C's championship
•
Ray Allen on how the Celtics evolved
•
Bob Ryan compares '86 C's to current one
•
Jon Barry credits Tom Thibodeau's team defense
•
Game 4 reactions
•
Rajon Rondo on Pierce, Game 2 plans
•
Bill Walton on Celtics-Lakers history
•
Dr. J on Finals, '80s hoops
ESPN Top Headlines