CHICAGO -- Before Derrick Rose's news conference began Monday, the Chicago Bulls' PR department e-mailed a release saying the team's new point guard had changed his mind about wearing No. 25 and would now wear No. 1.
As Rose sat there introducing himself to the world, he held up and posed with his new No. 1 jersey that over the next three years -- or maybe 15 -- could define his career. The smiles, the questions, the promise, the hope.
Ladies and gentlemen … the moment we've all been waiting for … the return of one of our own, who's come home to save us … the No. 1 pick of the 2008 NBA draft … from Simeon High School … The Future!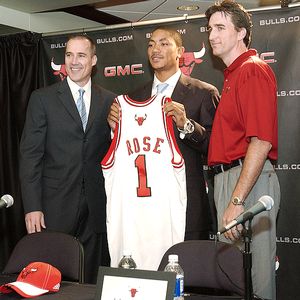 Randy Belice/NBAE/Getty Images
Derrick Rose, flanked by GM John Paxson on the left and coach Vinny Del Negro, is No. 1 in the hearts of Bulls fans.
While Rose was being introduced as the prodigal son of the Bulls, few in the room knew that there was part of this story that wasn't just about him.
---
Jeff Wilson sat in front of a television and watched -- seeing not the next great Chicago basketball prodigy coming home, but seeing the life of his brother come full circle.
Jeff's brother, Ben, was murdered 24 years ago, just before the start of his senior season, after he bumped into two gang members while walking down a Chicago street. At the time, Ben Wilson was the No. 1-ranked high school basketball player in America, a 6-foot-8 skinny kid who could handle the ball and score from outside. He was the one who was going to come out of Simeon and be selected with the No. 1 pick by his hometown team. He was the one who was going to hold up and pose with a No. 25 Bulls jersey. He was the one who was going to make Derrick Rose's life seem not so unique -- because we were all supposed to have seen this before.
But God had another plan. They say through death another life is often found. They say death simply makes room for someone's life to find fulfillment. Ever since Rose was in seventh grade, there has been talk around Chicago that he was the one to fulfill Benji's life. And when Rose wound up going to the same high school as Benji and wearing the same number as the one on the uniform Benji was buried with, it became more than coincidence that Derrick Rose was the second coming in more ways than what were on the surface.
And now this.
The culmination of a lifelong dream that has extended itself into two lifetimes and two different lives. As Rose's black suit shined in front of the media, many people walking up and down the streets on the South and West sides of the city knew the spirit of what was happening to the kid nicknamed Pooh partially belonged to someone else.
"There's a spirit in him. The spirit of Benji is being shown through this brotha," Jeff said as he watched this afterlife scenario unfold. "He has it. Derrick Rose has my brother's spirit."
There's a joy in Jeff's voice as he says this. A completeness. It's almost as if he's more happy for Derrick than he is to see a connection to his brother's life, something akin to the closure he and his family have been in search of. Of all of the ballplayers from Chicago who have followed the path of Ben Wilson by wearing the No. 25 as a tribute while either at Simeon, the University of Illinois or in the NBA (Nick Anderson, Mario Bailey, Deon Thomas, Bryant Notree, Rose), none got to the core of Benji's "spirit" more than Rose. Especially once the Bulls won the lottery.
Many who witnessed Benji's life end will look at Derrick in a Bulls uniform through rose-colored imagination. Not the R-O-S-E that will be stitched on the back of his jersey, but of the thousands who have been placed next Wilson's casket inside Oakwood cemetery over the years. It's a vicarious dream that Rose is going to have to share with many people in Chicago until he's able to separate himself from the footsteps of the martyr he inadvertently fell into.
And although he shies away from the subject (Rose declined to talk about Benji), it remains a somewhat beautiful tribute to someone whose legacy is so omnipresent in Chicago that Kevin Garnett -- who didn't know anything about Wilson before he came to Chicago from South Carolina to play his final year of high school basketball -- wrote "BW" on his sneaks in honor of the player Rose's career is about to complete.
"To me, it's an eerie feeling," Jeff, a screenwriter who is shopping a script of his brother's life in the Sundance/Tribeca/Cannes circles, said on the night of the draft. "A friend of mine called me when the Bulls won the lottery and broke it down to me: He said that the Bulls had a 1.7 percent chance of winning the lottery. Now take away the decimal and what do you get? Seventeen. The age Benji died.
"I know they are two different people, but I see the same path of greatness in Derrick that we all saw in my brother. There are too many similarities."
---
"My whole life is like a dream," Rose said Monday. "In high school, I did great. My past has been great. And this, just to top it off, I'm playing the highest competition of basketball and it's in my hometown. I really can't believe it right now."
Rose called it "a dream come true." Saying he "wants the pressure" of playing for the Bulls after watching them win rings while he was a kid. But there's added pressure that Pooh has inherited something that might be even heavier -- although less difficult -- than playing in the shadow of Michael Jordan.
Try playing in the shadow of a ghost.
This might be the reason Rose and his family decided not to choose the No. 25 that Rose wore at Simeon (he wore No. 23 at Memphis). Because as much as Derrick Rose carries the spirit of Ben Wilson with him on the basketball court, he still must find his way in the game and find himself. Still, it might be something so deep that a decision to flip a jersey number might not be enough.
Jeff Wilson will continue to carry with him this truth that his brother's basketball life is spiritually being finished by someone else. He isn't alone. Hoop aficionados feel the same way. And as right or wrong, fair or unfair, as it is to Rose, that's life. And in this case, death.
Jeff says of Pooh, "One day I'd love to met him."
I'm thinking that maybe he already has.
Scoop Jackson is a columnist for ESPN.com.