The boast of heraldry, the pomp of power,
And all that beauty, all that wealth e're gave,
Awaits alike th' inevitable hour.
The paths of glory lead but to the grave.
--Thomas Gray, "Elegy Written in a Country Churchyard"
It seemed as if they came at will. Children of the concrete, not of the corn. By some strange force of nature that continued to birth point guards by the decade. From every borough they sprung. From the womb straight to West Fourth or Dykman or 155th.
Or at the Soul in the Hole tournament.
Or in the Entertainer's Basketball Classic.
Every summer, there was another New York City point guard, better, more gifted than the one before. They built reps, built legacies, had false truisms about things they did spread throughout the city, got nicknames from Duke Tango, had people as far as Cali shook, had afro'd shorties in Atlanta makin' hot sauce, had white prodigies in Oregon becoming professors. They provided shoe companies marketing campaigns that turned into TV shows and film docs. They went from urban legends to urbane phenomenons. They became street ball royalty, college stars, NBA prospects. Then all of a sudden -- the New York City point guard disappeared.
MORE CITY HIGH
This week, ESPN.com is taking a look at some of the nation's top basketball hotbeds. Be sure to check out the City High interactive map and vote to determine which city produces the best talent.
Or died.
The blame? They put it on Bassy Telfair. But one kid can't kill an entire culture … can he?
With Chris Paul coming from Winston-Salem, N.C., Deron Williams from Dallas, Tony Parker imported from France, Derrick Rose from Chi, Brandon Jennings from L.A., Jerryd Bayless from Arizona and Ty Lawson from Maryland, it seems like the day of the New York City "point god" is over. A position it seems was created by those from New York is no longer the cornerstone of the city's relevance in the basketball workforce.
They even let an outsider from Pasadena, Calif. -- Larry "The Bone Collector" Williams, someone The New York Times in 2005 called "a New York street star to end all New York street stars" -- come to Rucker Park year after year, break N.Y.'s finest down like syllables, then leave, vowing to never come back, claiming no one in New York could stop him. Rod Strickland never would have let that happen.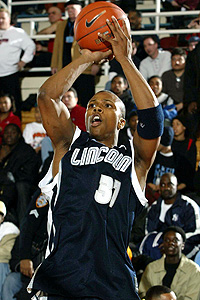 Dave Saffran/WireImage.com
Sebastian Telfair was a star at Lincoln High School, but his NBA career hasn't panned out.
But apparently it has happened. Been happening for a while. And once Sebastian Telfair did not turn into the star many (including this writer) expected him to become, the Krylon was on the wall that the city's forever-long run as the producer of the greatest point guards on Earth had come to an unpredictably sad end.
But to know the New York point guard is to know that the NBA has not, does not and will not define him. To players like James "Speedy" Williams, Robert "Master Rob" Hokett, God Shammgod, Khalid Reeves, Kareem "BKS" Reid, Ed "Booger" Smith, Molloy "The Future" Nesmith, Mike "Smooth" Campbell, Omar Cook, Larry Ayuso, Shaheen Holloway or Ed Cota, it never was about just making the NBA. Because unlike any other place on this planet, having a million people in New York know who you are and what you do is more rewarding than having a million people around the country watch you on TNT or collecting a check with a million dollars on it.
What's the point in being Jamaal Tinsley, a quasi-respected midlevel starting point guard for the Pacers, but having no one north of 110th Street honor you as dude in the summer, when you could be Kenny Satterfield or Andre Barrett, who dropped 68 and 66 points, respectively, in a Hoops in the Sun tournament game in the Bronx two weeks ago, and get love so unconditional that people riding the 6 uptown with you start rating you as the basketball equivalent of Zeus?
That "love you for life" trade-off that most NYPGs have succumbed to over the past 10 years is possibly the reason the "foreigners" have been taking their spots in the NBA. To the point gods left in NYC -- Dwight Hardy, Jeremy Hazell, Kemba Walker -- the world can have that spot; they no longer want it, no longer need it.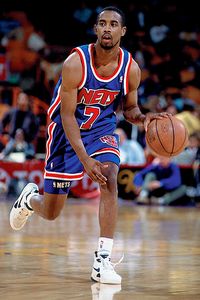 Jon SooHoo/NBAE/ Getty Images
Kenny Anderson was just one in a long line of New York City point guards who starred in the NBA.
There once was a time when the world was big enough for everything the New York City point guard had to give to the game. Yet instead of these point guards changing, the game has changed around them. No longer do players like Bob Cousy, Lenny Wilkens and Nate Archibald come from the city and invent a style of play that is appreciated by the masses, leads to Hall of Fame careers and wins NBA championships.
Gone are the Mark Jacksons, Kenny Smiths, Kenny Andersons and Stricklands who did their thing in the parks but still were savvy enough to showcase their skills at major Division I schools, convincing GMs they could run professional squads but doing so without selling their basketball souls to the NBA.
There might never be another Rafer Alston. Ever.
Left standing from this basketball exodus are the likes of Corey "Homicide" Williams, the oxymoron: a point guard so good he probably will never see an NBA check.
And just like a stage actor on Broadway who doesn't need Hollywood to find joy or a gospel singer who refuses to leave the church choir to sign a record deal or a community activist who doesn't need to be an elected official to have societal impact, the ones who have soul control of the basketball on the streets of New York are fine with the shine they get from the concrete that gave them life.
Why conquer the world when New York is a more difficult challenge?
Which is why it is only us -- the outsiders -- who sweat Bassy and use his professional career (so far) as the Malachi (the last chapter) of basketball in New York. The game is so much bigger than just the NBA. The point gods still exist in New York. They just happen to be doing something different.
Which is what makes the Thomas Gray lit so profound. It is a favorite passage of John Wooden. And who better than him to put the game of basketball into a perspective not many of us can relate to? The truth in the words applies to the whole game as it resonates from coast to coast, but more directly to the extinction of the NYC point guard.
"The pomp of power … the path of glory lead but to the grave."
The game.
And now there's only Kemba Walker left to resurrect it.
Scoop Jackson is a columnist for ESPN.com.
CITY HIGH

Regional Roundball prowess has little to do with geography and climate. In fact, America's basketball hotbeds are located in many densely populated areas from New York to L.A.
Features
•
Murphy/Lawlor:
City High interactive map
•
Scoop Jackson:
New York's missing the point
•
Miller:
Seattle's staying super
•
Lawlor:
Houston a launching pad for hoops talent
•
Zoom Gallery:
City High flashes forward
SportsNation
•
City High Tournament
•
Who are the biggest stars of City High?
•
Rank the New York point guards
•
Join the conversation
ESPN Top Headlines