I've got a friend named Ray. He came up to me the other week and said, "I want you to play in this golf tournament."
Here we go.
Now, Ray and I have been friends for years, traveled the world together on assignments. He knows that I don't do golf. Never have, never about to. We've had this conversation before, but still, he asks. The tournament was for a good cause, a fundraiser for someone we both know. He threw in the variable that the tournament wouldn't take place until a year from now, which gave me time to "learn" how to play. He even offered to purchase me a set of irons and pay for driving lessons so that I could at least "every now and then hit the ball close to the green."
The optimism.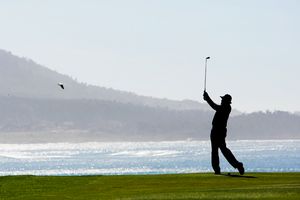 Jed Jacobsohn/Getty Images
Really, Scoop? Not even Pebble Beach? Just once?
Everything Ray shot at me I shot down. Even the sentimental aspect of what the tournament is about didn't shift my stance. I will tell you as I told him, "I'll give the foundation $10,000 before I pick up a golf club and try to raise them $200." I told him under any and all circumstances, I am definitely not playing. And when he asked why (for the 28th time) I explained to him (for the 28th time) why I treat the game of golf the same way The New Yorker should satire: I stay away from it. Far, far, far, far … far away.
There are four things in life I refuse to do: Crack, video games, MySpace and golf. I've seen the damage all can do, how they can destroy people's lives. And of the four of them, golf, in my opinion, is easily the most addictive -- the one that would ruin my life the quickest if I ever touched a 9-iron.
How it happens, I don't know. But I've seen it. All of us have. We've seen friends or family members reach a certain age, pick up some clubs, and never come back. They're gone, walking zombies. The game gets into their system like meth. Their eyes, walk and language change. They start talking in handicaps. Closets become full of Callaway caps and Titleist polos. They go to Hilton Head and Scottsdale for vacation instead of Amsterdam and Brazil. They disappear weekends at a time.
I've watched dudes lose $100,000-a-year jobs because they missed too many days and hours at work, stuck on the golf course. I've seen dudes succeed through drug, alcohol, sex and gambling rehab programs, but golfers can't stop golfing.
A friend of mine was fired from his job for habitual tardiness. He couldn't get to work by 9 a.m. but never missed a 5:30 a.m. tee time. Why? He couldn't answer. But with his first unemployment check, he bought a set of TaylorMade clubs.
I asked another friend, whose wife left him because he spent, in her own words, "every waking moment of his life that he wasn't at work on that damn golf course," how he could justify choosing golf over his family (they had two kids). His response: "Golf balls don't talk back." His wife got the house, both cars, custody of the kids, half of his income and 401K, alimony and child support. The last time I talked to him, to see how he was doing, he was screaming with joy into the phone, "I just played Pebble Beach!!!!"
I've seen young, multimillionaire athletes enter professional sports and do nothing with their spare time (outside of hitting the strip clubs) except spend hours upon hours locked up in exquisite hotel rooms in front of wall-mounted flat screens addicted to everything from Madden to Vice City. I've seen older, mega-millionaire athletes put those joysticks down, pick up a set of Honmas and spend more time on golf courses than they did trying to perfect the sport they were born to play.
It seems like every professional athlete gets hooked on golf. It takes over their lives. Even pro golfers are not immune because they seem to be the only pro athletes who don't retire. When I asked Craig Bowen, a former PGA instructor and now sales director for Electric Golf Organizer Inc., what professional golfers do for recreation, he said, "They die."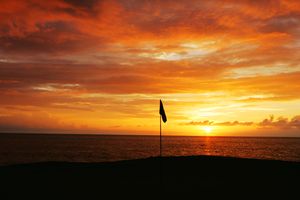 David Alexander/Getty Images
The flag beckons, but Scoop remains steadfast that he'll never play golf.
That's why I stay away. Regardless of how many beautiful stories my friend Rick Reilly writes about the love of playing the game we should all share, I refuse to give in. It's not like I have addictive tendencies, but why chance it? For 40-plus years I've watched the effect this game can have on men who at one time in their lives were responsible adults with diverse interests. One by one I've watched those men fall like mismanaged empires.
Don't confuse this with what you might think is the obvious. To the contrary, I love watching golf. Have for decades. Even before Tiger entered the sport, I followed it. Just won't play.
My best friend, a dude I grew up with, godfather to my youngest, he plays. Serious. He started playing golf with his old man around the age of 8, and over the past 25 years has hit consistently in the low 70s. For 25 years he tried to get me to come out and hit with him. It's never happened. He finally stopped asking five years ago.
The attempts continue. My godbrother; my cousin; my college roommate's best friend; Ray. None golfed when they were growing up, but now treat the sport like Tatum O'Neal does street narcotics. They're Pookies, Marion Berrys. They can't stop. They're why I run from golf. They are why I'll never play.
In fairness, you are probably asking, "What made me like this?" Well …
I once saw this guy in Chicago when I was a kid. It was one of those typically vicious mid-winter afternoons: 10 inches of snow on the ground, temp minus-15, minus-35 with wind chill. He was waiting in his car for his wife to get off work. I was also in the car, waiting for my Moms, who worked with the man's wife. After about 5 minutes, he stepped out of the heated Volvo, dressed in full Eskimo gear with a Bears skullcap pulled down over his ears. He closed the door of his car, left the motor running, took two steps away from the car, put his left hand slightly over his right and began to imaginarily work on his short game. The man didn't even have a club in his hand! That's when I said to myself, "Self, anything that can make a man do that, you need to stay the hell away from."
So far I have. The reality is, how long will the power of golf allow me to continue?
Scoop Jackson is a columnist for ESPN.com.