The race-related talk for the last few years has been all about baseball. So many concerns, so little activity, so waiting on results.
The decline of the black ballplayer seems to be the new epidemic: The sport that changed racial relations and acceptance in America has an African-American population of around 8 percent, less than half of what it was in 1997 (17 percent).
But with all the concern about the lack of blacks in baseball, another plague has slipped under the race radar in sports.
If you think baseball has a black problem, start looking at boxing.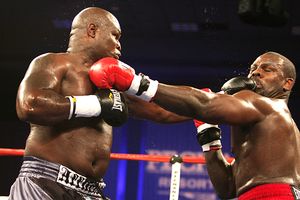 Jacob De Golish/Icon SMI
How far has boxing fallen? James Toney and Hasim Rahman fought recently ... on a Wednesday.
Ever since Jack Johnson, boxing has been the sport that has had a more intimate relationship with black folks than high blood pressure and gators. To a greater degree than baseball -- greater than basketball! -- boxing has been the sport in which black athletes have found dominance.
Joe Louis, Henry Armstrong, Sugar Ray Robinson, Muhammad Ali, Sugar Ray Leonard, Marvin Hagler, Mike Tyson. For almost 100 years -- from generation to generation, weight class to weight class -- black boxers set a standard of excellence matched in length and impact only by track and field. But today, 100 years since Johnson became the first black to win the heavyweight title, finding a black man (in any weight class) who holds or is even challenging for a significant belt or title has become as impossible as Manny Pacquiao's finding a decent challenger in the ring. Go down the list; go find any mythical and objective list of the current pound-for-pound best in boxing; go discover how, unlike in baseball, the black man in boxing has reached a level of near extinction.
Now that Floyd Mayweather Jr. has announced his retirement, who's left? Name one African-American boxer who is in contention to carry both a belt and a race through this dire situation. Or just name one black boxer for whom you'd shell out top PPV money on Saturday night to watch him fight. Try. Name just one.
Before the Miguel Cotto-Antonio Margarito classic last week, ESPN boxing analyst Dan Rafael put out the very-close-to-definitive breakdown of the world's best boxers, regardless of weight class. Only four black boxers were in the top 20, and just one was in the top 10. And that one was Bernard Hopkins, who has become a boxing version of Brett Favre.
Shane Mosley, Jermain Taylor, Nate Campbell, Zab Judah, James Toney, Samuel Peter, Hasim Rahman … anyone after that would be a desperate attempt to make a point. The epoch of blacks ruling boxing is over. How low can it go? It's already there. Toney and Rahman, two of the top black boxers in the world in any weight class (both are heavyweights), recently fought each other in a marquee matchup … on a Wednesday!
In baseball, there are reasons the decline of black involvement is so severe. Lack of inner-city programs. Little grassroots involvement from Major League Baseball. The influx of Latino and Dominican players taking up roster spots. Too time-consuming at the little league level. Generations of absentee black fathers who don't pass on the game to their sons and nephews. The popularity of video games and other sports. Young black athletes no longer having the patience and failing to see the instant financial windfall associated with football and basketball. Chicks don't dig the long ball as much. The game just isn't cool anymore. But what's boxing's excuse? Where do its variables lie? Learning how to defend yourself and make millions doing it always has been a form of escape; an outlet for our journeys of poverty and struggle -- like Floyd Patterson, like Rubin Carter, like Roy Jones Jr. -- that many of us were born into.
Boxing has been "our" sport more than any other. It's become a singular part of our heritage. It's been the black man's best girl.
And now that girl is gone. The hopes of any semblance of a return to a limited glory rest inside the gloves of flyweight Rau'Shee Warren and welterweight Demetrius Andrade. (Both are favored to win gold in the Beijing Olympics.) Outside of that … there is no outside of that.
HBO Boxing analyst Jim Lampley sees the situation differently. "Boxing is a dramatically globalized sport. There are no shortage of black American boxers, but they are no longer as dominant because of the global rise of the others," he said. "The U.S. can still produce a Jermain Taylor, an Andre Berto, an Andre Ward, but we will never again see weight classes dominated by black American fighters to the degree we saw that in the 1970s and '80s. Ethnocentric Americans tend to see that as a weakening of boxing, and they couldn't possibly be more wrong. What might be seen by some as the decline of the United States as a great power is not actually a decline, but rather an adjustment in position in relation to the rise of the others. The world has changed."
Which returns us to the sadness of it all. How could this happen? Why did this happen? How did we -- a people who took so much pride in our position in boxing and our place in the sport's history -- allow this to happen? To the sport and to us.
Yes, the national discussion has centered on baseball, not boxing. But boxing's transition into nonblackness is more drastic for African-Americans. Yes, baseball is the more popular sport, but it's not a sport blacks have necessarily dominated. Yes, we have been a large part of baseball, but it never has been a sport we can call one of ours. Basketball, track and boxing are three sports we mythically have been able to claim. With that in mind, the degree of loss of blacks in boxing is more important to analyze than the decline in baseball. The impact of blacks' holding few title belts is as serious as our representing just 8 percent of major leaguers.
Is boxing's problem one America should be discussing and trying to fix the same way it seems to be concerned with and trying to fix the issue in baseball?
Probably so. But if we -- the race of people formerly known as boxers -- don't act as if we care, then why should anyone else?
Scoop Jackson is a columnist for ESPN.com.