Now what?
Now that the best $40 billion in sports has been spent. Now that IOC president Jacques Rogge can say "I told you so" about why the committee chose China. Now that Michael Phelps and Usain Bolt have ascended to the Tigersphere, while Liu Xiang and Matthew Emmons have descended into an Olympic sorrow that always outweighs the joy most athletes leave with.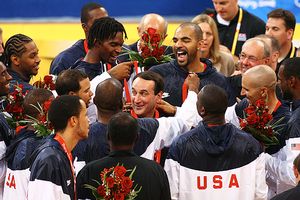 Jesse D. Garrabrant/NBAE/Getty Images
They're Olympic champions once more, but what does the future hold for the U.S. men's basketball team?
Now what?
Now that the United States has supposedly redeemed itself in the basketball world, now what?
Yes, you read that right, "supposedly."
The reason caution needs to be thrown in the post-Olympic detox is because it seems like, as a nation, we are getting a little caught up. Caught up in the belief that USA's gold medal in men's basketball brought back everything the country lost in the game during the past 16 years. Some are even going so far as to say this team could compete with, and on occasion beat, the original Dream Team. Again, too caught up. Yes, the Redeem Team did what it was supposed to do. But now that we "re-hold the gold," is everything really back to the way it used to be? Back to the way it should be?
It all depends on your definition of "redeem."
After it was over, Carlmelo Anthony said, "I think we did a hell of a job of putting America back where it's supposed to be, which is at the top of the world." LeBron James said, "If it wasn't for the determination and willpower we had, we wouldn't be back on top of the world, which is where we are."
The question is, back on top of the world or back as rulers of the world?
Ask yourselves: Was America's mission just to recapture the gold in Beijing, or to re-establish itself as the premier basketball superpower in the world? Ever since the Dream Team left Barcelona in August 1992, there has been a sweeping rush by the rest of the world to get its hands on what the U.S. used to hold sacred and hold down. And it did. Now, with the U.S. finally getting the gold medal back, it seems that the proper global basketball pecking order is back in effect.
But what happens after this?
What happens in the 2010 FIBA World Championship? What happens in 2012, when it comes time to defend?
What happens when Kobe Bryant isn't around to make a four-point play with 3:10 left in a gold-medal game to save the team's asses?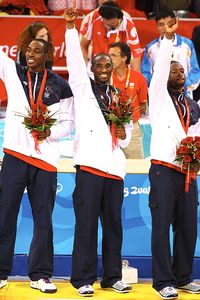 Garrett Ellwood/Getty Images
They were No. 1, this time. But it's far from certain things will stay that way.
The bottom line is it's not always about the win. Sometimes it's not that simple. In the case of Colangelo & Co., there will be doubts -- even as well as they performed -- and questions regarding whether or not they did enough to reposition the U.S. as not only the team that won, but a nation the rest of the world does not want to face on a 94-by-50-foot battlefield.
Sure, the U.S. beat Spain by 11 to win the gold. But the bigger picture is it beat a team by 26 points fewer than it did only a week before, in a game that should have meant much more to the Americans than the Spanish -- and in a game in which Spain's starting point guard sat out and a 17-year-old ran the show.
Sure, the Americans beat the defending Olympic champion, Argentina, by 20 in the semis. But the bigger picture is they did so with Argentina playing without its star (Manu Ginobili) for most of the game due to an injury, and its second-best player (Andres Nocioni) virtually playing on one leg.
Uh …
Where's the dominance in that? For the next four years, the rest of the global basketball community will basically think, quietly yet collectively, "The Americans got the gold, but … " In other words, because of the way it won, the U.S. left open the conversation for any and everyone to finish that above sentence with, " … if Ginobili hadn't gotten hurt, or if Calderon had played, Argentina or Spain probably would have beat them."
Yes, you read that right, "beat them."
As in beat the USA, the Re-Dream Team. Even with the gold in its hands, the one thing that can be taken away from this Olympics is that the U.S. is back to being great, but not much greater than everyone else. Teams like Argentina might go so far as to place an asterisk next to this victory. Because, in their minds, they know.
And, to be honest, that's not what we as a nation needed. The U.S. team needed to redeem itself -- not just to be the best, but to be the best by a wide margin.
Yes, the world has gotten much better at a game we love to call ours, and there probably never will be another era when the U.S. beats teams by 30-40 points when medals are on the line. But if the U.S. team is not able to expose Pau Gasol in a gold-medal game the way the Celtics did in an NBA Finals, then it's not yet time for us to start believing our own hype.
And until the rest of the world is back to feeling that the U.S. is unbeatable in basketball, until the U.S. separates itself from the rest of the world by sending a message saying "this is about more than a gold medal, this is about true redemption," then we as a nation can't feel confident that the gold medal we just won is going to be ours again four years from now.
Scoop Jackson is a columnist for ESPN.com.
Team USA: Redemption In Beijing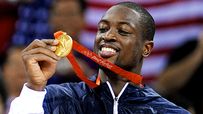 Team USA won the Olympic gold medal in men's basketball after years of frustration.
Roster | Schedule | TV | Scores | Standings
The Redeem Team

Sheridan: 1992 vs. 2008
They redeemed U.S. hoops and reclaimed Olympic gold. So, how does the '08 team stack up to the Dream Team?
Chris Sheridan
•
Sheridan: Dream scene
---

TrueHoop: What next?
Team USA was great in '08. But how will it remain on top of the world? We've got the plan (with a few new faces) moving forward.
TrueHoop
•
TrueHoop: Day of redemption
---

Jackson: Truly redeemed?
Yes, the U.S. men's basketball team recaptured the Olympic gold in Beijing. But did they really accomplish their mission? Depends how you look at it.
Scoop Jackson
---

Hollinger: International flair
Team USA got the gold, but the game of basketball was also a big winner. Here's a look at how the NBA's international stars fared in the Beijing Olympics.
John Hollinger
Medal Round
•
Sheridan: United statement
•
Forde: Coach K deserves praise
•
Hill: Rooting for redemption
•
Sheridan: USA gets revenge vs. Argentina
•
Sheridan: US-Argentina rivalry renewed
•
Sheridan: Dispelling two Team USA myths
•
Sheridan: One down, two to go
•
Sheridan: Quarterfinals roundup
•
Sheridan: A whole new ballgame
•
Sheridan: Previewing the quarterfinals
•
Sheridan: Australia won't be scared
Preliminary Round
•
Day 5: Greece earns date with Argentina
•
Sheridan: Kaman suits up for Germany
•
Sheridan: Unchallenged by Spain in 37-point win
•
Bucher: Unselfishness sets Team USA apart
•
Day 4: Aussies, China clinch medal-round berths
•
Watch: Coach K and the challenge of Team USA
•
Sheridan: Spain's strengths pose challenge
•
Mag: Rubio is Spain's teen phenom
•
Sheridan: Winning Grecian formula for Team USA
•
Broussard: Wade back in elite conversation
•
Day 3: Lithuania, Spain remain undefeated
•
Sheridan: Team USA's Greek strategy
•
Sheridan: Angola was easy, Greece won't be
•
Day 2: China almost upsets Spain; Croatia rolls
•
Forde: U.S.-China game had historic feel
•
Sheridan: Yi struggles against Team USA
•
Day 1 roundup: Argentina upset
•
Israeli, Iranian share embrace
TrueHoop
•
Chris Bosh on Olympic intensity
•
The Next Team USA
•
Suddenly, Team USA looks enormous
•
Spain's joke not funny
•
The other Redeem Team: Spain
•
Dream Team not the model
•
Yao Ming is no Kobe Bryant
•
Team USA's Chinese fans
•
Is Team USA muzzled or not?
Olympic Preview
•
Sheridan: 10 questions for opening round
•
Sheridan: Who will grab gold?
•
Sheridan: Argentina, Russia headline Group A
•
Sheridan: USA, Spain tops in Group B
•
Jackson: Something's missing on USA's roster
•
Kobe & Co. arrive to heroes' welcome in Beijing
•
Ford: Top int'l draft prospects at Olympics
•
Watch: Best internationals in action

ESPN Top Headlines