CHICAGO -- No one here saw this coming. Not like this. The elimination of hope. Quick as a Jennifer Aniston relationship, instant as a Wall Street bankruptcy.
One day, the top team in the National League and a favorite to win the World Series for the first time in 100 years. Four days later, gone.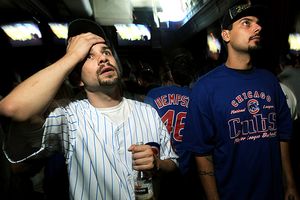 AP Photo/Paul Beaty
Cubs fans just can't take it anymore.
This was worse than last year. Worse than 1989. Worse than 1984. Maybe the worst ever.
Because this time the Cubs didn't just lose a series. They lost a part of their soul, plus a large majority of their fans. As one Cubs fan said when leaving Bridget McNeill's -- one of the few bars just outside Wrigleyville that was allowed to sell alcohol after the seventh inning of the close-out game -- "Still waters don't run that deep."
The town has officially given up on the Cubs. For the first time in 100 lovable losing years, the love affair is over. Some of the things uttered as Alfonso Soriano struck out to end the series cannot be printed on this Web site. Some, Quentin Tarantino couldn't even put in his films.
The ugliest breakup in sports just happened. And that "It's Gonna Happen" mantra has turned into an "It's Never Gonna Happen" belief and a "We Don't Give a $%&* If It Ever Happens" feeling.
Obscene gestures, followed by obscenities. So many obscenities. "I can't think of an obscene word that describes how obscene they played," another ex-fan said, after dropping an f-bomb.
Phone calls and e-mails poured in. One read: "Man, [expletive] the Cubs! Forever! I'm done with them! Sorry sons of [expletive]. Unless Mark Cuban buys them. That's the only way. … I hope the [expletive] Cubs burn in hell!"
Or, as lifelong-but-no-longer Cubs fan Andre Curry said, "They need players that can play in October, [expletive] April."
The best obscenity-free headline? In the Trib: "Making A Long Story Short." Oh, how fast the end came.
There was one scene that said it all. An image that will be played over and over, year after year, until this team finally wins a championship. Derrek Lee's batting helmet lying on the grass next to his bat. He had just thrown them both to the ground after striking out in the fifth inning of Game 3.
The way his helmet rolled over, then stopped on its side, it looked dead.
A perfect symbol of what the Cubs just became to this city.
First it was the walks (seven in Game 1), then the errors (four in Game 2), then life. The crowd gave up after James Loney's grand slam in Game 1. A straight repeat of last year, only worse. Ineptness at the plate. Bats heavier than Mississippi mud, and as slow as trying to run in it. Soriano replaced A-Rod as the worst living postseason star (1-for-14, .071 for the series, after going 2-for-14 the postseason before). Aramis Ramirez (2-for-11, .182 for the series, after going 0-for-12 the postseason before) made Vlad Guerrero's postseason career look Hall-of-Fame-ish. Kosuke Fukudome was so unproductive (1-for-10 with four strikeouts) and unpopular that his benching meant nothing to the team -- or to anyone else in the city.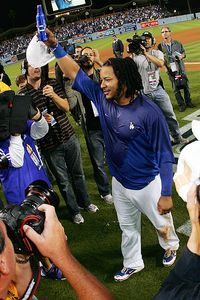 Lisa Blumenfeld/Getty Images
This image has to make Cubs fans sick.
Outside of Mr. Lee hitting .545 for the series, the team hit .204. In the elimination game alone -- the game in which the Cubs could have manned up (as the White Sox did in their first elimination game against the Rays) and acted as if they wanted to live for one more day -- they were 1-for-11 with runners in scoring position.
The totals from the past two postseasons: 12 runs in six games. All losses. Overall? A 3-11 record in NLDS history, including three sweeps. A 7-20 record at home in the postseason, the worst mark in all of major league baseball. The words "curse" and "choke" are no longer being used. Now it's just known that this is who they are. As Jeff Grapenthien, a fan found at Murphy's Bar after Game 3, said: "We were the best team in the league all year, and then we turn into the Triple-A Pirates."
The truth, with no obscenities.
"This one's way worse [than last year] because this team is so much better than what we showed these three games," said the Cubs' second baseman, Mark DeRosa. "To bust it for six months and win 97 games and have so many good moments, for it to end like this is wrong."
Wrong? Wrong is knowing what this city has gone through for the past century yet not just losing but not even showing up. The city of Chicago can take an "L" -- losses are easy. But to show no desire, to display no passion, to have no pride (or at least to exude so little of it that an entire city feels you have none) -- that's wrong. That's wronger than wrong.
And the biggest problem -- probably the biggest reason so many people are attaching four-letter words as prefixes to " … the Cubs" -- is that there's no answer for how to fix what happened or to make sure it doesn't happen a third, fourth, fifth, 10th time in a row. On paper, and on the field for 162 games, the Cubs were (and can continue to be) the best team in the National League. There are no glaring holes or weaknesses. Everything is in place. Perfect balance. Perfect team.
Until that 163rd game.
No team in sports history has done this to its fan base before. No other fans have had to endure pain for as long as those who perpetually "wait 'til next year." And for the first time in 36,538 days in Chicago, no one gives a damn about next year. Or the year after that.
Welcome to the new Neverland.
Scoop Jackson is a columnist for ESPN.com.