Trying to find four people to represent an NBA franchise's history is tough. Probably harder than finding four decent presidents that represent what a country stands for. Being carved in stone doesn't come easy. Stats are often secondary to impact and influence. Remember, Mount Rushmores are forever. There is no do-over. Once Jeffersonized, you are there for life. If Joe Johnson happens to win a championship in Atlanta or Kevin Durant gets more love in Oklahoma City than Jack Sikma got in Seattle, too bad. This is the granite version of a one-and-done.
Atlanta Hawks

Lou Hudson, Bob Pettit, Lenny Wilkens, Dominique Wilkins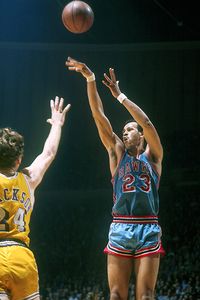 George Long/WireImage
"Sweet" Lou Hudson, who played 11 seasons for the Hawks in St. Louis and Atlanta, is the team's third-leading career scorer.
Rationale:
Pettit and Wilkens set a precedent that has to this day been almost impossible to match. Sweet Lou personified what the organization was about in the early '70s. Nique? Pleeeeaaasssseee. The only discussion would be about which hair style the sculptor would have him in.
Boston Celtics

Red Auerbach, Larry Bird, John Havlicek, Bill Russell
Rationale: There are two teams that are impossible to reduce to four players. The Lakers are the other. No Bob Cousy, no Sam or K.C. Jones, no Kevin McHale, no Tom Heinsohn, no JoJo White. And no disrespect to Paul Pierce, who's been in a Celtics uniform the same amount of time as Havlicek, but No. 17 has eight rings to P2's (so far) one. Seven more seasons in green like the last one and the Truth might get in the conversation.
Charlotte Bobcats

Brevin Knight, Michael Jordan, Emeka Okafor, Gerald Wallace
Rationale: For many reasons, some beyond their control -- location and bad luck, for instance -- the Bobcats are like a poor man's franchise: Wallace, the poor man's Vince Carter; Okafor, the poor man's Dwight Howard; Knight, the poor man's Chris Paul; and Jordan … he's the poor man's Jordan.
Chicago Bulls

Michael Jordan, Bob Love, Scottie Pippen, Jerry Sloan
Rationale: Jordan should have his own mountain. We already know that. But just as everyone says, "Pippen never won anything without Jordan," how many rings (or MVPs or first team All-NBA selections or Defensive Player of the Year awards, etc.) does Jordan have without Pip? The greatest duo in the history of anything.
Cleveland Cavaliers

Austin Carr, Ron Harper, LeBron James, Mark Price
Rationale: There's only one problem here. When the mountain is erected, how much larger will LeBron's face be than the other three? Because as much as Harper and Price did for keeping the Cavs somewhat relevant during their years there, and for all that Carr did to put them on the map, what LBJ has done in five-plus years … let's just say he may be the single most important player to any one franchise on this list.
Dallas Mavericks

Mark Aguirre, Rolando Blackman, Mark Cuban, Dirk Nowitzki
Rationale: Aguirre did as much for the franchise as Dirk, but has less to show for it (no MVPs, NBA Finals appearances, etc.). Blackman's four All-Star appearances in a Dallas uniform (including one of the game's greatest moments, when he hit two free throws to send the '87 game into overtime) and his tenure as the head of player development are unarguable. Cuban, on the other hand … well, ask yourself this question: If he were not the owner, would you care about the Mavs?
Denver Nuggets

Carmelo Anthony, Alex English, Dan Issel, David Thompson
Rationale: Melo over Fat Lever? Melo over Michael Adams? Melo over Mutombo? Melo over Doug Moe? Yes! If you are honest with yourself, you'd know that he means just as much to this franchise as the others he'll share space with in stone. Stop hatin'.
Detroit Pistons

Dave Bing, Joe Dumars, Bob Lanier, Isiah Thomas
Rationale: As a guard tandem, Thomas and Dumars will go down as one of the best ever. As an exec and player, Dumars will go down as Detroit's Jerry West. The only question: Where's Sheed, right? OK, you can stop laughing.
Golden State Warriors

Al Attles, Rick Barry, Chris Mullin, Nate Thurmond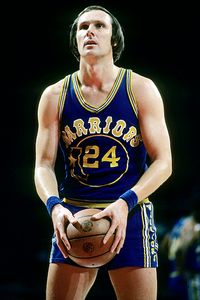 Getty Images
Rick Barry averaged 30.2 points, 6.2 assists, 5.7 rebounds and 2.9 steals per game in the Warriors' 1974-75 championship season.
Rationale:
Chris Webber, Latrell Sprewell, Timmy Hardaway, Mitch Richmond, Guy Rodgers, Jamaal Wilkes, Clifford Ray. Sleepy Floyd, Baron Davis, Gilbert Arenas. All did bids in Warriors uniforms. But during their time in the 'Yay, none did more for the franchise than the four aforementioned originals above.
Houston Rockets

Moses Malone, Calvin Murphy, Hakeem Olajuwon, Rudy Tomjanovich
Rationale: The only people more important to Houston basketball than these four might be Tina Thompson, Cynthia Cooper, Sheryl Swoopes and Van Chancellor. Each one represents something different in the history of Rockets basketball. If you're wondering where Clyde Drexler is, scroll down to Portland.
Indiana Pacers

Roger Brown, George McGinnis, Reggie Miller, Chuck Person
Rationale: There was a six-year period, between Clark Kellogg's exit and Reggie Miller's becoming Reggie Miller, when Person kept the Pacers from irrelevance. And Brown? If anyone reading this is too young to remember or so old you forget, do yourself a favor and look him up.
Los Angeles Clippers

Elgin Baylor, World B. Free, Bob McAdoo, Randy Smith
Rationale: Before the franchise moved to San Diego from Buffalo in 1978, McAdoo and Smith (and Ernie DiGregorio) had the then-Braves rockin' the East Coast as one of the most potent offenses in the League. Before the move to L.A. from S.D., World B. did his thing (second in the League in scoring in each of the two seasons he was there, 28.8 and 30.2 ppg) as only he could. Once in L.A., no one player has had the impact on the organization as Baylor … and that was not always a good thing.
Los Angeles Lakers

Kareem Abdul-Jabbar, Kobe Bryant, Magic Johnson, Jerry West
Rationale: This is the other franchise which makes it seem unfair to only have four people etched in stone. West is the architect and icon, Magic the master and maestro, Cap the guru and Bryant the prodigy. Each one represents a different era in Lakers history, possibly making this Rushmore the closest to what this project is supposed to represent.
Memphis Grizzlies

Shareef Abdur-Rahim, Pau Gasol, O.J. Mayo, Bryant Reeves
Rationale: While in Vancouver as a David Stern experiment, Abdur-Rahim did everything he could to keep the franchise in the League. Once in Memphis, Gasol became the face of the franchise, even leading the team to three playoff berths. Mayo is everything the franchise is soon to be about. Big Country? He's on for the flat top alone.
Miami Heat

Timmy Hardaway, Alonzo Mourning, Glen Rice, Dwyane Wade
Rationale: Rice over Shaq? Yesssiiirrr. Although Diesel was a big reason the Heat got the franchise's only chip, Rice was the reason they were still a part of the League. Timmy and Zo helped, but from 1989-95, Rice and South Beach were the main attractions in Miami.
Milwaukee Bucks

Kareem Abdul-Jabbar, Sidney Moncrief, Oscar Robertson, Brian Winters
Rationale: By the time Oscar got to Milwaukee, his triple-doubles were in the rearview mirror. But his pairing with Kareem remains the pattern that most NBA execs follow when building a franchise (think Magic-Kareem and Wade-O'Neal). True, Junior Bridgeman, Marques Johnson and Bobby Dandridge are absent, but Winters is the one who stands out whenever you enter Wisconsin.
Minnesota Timberwolves

Kevin Garnett
Rationale: This will be a one-faced mountain. No one else deserves to share this space.
New Jersey Nets

Vince Carter, Julius Erving, Jason Kidd, Drazen Petrovic
Rationale: Erving and Kidd require no explanation. Carter's inclusion is questionable, but hard to deny. Petro's importance to the Nets -- and international basketball -- speaks for itself.
New Orleans Hornets

Muggsy Bogues, Larry Johnson, Alonzo Mourning, Chris Paul
Rationale: Johnson was the blueprint. Bogues was the identity. Mourning hit "the shot." While in Charlotte, the Hornets seemed to be doing everything right in building a solid franchise. Then free agency and George Shinn hit the fan. Now it's all on CP3 to separate himself from the other stone faces.
New York Knicks

Patrick Ewing, Walt Frazier, Bernard King, Willis Reed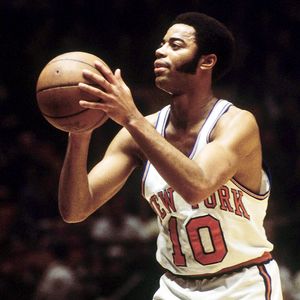 Getty Images
Walt "Clyde" Frazier is the Knicks' career leader in assists, and he's second to Patrick Ewing in points and games played.
Rationale:
Here's another four: Dave DeBusschere, Bill Bradley, Richie Guerin, Red Holzman. Go deeper: Earl Monroe, Micheal Ray Richardson, Dick Barnett, Charles Oakley. It seems as if anyone who puts on a Knicks uni has the potential to become mythical. These four are above that. While in NYC, they became larger than life.
Oklahoma City Thunder
(Seattle SuperSonics)


Dennis Johnson, Gary Payton, Jack Sikma, Gus Williams
Rationale: Lenny Wilkens coached 11 years for the Sonics, played four, made three All-Star teams as a Sonics player and won a championship as the head coach in 1979. Why isn't he in stone? Explain how you leave one of these four off.
Orlando Magic

Nick Anderson, Penny Hardaway, Dwight Howard, Shaquille O'Neal
Rationale: Grant Hill and Tracy McGrady aside, the Magic are still looking for an identity. Anderson's four missed free throws in Game 1 of the '95 Finals remains the team's watershed moment. And until the Magic win a championship or just get back to a Finals -- as wrong as it is -- Nick's face is as much a part of their history as anyone's.
Philadelphia 76ers

Charles Barkley, Wilt Chamberlain, Julius Erving, Allen Iverson
Rationale: Yeah, yeah … I know. I must be smoking the same stuff as Michael Phelps. Where's Hal Greer? Where's Paul Arizin? Where's Billy Cunningham? Where's Dolph Schayes? Where's Moses Malone? I agree. But in a four-on-four competition, no mountain would defeat this one.
Phoenix Suns

Connie Hawkins, Kevin Johnson, Steve Nash, Paul Westphal
Rationale: In June 1969, the Suns took a chance and signed Hawkins as a free agent from the ABA. He played four-plus seasons for the Suns and played in four All-Star Games. Forty years later, he is still with the organization (on leave due to cancer since 2007) as a community relations representative. Commitment is a thing of beauty.
Portland Trail Blazers

Billy Ray Bates, Clyde Drexler, Jack Ramsay, Bill Walton
Rationale: "Who is Billy Ray Bates?" you are probably asking. Ask anyone in Portland. Ask Brent Musburger, who lost his voice while at CBS calling his games. A player who probably should be replaced by anyone from Lionel Hollins to Brandon Roy, Bates to this day -- nearly 27 years after his last game with the team -- is still the most exciting player in Blazers history. His face represents the "I in team" side of the game.
Sacramento Kings

Oscar Robertson, Nate Archibald, Mitch Richmond, Chris Webber
Rationale: Big O and Jerry Lucas held it down in Cincinnati for Tiny before the relocation to Kansas City. Tiny held down K.C. for Otis Birdsong, who held it down for Reggie Theus and a move to Cali. Reggie held it down for Mitch, who held it down for the Maloofs, who took a huge financial risk buying the team. The Maloofs bankrolled the team on Webber, who just had his Kings jersey retired earlier this month.
San Antonio Spurs

Tim Duncan, Sean Elliott, George Gervin, David Robinson
Rationale: Gregg Popovich has probably done more for the Spurs franchise than any one player who will be carved into this mountain. But he wouldn't want to be honored like that. He'd want someone like Avery Johnson or Mario Elie in his place. For the record, not having Larry Kenon on the Spurs' mountain is like not having Scottie Pippen on the Bulls', but he never hit a Memorial Day Miracle like the one Elliott dropped in Game 2 of the '99 Western Conference finals -- a Spurs legend for life was made with that one shot.
Toronto Raptors

Chris Bosh, Vince Carter, Morris Peterson, Damon Stoudamire
Rationale: If Bosh doesn't leave in or before 2010, he'll be the most meaningful Raptor ever. Finding four players that have stayed with the organization more than six years is close to impossible. That either says something about the city or the franchise.
Utah Jazz

Karl Malone, Pete Maravich, Jerry Sloan, John Stockton
Rationale: When in New Orleans, Pistol gave the franchise a reason to exist. In Utah, the Stockton and Malone combo went down as one of the greatest in NBA history. Sloan is Utah's Auerbach. At the bottom of the mountain, "RIP" will be etched next to Larry Miller's name.
Washington Wizards

Elvin Hayes, Gus Johnson, Earl Monroe, Wes Unseld
Rationale: Bullets over Baltimore. Monroe put on religious performances before being shipped off to N.Y. Once the franchise moved to D.C., Hayes and Unseld (along with Phil Chenier) became the cornerstones of one of the most beloved franchises in the NBA. Johnson's face has to be smiling. Gotta show off that gold star on his front tooth.
Scoop Jackson is a columnist for ESPN.com.