People relate to honesty and struggle.
-- Oprah Winfrey, 2009
The text message arrived from a friend early in the morning. A simple, honest question: Why can't my son get any love?
The previous night, Joey Clayton's son, Emil, had a ridiculous performance, one of many in his last 10 or so games. This one was a triple-double, with numbers that you'd think would make many NCAA coaches offer a scholarship on the spot. It was the kind of game you see as the back-end sports story on the evening news in big cities, the lead sports story in small towns. It was one that any parent of an honorable mention all-city, all-conference high school player on the South Side of Chicago would expect to see on the back page of the sports section of the newspaper the next morning.
Joey Clayton saw none of that. One box score line on the high school results page in the local paper was it. The only kind of "ink" his son has ever really gotten.
In those seven words typed the day after Emil Clayton had 42 points, 10 rebounds, 10 assists and seven steals was the cry of frustration of a father's struggle to find a solution to his son's future.
Or … to find out what else his son has to do to even make a future in basketball exist.
Dec. 4, 2008 -- KING TOPS CLEMENTE, 59-54: Emil Clayton had 24 points and 10 assists, while Erin Pryor scored eight and grabbed five rebounds.

Jan. 4, 2009 -- KING DOMINATES IN WIN OVER HUBBARD, 71-50: A double-double by Emil Clayton (31 points, 10 assists) and Darien Anthony (10 points, 10 rebounds) led the way for King.

Feb. 11, 2009 -- KING TOPS MANLEY, 82-79: King (11-16) was led by the triple-double of Emil Clayton, 42 points, 10 rebounds and 10 assists. Erin Pryor chipped in with 14 points in the win.

March 4, 2009 -- KING TOPS DE LA SALLE, 58-52: Darien Anthony had 20 points, and Emil Clayton had 16 points and five rebounds to lead King to a win in its own regional.
Those were the recaps in the Chicago Sun-Times. That was as elaborate as it got all season long. Emil Clayton emerged after a solid junior season to average 18.1 points, 5.5 assists and 3.7 rebounds per game his senior year. He upped his scoring average to more than 21 ppg over the last 14 games (which included games of 33, 31, 31, 25 and 25 points -- plus nine assists in one of the 31-point games) and added to the respect he'd already earned in the Public League as one of Chicago's top guards. Still, he found himself in a position at the end of his high school career that was not necessarily unusual for players considered best-kept secrets.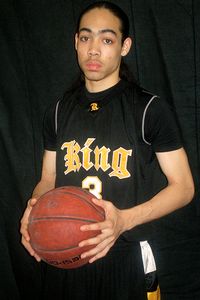 Courtesy of Joey Clayton
Emil Clayton had a triple-double with 42 points and seven steals in his best game this season.
But that didn't stop the pain.
"I thought by now I'd at least have one or two scholarship offers," Emil said while flipping through an issue of Slam magazine, a day after his high school career ended with a playoff loss to Leo High. "I've done everything I could not to have my parents worry about paying for me going to college."
It's a burden that a 17-year old kid with a 3.7 GPA shouldn't have to carry around with him on a daily basis. It shouldn't be his life. But it is and it has been. The plan he and his father had in place once he entered high school was one that included an academic and athletic future after prom.
Little did they know how immersed they would be in the struggle.
There are 7,177 men's basketball scholarships available annually from the NCAA, according to Mike Lancaster of AtheticScholarships.net. The NCAA allows men's programs a certain number each year -- 13 each for Division I schools, 10 for Div. II.
"It's late in the game," Lancaster said about current recruiting, "but coaches are still scouting."
The fact a talented kid in one of the nation's largest cities, playing against stiff competition can go unnoticed this late in the game is crazy, but it's nothing new.
"I get calls every day [from parents] wondering why no calls [from NCAA programs] have come for their sons," Lancaster said. "Many parents expect coaches to find their kids, but if a player is not marketed to these college coaches, then the parents are the ones who have to be proactive. They have to do all the work to get their kid noticed."
In the Chicago area, specifically, situations like Emil's happen every year. Part of it is the way the system is set up. Part of it has to do with the high school coaches. Part of it has to do with the politics of each particular city. Part of it has to do with the cards life has dealt the kid … and his parents.
"One of the things I have to do as a father," Joey Clayton says, "is to support and nurture [Emil's] love for the game and hope that opens the door for him in college and help him fulfill his dream."
Said Donnie Kirksey, coach of Chicago's Hyde Park High, runner-up for the Public League championship: "Emil is a good kid and really good player. But he's got a few things going against him. One, he's at a school that used to be a powerhouse in the city as far as basketball and it's not anymore, so no one is looking at anyone coming out of there. (None of Emil's teammates are being recruited, either). [King] has to re-establish their basketball program.
"Two, he's a 'tweener, a 5-10, 5-11 two-guard. Three, his coaches need to network to get him noticed the way he should be. They have to really work for the kid nowadays. It's not like it used to be, where if a kid played well in the city, everyone heard about him."
Said Clyde Travis, a sportswriter for the Sun-Times: "Parents come to me all of the time concerned about their kids and asking questions why colleges aren't calling. In my 29 years of covering [high school basketball], I can tell you that if you ask ten top Division I coaches about a kid they don't know about or haven't heard of, the first question that is going to come out of their mouths is, 'Who else is recruiting him?' They assume that instead of a kid just being under the radar that if no one else is recruiting him, something must be wrong with the kid. It's like, 'If someone else doesn't want him, why should I?' And Emil Clayton is one of those kids. He's great academically, can run a mid-to-lower major D-I team or be a star at a D-II, can shoot and handle the ball, but he doesn't pass the look test. When I say that, I mean that at first look, he's not going to blow you away. But real college coaches should be able to see through that."
I have known the Claytons for years, so I have a personal connection to this story. But I chose to write about Emil because thousands of young athletes across the country find themselves in the same situation.
When Joey pulled Emil out of Whitney Young High after his freshman year, I saw how difficult the decision process was for their family. Whitney Young has one of the top combinations to academics and athletics in Chicago, but the Claytons chose King because they believed he would still get the academics while getting a chance to play an even bigger role on the court.
Painted at the center of the basketball court where the King Jaguars play is a reminder that is at the centerpiece of the problem. It reads: "Jaguars #1. Recognized Worldwide. Martin Luther King Jr. College Prep High School. National Basketball Champs. 1989. 1990."
King is no longer that school. It went through an intense transformation, going from a school which produced basketball legends such as Marcus Liberty, Jamie Brandon, Levertis Robinson, Tracy Dildy, Thomas Hamilton and Imari Sawyer to a school now sending students to Ivy League universities and its band to perform at President Obama's inauguration in Washington, D.C.
Emil was supposed to be one of the students who represented both of the worlds in which the school would like to exist. But as Joey said, "When the coaches of the school came to me asking me if I had heard anything from any colleges about Emil, and if I did, could I pass on that info to them, that's when the light went on for me. That's when I knew I had to begin putting in the legwork."
Said King athletic director Lonnie Williams: "Emil is a wonderful kid and a good ballplayer. There are some good things about him that can fit into a college program, if it's the right program.
"Now, I gotta talk straight. He doesn't fit the prototype of what college coaches are looking for. He's not physically strong. He looks soft. Which is what he absolutly is not. But perception is 90 percent of reality. Also, we as a school have to re-establish ourselves back to having the reputation of basketball school. Everyone compares us and the kids that play here to what we used to be, and that's not fair. Emil is a product of the fact that we haven't been athletically what we once were. That's what we have to fight against.
"The coaches here have been on the phones doing everything they can, and from what I understand so has his father. I think Emil can fit in and play at a mid-major Division I or Division II school right away. He's probably going to have to do some work in the weight room, but other than that he's a tough, tough kid. I think he'll play college basketball. I'm just not sure if he'll get a scholarship."
As a parent, Joey Clayton has done everything by a rulebook or blueprint that doesn't exist. As a former AAU coach, he knew this was probable, but as a father who believes his son legitimately can play at the mid-major D-I level, he never thought this would happen to him. Or his son.
"I've already asked him," the elder Clayton emphasized. "Give me a list of schools you'd like to go to and play ball, and give me another list of schools you'd just like to go to and take your chances on playing. I'll trade off a year to get three. If I have to pay for his first year, I'll figure out a way. I have the confidence in his ability that he can go to a school and walk on and play, and hopefully, the scholarship offer will come after that."
When asked if he'd be comfortable if it comes to that, Emil simply said, "I feel if I get a shot to at least get in, then I can show everybody what I can do."
As far as going the junior college route, Joey Clayton makes it clear that he's unwilling to sacrifice his son's academics.
"I really don't want him to go to a junior college first and then go to a four-year school, because academically, he's advanced enough to succeed at any accredited four-year institution," Joey said. "He's already taking some college classes. Going to a JC would hurt him academically -- even if it helps him athletically."
Joey then grabbed a letter he received from Georgetown. "They are interested in him strictly based on his academics," he said.
Stories out of Chicago similar to Emil's are too many to mention.
"I worry -- because I've seen it too often -- about kids in Emil's situation getting turned off from the game," Travis said. "Getting totally disenchanted because of this whole process and eventually quitting the game and saying they're done."
But there's always light. For every player that's given up, there's a Tony Allen, a Jannero Pargo, a Randy Brown. All were relatively unknown and unrecruited Chicago players coming out of high school, and all enjoyed successful pro careers after finally landing at D-I schools. Even now, Kirksey is dealing with the same struggle with one of his own players, Martel Jackson. In the middle of a state championship run, he's networking for the kid's future.
Emil Clayton is not alone in this. Far from it. This is just one story in one city about one kid.
In every state, city, town, province or 'hood there is a parent with Joey Clayton's problem. They feel his pain. They, too, have created the Web sites that act as recruiting tools. They, too, have made the countless calls to colleges. They, too, have driven the thousands of miles only to talk to the assistant coach's assistant. They, too, have made the unbreakable promises to their kids that "by hook or crook, God's will or installed payments" they will go to college.
Empathy with these parents has its privileges.
Honesty and struggle are the two remaining factors Joey Clayton clings to when it comes to his son's future.
"I know I have a student-athlete on my hands," he said while watching the North Carolina-Duke game last week. "I'm also honest enough to know that he's not at the level yet to play for one of these schools. Mentally, especially if you ask him, he can play with any of these guys on that court right now. But physically? He's not ready for Ty Lawson."
He also knows that "at 5-11, you're going to have to have 42-point games every game" in order to get noticed.
As UNC pulls away, Joey and Emil Clayton stare at the television in silence. One sees his possible future. The other sees a continuous struggle.
Over the past three months, Joey Clayton has contacted more than 30 Division I programs and received only two responses -- one from the University of Arizona, the other from Loyola Marymount. He reached out to schools ranging from Seton Hall and Syracuse to Central Michigan, Ball State and Illinois-Chicago. Two responses.
What does he think would be the worst-case scenario for his son?
"I just don't want to have to choose a school for him just because that school is the first and only school to offer him a scholarship," Joey said. "I would like the school he goes to, when he graduates from that school, for his degree to mean something."
Emil, while listening to his father, said he thinks the worst-case scenario is having his parents pay for him to go to college when he's done everything in his power to make sure that didn't happen. His expression seems to say, "What else can a kid do beside drop triple-doubles and maintain a 3.7 GPA?"
It's beyond frustration.
Still, Emil embraces the struggle.
"If I don't work for it, I don't deserve it," he said. "I don't want anything handed to me."
Scoop Jackson is a columnist for ESPN.com.