Commentary
Making an example of Plaxico Burress
There are things your mother says that you let go in one ear and instantly out the other. Then there are things she says that you should carry with you throughout life, because one day you will desperately need them.
Take this one: "Never put yourself in a position to be used as an example."
Now that the grand jury indictment has come down on Plaxico Burress, we all are about to witness a lesson in what happens when one doesn't heed that advice.
From the judge and jury who will hear the possible trial to the office of the NFL commissioner, the future of Burress' career and several years of his life now sit in the hands of those who might use him to send a message to a much larger audience.
[+] Enlarge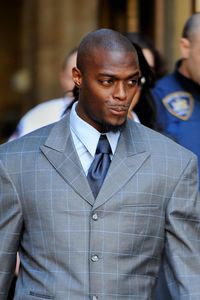 Stan Honda/AFP/Getty ImagesPlaxico Burress faces a minimum 3½-year prison sentence if convicted of gun possession.
This didn't begin when the shot heard 'round New York was fired or when Burress decided it was necessary to leave his crib with a loaded .40-caliber Glock tucked into a pair of sweatpants (?!?). It began when New York Mayor Michael Bloomberg and Manhattan District Attorney Robert Morgenthau began speaking out, basically saying that there would be no preferential treatment of the former Giants star and that he would be prosecuted to the fullest extent of the law.
In other words, when the time came: Plaxico Burress would be an example.
Now the time has come for that process to begin.
Burress' legal team searched for leniency. It first hoped Burress could gain leverage by not accepting a plea deal early. Then it hoped Burress could develop sympathy or understanding by testifying before a grand jury. Now there are limited options to get Burress a sentence shorter than the two-year sentence Morgenthau has insisted on.
Now Burress must either plead guilty to all three charges -- two counts of criminal possession of a weapon and one count of reckless endangerment -- or risk a trial. By just admitting before the grand jury that he had the gun, Burress likely sealed the fate of his case -- making his situation from this point on as no-win as the Detroit Lions.
(The minimum jail time for possession of a firearm in New York, if convicted, is 3½ years. Even if Burress' team tries to have the charges reduced before trial, Burress still could be looking at somewhere around two years in jail -- the usual length of time agreed to in plea deals under these circumstances, according to Morgenthau.)
Morgenthau understands there will be pressure to make sure that a message is sent out about how serious the city is about people rolling through its boundaries with unregistered and loaded weapons. No, Burress isn't the first one to do this. He was just unfortunate enough to get caught.
Munson: Talking Didn't Help

His grand jury testimony was a high-stakes gamble, and Plaxico Burress lost it. Monday's indictments make matters much worse for him, Lester Munson writes. Story
In keeping it 100 percent, Roger Goodell might take the lead now that an indictment has been made. Just like Bloomberg, Goodell has a reason to use Burress as an example to send a message to others about what not to do. The only difference: Bloomberg is concerned about a city; Goodell is concerned about a league.
For what Burress is about to go through, they're one and the same.
So what does an example look like? At this point, we don't know. Neither does Burress' attorney, Benjamin Brafman. Neither does Burress. But the people working on the other side of their case have a pretty clear idea.
They know that for them, an example looks like something that will make the next person think twice -- maybe even three times -- before breaking the law. They know that for them, an example looks like a 31-year-old, 6-foot-5 brotha in a suit who's about to pay a steep price so that no one else -- NFL superstar or sneakerhead from Brooklyn -- thinks he can get away with the same mistake.
They know in this case, an example will look like a reminder.
Scoop Jackson is a columnist for ESPN.com.
ESPN Senior Writer
Columnist for ESPN.com and ESPN The Magazine
Wrote for Slam, XXL, 6 years with NBA; 4 years with Nike
Plaxico Burress Indicted

On Aug. 3, former Giants WR Plaxico Burress was indicted by a grand jury on weapons charges for shooting himself in the thigh at a Manhattan nightclub. He faces a minimum prison sentence of 3½ years if convicted, prosecutors announced. Story

News
Commentary and Features
SportsNation
Video
Audio