Commentary
Michael Crabtree's gamble isn't working
Originally Published:
September 24, 2009
By
Scoop Jackson
| Page 2
Ever wonder what it feels like to be a jackass?
Not the kind President Obama was referring to when he was talking about Kanye.
No, I'm talking about the kind that sits and watches his potential football career play out in front of him because the team he is supposed to be saving is winning without him.
Now, I'm not saying Michael Crabtree is definitely one (unlike Rodney Harrison, who called Crabtree "the biggest idiot I've ever seen in the National Football League"). But with the San Francisco 49ers jumping off the season 2-0, the only unsigned rookie has to be feeling like one. This is the last thing he and his advisers could have expected in their game of cat-and-mouse with 49ers ownership. In their minds, they had to figure that once the Niners started off the season like the West Coast version of the Detroit Lions, the organization would fall in line.
That's the way it was supposed to go down. The 49ers were supposed to need Crabtree. They were supposed to draft him, pay him stacks, discover how supremely talented and gifted he was, succeed with him instantly -- and then make him the cornerstone of the franchise. Larry Fitzgerald him, if you will.
[+] Enlarge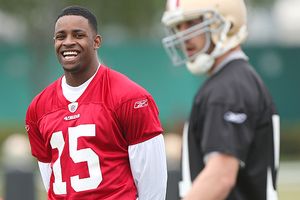 Jed Jacobsohn/Getty ImagesEvery time the San Francisco 49ers win, No. 10 overall draft pick Michael Crabtree loses leverage.
But God, Mike Singletary and 53 other players had other plans. Plans that did not, and possibly for the rest of the season do not, include Crabtree. All of a sudden, the Niners are the talk of the NFC, the new sexy pick in Vegas, with players who in the past didn't exist to fans outside the Bay Area (Frank Gore!) now getting fantasy looks. Things have changed. Quickly.
And they've changed in a way that has Crabtree's value diminishing by the day. He has to feel bad. Watching the games on TV like you and me. Knowing that with every 49ers win his value to them is the same as his value to … you and me. I just hope Crabtree is not using JaMarcus Russell's situation two years ago as the blueprint for his holdout. This ain't the Raiders. This team is and will be different.
Follow me now; read fast: Crabtree's agent, Eugene Parker, felt that in the current market, the need the team had for his client's services was greater than his client's need to be a part of the team. They felt that Crabtree -- who was drafted 10th overall -- should be paid along the same lines as a player who was picked at the spot where they feel he was "supposed" to be picked: No. 5. (Again, "supposed.") That No. 5 pick was Jets quarterback Mark Sanchez. Sanchez signed for $50 million over five years, with $28 million guaranteed. Benchmark. The only player at Crabtree's position -- wide receiver -- picked ahead of him was Darrius Heyward-Bey, who was the No. 7 overall pick and signed with the Oakland Raiders for $38.25 million, with $23.5 million guaranteed. Benchmark. The next player at Crabtree's position, Jeremy Maclin, was drafted at No. 19 by the Eagles. He, like Crabtree and his people, believe he was supposed to be picked higher but still came to terms on a $15.6 million deal with $9.5 million guaranteed. Benchmark. But neither one has what Crabtree has, and neither of the teams that drafted the other two wideouts was in desperate need of a receiver the way the Niners were. So Parker used the philosophy of "supposed need" as strategy to get his client closer to the "Sanchez money" the Jets put down than the "Maclin money" that the 49ers put in front of Crabtree.
It's not that the $20 million the 49ers (no confirmation of the guarantee amount) still have on the table is not enough for Crabtree. It's just not the amount Crabtree & Co. consider "market value" for a player who within the life of that contract, in their minds, will be to that organization what Fitzgerald has been to Arizona.
Which I get. As crazy as it is, I totally understand what Parker and Crabtree (and Deion Sanders, who is considered one of Crabtree's unofficial advisers) were trying to do. It's the nature of how business gets done in the NFL. If it works out to their advantage, then smooth. Anytime the agent and the client get double what a team was offering (they apparently want $40 million), it comes off as a shrewd and possibly brilliant business move.
But it's hard to hold a team hostage when it is already doing what you claim your client will single-handedly help it do: win. And that is one thing no one in Crabtree's camp expected. Especially not right out of the gate. Not like this. And along with those two unexpected wins is one stat that can't escape notice: Of the 256 players selected in the 2009 NFL draft, 255 are signed.
The sole holdout.
The foundation of his leverage that he had coming into negotiations is disappearing like quicksand under his feet. Game by game. Win by win. He can't be feeling good. It's human nature. It's normal. It's why winning always levels the playing field.
But in truth, he does have recourse. Despite reports that the Jets may be interested in talking with Crabtree, there's still a backup plan: re-enter the draft next year and hope to get picked higher than he did this year. Yet this tactic is something that could and probably would affect his entire career, not just his rookie season. (It's the same move that agent Charles Tucker tried with the Milwaukee Bucks and Glenn Robinson in 1994, a move that haunted Robinson throughout his career. Just something to think about.)
And if the 49ers continue to win without Crabtree, it will be interesting to see whether the risk he's taking with the beginning of his career is worth the damage it can do to his life in the NFL … if he's ever really allowed to have one.
Scoop Jackson is a columnist for ESPN.com.
ESPN Senior Writer
Columnist for ESPN.com and ESPN The Magazine
Wrote for Slam, XXL, 6 years with NBA; 4 years with Nike
NFL WEEK 3 PREVIEW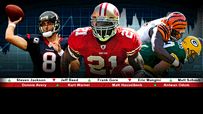 PICKS
MNF: PANTHERS AT COWBOYS
FINAL WORD
FANTASY
POWER RANKINGS
MVP WATCH
STOCK WATCH: Fallers, risers
COLUMNS/BLOG POSTS
INSIDER
SCOUTS INC.