Commentary
Yet more bad luck for Greg Oden
Ever heard the saying, "You gotta laugh to keep from crying"? Well, start laughing. Because it's happened again. Greg Oden is done for the season.
In a word: Damn. In two words: For real? In nine: How can this continue to happen to one person?
Oden suffered a season-ending knee injury Saturday for the second time in three years. He missed 20 games last season because of injuries. One injury after another after another. It's like that Christmas present you try to regift but somehow always winds up right back at your house … every year!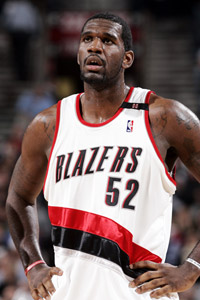 Sam Forencich/NBAE/Getty ImagesTrail Blazers center Greg Oden is out for the season with a knee injury for the second time in three years.
For Oden, life has become "Groundhog Day." Only instead of Bill Murray, he has Jack Palance or Billy Bob Thornton in the lead role. He's a one-man version of the Houston Rockets. He's Gilbert Arenas, Caron Butler and Antawn Jamison rolled into one 7-foot, 285-pound man-child who was poised to be the second coming of Bill Russell. Instead, he's become the NBA's version of Schleprock -- to the point that his rehab blog on the Trail Blazers' Web site has had more changes than Jamie Foxx or Katy Perry hosting an awards show.
He hasn't even been healthy long enough to blame a video game cover jinx.
The question is: If you are Greg Oden, how do you process this latest injury?
How do you deal with the latest chapter in your basketball career, knowing that you've become the NBA's symbol of fragility? Do you look inward? Upward? Or do you look at your organization?
Do you begin to think the center position of the Portland Trail Blazers is cursed? At this point, if you are Greg Oden, do you look at yourself and see this as something against you, or when you look in the mirror, do you see Bill Walton, Sam Bowie and Arvydas Sabonis laughing back at you?
Here's the problem. Oden, if you know him or anything about him, is one of the nicest people walking the face of the NBA. His humility and heart are what make the latest episode of his soap opera difficult to digest. Not that anyone really wants any athlete to have his or her career put on hold due to injury, but this seems to be moving beyond unfair into the category of cruelty.
Hollinger: Where To Now?

One thing is clear for Portland after Greg Oden's latest injury: The Trail Blazers have to realize they can't build their team around him going forward, John Hollinger writes. Blog
Makes you wonder whether a power higher than Blazers owner Paul Allen is trying to send Oden a hint. You know, one that whispers, "Greg, this is not for you. You have a higher calling, a higher purpose than being just a basketball player."
Here's the out: Greg, get out! Leave. Escape Portland like it's Cleveland and your name is LeBron. Disappear like the prince in a Disney movie. Turn into a frog if you have to. Anything! Let someone else inherit this hex. Limp into general manager Kevin Pritchard's office, look at him and say nothing. Just stand there, crutches in tow. All Pritchard will have to do is look at your face (and knee), and he'll know what has to be done.
Joel Przybilla, I sure hope you are reading this.
Hey, ever heard the saying, "If it weren't for bad luck, they wouldn't have any at all"? Well, this is so past bad luck Harold Melvin and the Blue Notes couldn't sing about it. This right here is hydra, a never-ending anthology of misfortune. In order for Oden to have a future in the NBA, he has to either exorcise these demons or exercise that "just in case I happen to be cursed" clause in his contract.
Scoop Jackson is a columnist for ESPN.com.
ESPN Senior Writer
Columnist for ESPN.com and ESPN The Magazine
Wrote for Slam, XXL, 6 years with NBA; 4 years with Nike