Commentary
Is Oklahoma City basketball purgatory?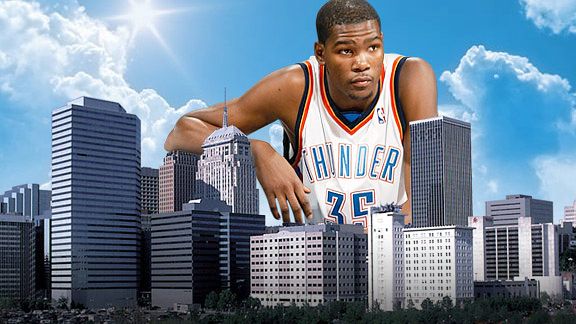 ESPN.com Illustration
OKLAHOMA CITY -- Funny thing about places we call the abyss. They never are what we think they are.
In the NBA, Oklahoma City is considered the abyss. It's the place where no player wants to be stuck. Nothing against OKC -- it used to be Sacremento, Vancouver, San Antonio and Milwaukee. Not only is the Thunder one of the least likely teams to get anyone in the 2010 free agent extravaganza which begins in July, but OKC is generally considered the last place on the NBA map any player would want to play. Not because of the organization or the fact it relocated from Seattle, but because, well, it's Oklahoma City.
But the city isn't what it's made out to be. Like Jon Gosselin masquerading as a good father, it's been misrepresented. As the Thunder's veteran point guard Kevin Ollie said, "It's not Miami or L.A., but it's cool here. Real chill."
"Chill" is not to be confused with "boring" or a form of social punishment. Chill is the life and lifestyle the Thunder have adopted. Star forward Kevin Durant, for whom it seems this outpost has become a perfect playground, said, "I come from a big city [Washington, D.C.] You can get tired of tall buildings after a while.
[+] Enlarge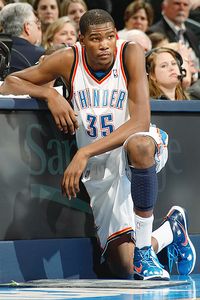 Layne Murdoch/NBAE/Getty ImagesKevin Durant has said he wants to remain with the Thunder "as long as possible." But he can become
a free agent after next season.
"Man, I live across the street from a farm."
To some of the younger players in the league, Oklahoma City might seem like the NBA's version of Smallville. But the relative lack of late-night entertainment doesn't hinder the players on this squad. Instead, they found a way to turn the sublimely simple into a satisfying routine. They do the one thing almost no other NBA team does after home games: They stick together.
Enter Mickey Mantle's Steakhouse, which is the after-game spot, according to nearly everyone. From Thunder media director Brian Facchini to an usher working the game to one of the Thunder dancers to rookie sensation James Harden, they all say Mickey Mantle's is the place to be. It's a low-key, down-home version of the Mickey Mantle's in NYC.
The downtown entertainment district in Oklahoma City is known as Bricktown. It's the place where players have options. After almost every game, without fail, that's where they go. The squad, their friends and family, their agents, their shoe reps, the dancers, season-ticket holders and anyone else who wants to be down heads over to Mickey Mantle's to chill out.
Even though there are enough "spots" in Bricktown to make a player happy he isn't a member of the Utah Jazz, the Thunder players tend to call it a night relatively early. One player put it in perspective: "It's not like the selection of women is off the charts here." Which makes it a little easier for most of the squad to "play the crib" after Mickey Mantle's closes.
The funny thing is, nightlife has never made an NBA city. To most players, that's what the road is for. But how do Thunder players occupy themselves during daylight hours, when stir-craziness can often set in?
The great golf courses that can be found around the city mean little to these players; the squad is too young to make that other game a personal national pastime. Between the options of hanging out at Penn Square and Quail Springs malls, actually spending free time in the communities, driving to the Riverwind Casino in Norman or three hours south to Dallas, most Thunder players spend their time floating between one another's houses for barbecues and video games.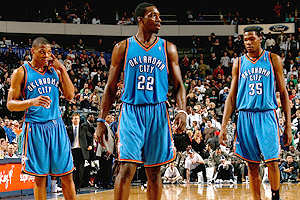 Tim Heitman/US PresswireThe nucleus of Russell Westbrook, Jeff Green and Durant could make OKC an attractive destination -- if the Thunder can manage to keep them together.
"That's what they do," Facchini said. "Most of them stay around each other, in the same community and are around the same age, so what they do is just visit each other."
Which makes what is supposed to make the abyss livable.
But Oklahoma City has at least one thing that definitely appeals to players. The Thunder has a training facility unlike almost any other in the NBA. It's where the team practices and works out. To any player who thinks OKC is NBA purgatory, this place will make you thank a higher power than David Stern for allowing a trade to go through.
The facility has become an extreme home away from home. It's an old roller-skating rink that was tricked out into a state-of-the-art basketball factory where players have been known to hang out hours after practice is over. The oversized chairs and couches are all butter-soft leather. The sound system keeps Dream and Snoop blasting. There are so many flat screens you might almost mistake them for wallpaper. There are also two chefs on site to cook for the players.
If this is the abyss, where does the line start?
Funny thing when you become the main attraction in a place that is supposed to be your purgatory, but the people embrace you so tightly you find it impossible to let them down, or let them go. You begin to realize it ain't so bad.
Several Thunder players even alluded to the fact that being in OKC has allowed them to focus more on basketball than if the team were in another city.
"People always ask, 'Wouldn't you rather be in Miami or L.A.?'" Durant said. "I always tell them, 'No.' This place is perfect for me."
Scoop Jackson is a columnist for ESPN.com.