By Scoop Jackson
Page 2
Sneak Preview: Behind the scenes of the making of "Glory Road"
"I know of a team..."
-- Nevil Shed
Those are the words that escaped Nevil Shed's mouth when someone asked him about the significance of his 1966 Texas Western team that changed the landscape of American sports. "I know of a team," he said. "That's what I want people to say when they talk about one of the greatest teams to ever play in college basketball."
*****

"We know how to play this game better than anybody living."
-- Jon Voight as Kentucky coach Adolph Rupp
In a recent story this fall in Sports Illustrated, Alexander Wolff told the tales of six black football players down South. The story starts at the University of Kentucky. It starts with the death of Greg Page, the university's first black football recruit.
"So it was that the color barrier remained intact for SEC football until 1966," Wolff writes prior to mentioning Page's 1967 death from a neck injury suffered in practice. "Logically enough, the task of breaking it fell to Kentucky, a border state that had desegregated its public schools in 1948."
That's 18 years before Page set foot on UK's campus. And of the season after Page's death, Wolff wrote that no black football players enrolled at Kentucky.
This is the difference a game makes. This game.
Prior to Texas Western's defeat of that same border-state school in the 1966 NCAA basketball championship, black athletes were barely being recruited by Kentucky. But after that, after those five "colored boys" from Texas Western proved that a group of young black men had the cohesiveness, camaraderie and composure to defeat a "disciplined team," what couldn't or wouldn't be done in 18 years finally begins to change.
And it's funny how one school can be the centerpiece of both the good and the bad, the right and the wrong, of college sports as it existed in 1966. Because as much as many of us would like to believe that "the greatest upset in NCAA history" -- as the announcer proclaims in "Glory Road" (the movie is being released by Disney, the parent company of ESPN) -- was about the revolution of five black athletes taking the court together on one of college athletics' biggest stages, we must know that the significance in this game is more about who those five brothas beat than the 72-65 score they put up.
Kentucky represented the South in much the same way that Billie Jean King represented women when she beat Bobby Riggs. If Texas Western had played Ohio State, Cincinnati or UCLA -- schools that had locks on NCAA chips during this period -- the impact of the victory would not have been as massive; this film would not have been made. But because it was Kentucky, because it was Adolph Rupp, because it was the South, because of the racism, because every school in the SEC had refused to recruit black ballplayers even though Oscar Robertson and Bill Russell and Wilt Chamberlain and Elgin Baylor were stars while in college, because it was simply a part of history America was trying to forget, the game took on a life significantly larger than any NCAA title game until Bird met Magic in 1979.
Again, white vs. black.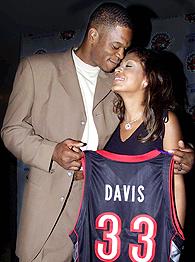 AP
This photo, from 2001, might provide a clue about why Antonio Davis felt protective.
Even then, even after the Kentucky football program had signed Greg Page (and Nat Northington, who became the first black player to appear in an SEC conference game, in 1967), it took until 1970 for the Kentucky basketball team to sign its first black player.
Denial, humiliation, arrogance, racism? Who knows. But one thing is definite: If Kentucky wins that game, Pat Riley never tells Jerry Bruckheimer the story because he never becomes "Pat Riley, Hall of Fame coach" ... because he doesn't win four NBA titles ... because Magic Johnson never plays basketball ... because Magic once told Riley that if it wasn't for Texas Western's beating Kentucky in that game he never would have started playing basketball ... which means Don Haskins' story never gets told and Rupp's does, which means we never see "Glory Road" because there's no reason for it to get made. Instead Ebert and Roeper would be thumbs-upping "Birth Of A Nation II: Rupp Strikes Back."
*****

"Texas? You want me to get lynched?"
-- Mehcad Brooks as Harry Flournoy
There is no Jackie Robinson in basketball. There is no one singular figure who can be singled out and turned into a martyr. Yes, there's Sweetwater, Chuck Cooper, "Bucky" Lew, Cleo Hill, Pop Gates, "Coach" McClendon and Earl Lloyd, but none had the direct impact on American society and the civil rights movement (or was given the credit) that someone of Robinson's stature had.
Instead, it took a team, a collection of brothas from New York, Indiana, Detroit and elsewhere, to do for basketball what Malcolm X did for apathy. More than anything, the 1966 championship win was the team version of what Jesse Owens achieved in the Olympics in 1936. It didn't break down walls or barriers as much as it defeated a regime.
Just as Owens wasn't the first black person to ever win an individual gold medal in the Olympics (DeHart Hubbard, long jump, 1924), the Texas Western Miners of 1966 were not the first black players to win an NCAA ring. Even to this day -- especially with the release of "Glory Road" -- you'll hear the grumblings of the fact that the 1963 team from Loyola University of Chicago was the first "true" black team to win an NCAA basketball trophy. Not only did its squad stop Cincinnati from three-peating (with an overtime victory), it did so with four black ballplayers on the court throughout the game. But the difference in "predominately" and "totally" were paramount back then, just as "regular" and "racist" were when evaluating and judging universities.
Other teams and players don't get the props that the Texas Western team and its players do because in America's mind, the Miners went through the fire to get theirs while everyone else simply went through the wire.
Which is why, 40 years later, not only are we watching a movie about the moment, but we're able to eat Wheaties with the team's photo on the box. We're able to hear stories from Shed, Harry Flournoy, David Lattin, Willie Cager, Willie Worsley and Orsten Artis. We're able to understand the fire. Their walk through.
Their story is of a three-year period where me-against-the-world took on a unified meaning. A significance that to this day rings like freedom.
Because of them we're able to say, "I know of a team..."
*****

"Activity without accomplishment."
"You are athletes -- but so are monkeys."
-- Josh Lucas as Don Haskins
Both lines in the movie represent what Don Haskins is all about, which is a beautiful thing. In a 1999 interview with Bruce Lowitt of the St. Petersburg Times, Haskins downplayed the importance of the game while at the same time suggesting how affected he is by its historical relevance.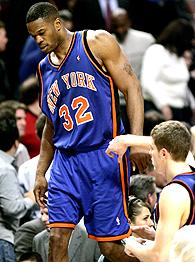 AP
On his way out of the stands, Davis must have known he'd face consequences.
He says: "The teams that we were playing -- like Arizona, Arizona State, New Mexico, New Mexico State -- we were playing against black players all the time. It really wasn't that big a deal. ... I never thought a thing about it." Later, in an interview with Frank Fitzpatrick, author of the brilliant "And The Walls Came Tumbling Down: Kentucky, Texas Western and the Game That Changed American Sports," Haskins says, "I'll be honest with you, I'm sick of talking about the damn thing. Sometimes I wish we finished second."
The spectrum of which leads to the greater understanding of how deep it really must have been. If fatigue had set in with Haskins' talking about it, how does he think it felt for the players who actually went through it?
Finish second?
Imagine how insignificant his players would be today if they had.
And although this game is not about Haskins, the movie is.
His subtle messages throughout give the audience a glimpse of how his wisdom not only helped this team win a basketball championship but also helped seven black men get prepped for life beyond basketball. Not coming in second that one time did as much for their lives as it did for every one of John Wooden's title-winning players (and Wooden won 10 championships).
For black athletes in those days -- in an era that was oppressive nationwide, not just below the Mason-Dixon Line (note: although the Harlem Globetrotters began barnstorming as a basketball team in 1927, they didn't play a game in Harlem until two years after the Miners won that championship) -- losing was never an option, for them or for the white men who dared to coach in un-Jim Crow numbers.
*****

"Welcome to the back of the bus, white boy."
-- Sam Jones III as Willie Worsley
Ron Thomas, in "They Cleared The Lane," writes of the 1966 NCAA finals: "Black attendance at sporting events reflected the common racial customs of the times. Some events allowed blacks, but only if they watched from their own section of the arena. Although whites revered Coach Rupp, blacks detested him." It was known, said S.T. Roach, a former high school coach from Lexington, Ky., that Rupp didn't want black players. According to Thomas, when Texas Western with its five black starters whipped Kentucky, "blacks all around the Commonwealth rose up and cheered because Rupp had gotten beaten."
Bobby Joe Hill, the team's leader, said in Lowitt's story, "[The victory] was the thing that opened doors in the ACC, the SEC. ... Everybody started recruiting blacks after that."
Coach Don Haskins (Josh Lucas) took a huge chance in changing college basketball and society.
Said Lattin, the center, in the same article: "It certainly made it possible for a lot of black kids to go to majority white colleges to get a better education. It was a significant point that turned racial issues around and made it possible for guys to get scholarships -- and not just basketball. Football and baseball, as well."
And if Texas Western loses that game? Maybe it means Bobby Joe Hill is alive today but without a story of himself played out on the big screen. Maybe it means Nat Northington never suits up for Kentucky's football team in that SEC game in 1967.
This game gives Al Davis' generic "just win, baby" a whole 'nother meaning, don't you think?
A loss would have meant that Earvin Johnson would have never become Magic. Michael Jordan claimed he never would have gone to UNC if Texas Western had not won that game. Others? Try that without this win, John Thompson isn't allowed to put together those teams at Georgetown without resistance from the school or the conference. Then in no way does Jerry Tarkanian build those UNLV G-Unit squads of the early '90s. Then five freshmen never come together at the University of Michigan a few years later with plans to take over the world.
More direct, if Texas Western loses that game, Nate Archibald never leaves NYC to follow Bobby Joe's footprints, Maurice Cheeks never leaves Chicago years later to put his feet where Archibald's were (at West Texas A&M), which means Timmy Hardaway never follows Cheeks. More substantial, Nolan Richardson never gets out of El Paso to coach Arkansas to become only one of three black coaches to ever win an NCAA championship.
And Tubby Smith never gets interviewed in 1997 for the coaching vacancy at the University of Kentucky.
Which brings us back to the beginning. Full circle squared. Six degrees unseparated. Back to where the chariots swing low but the ropes swung high. The birth of Jim Crow. Back down South.
This game was more than just the breaking of a barrier, the Emancipation Proclamation of basketball; this was about the advancement of process and procedure. The speeding up of human rights. At the pace desegregation was going at the time in education and in sports, if Texas Western had lost that game, it may not have been until 1984 -- 18 years, remember? -- that America would see five black guys on a basketball court at the same time on the same team playing for an NCAA championship.
White supremacy has a way of not relinquishing anything until it itself is either defeated or proven unsuccessful. You have to understand this in order to realize that the game they played on March 19, 1966, wasn't what was important. What was important was those five "nigras" won.
Scoop Jackson is an award-winning journalist who has covered sports and culture for more than 15 years. He is a former editor of Slam, XXL, Hoop and Inside Stuff magazines and the author of "Battlegrounds: America's Street Poets Called Ballers" and "LeBron James: the Chambers of Fear." He resides in Chicago with his wife and two kids. You can e-mail Scoop here.