By Bomani Jones
Special to Page 2
It seems to matter not what happens in the regular season in Atlanta, for something will happen in October that will send those wrong-as-all-outdoors tomahawks back into the mothballs at home. They've been sent home after the best regular-season record in baseball. They've been sent home after the squeakiest of entries into the playoffs. And they've been sent home after the team stayed alive longer than anyone expected.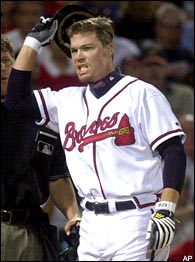 Chipper Jones and the Braves are surprisingly still on top in the NL East.
They've been sent home in nearly every way imaginable.
At this point, it all seems old. No matter what happens between now and the end of October, it's happened at the Ted before.
Maybe that's why it seems so few really care that the Braves have dashed to a 5 1/2-game lead in the National League East, leaving fans in Philly wondering what happened to their year.
Luckily for Marlins fans, last year was their year; so the Braves' lead now shouldn't sting as badly.
*****
The plight of the Atlanta sports fan is so predicatble. It can be expected that any glimmer of success enjoyed by the Falcons will surely be counterbalanced by some tragic occurrence -- the franchise hasn't had back-to-back winning seasons in almost 40 years of existence. The Washington Generals' record against the Globetrotters is better than UGA's mark against Florida at the World's Largest Outdoor Cocktail Party. The Hawks will be ... the Hawks. And with little fail, the Braves will find a way to lose in the postseason.
When the outcome is known, it's hard to get amped up. Criticism of Braves fans runs rampant, and the critics are equally dead-on and off base. They're dead-on because success should be easy to love. It should be easier for anyone who remembers just how terrible the Braves were before their sudden ascension in 1991. They were so bad that Elton John, perhaps the team's most famous fan after Ted Turner himself, developed an affinity for them sheerly out of sympathy. In every hotel, TBS was sure to be on the dial, and so Sir Elton was sure to be able to watch the Braves get pummeled -- so long, that is, as the day of the week ended in "Y."
They were so bad that Rick Mahler made five Opening Day starts for them from 1982-88.Sure, he threw three shutouts on Opening Day. But starting Rick Mahler on Opening Day is like wearing sweats to the prom.
But the criticisms are off base because Braves' fans who watch the team around October can't help but feel they're watching "Groundhog Day." Each day isn't exactly the same, but the ending always feels eerily similar. When they're down by two in the seventh with runners on second and third with two outs, it doesn't feel like a rally. It feels like a tease. Chances are that if for some reason the channel is changed for two seconds, a commercial will be showing when Fox comes back to the screen. And trust me, it won't be because of a pitching change.
At this point, Sid Bream willing himself around third and to the plate on tattered knees is a distant memory. The division championship in 1993 -- which may go down as the last great pennant chase in the non-wild-card era -- is a lifetime away. Now, people expect the Braves to be good, making it even worse when 'really good' is almost never good enough.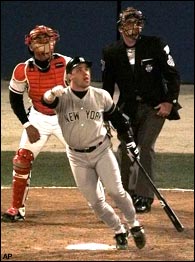 Jim Leyritz's homer in the '96 World Series is one of the most tortured moments in Atlanta's sports history.
Plus, Bobby Cox is so good at running a smooth, professional ship that fans aren't even treated to the occasional intriguing sideshow. The only focus is the baseball, which contributes to the eerie October déjà vu. The only real sideshow of the last 10 years was that damned John Rocker, and he was too disturbing to make for enjoyable rubbernecking.
Curiously, when they won the World Series in 1995, they weren't supposed to win. The Braves managed to beat the Indians that year, a team that won 100 games in a strike-shortened season. In spite of Albert Belle (who went for 100 extra-base hits that year), Manny Ramirez, and all the other lumber Cleveland brought to the Series, Atlanta finally managed to uphold the axiom that good pitching beats good hitting.
The following season saw them stave off a 3-1 deficit to beat the Cardinals in the NLCS, blowing St. Louis to smithereens in Games 6 and 7 with double-digit victories. And after they stole two games at Yankee Stadium and built a six-run lead in Game 4 that year, Jim Leyritz shut it all down with his three-run shot in the eighth that started a disturbing downward spiral in Mark Wohlers' life (which included a bad case of the Steve Blass Blues, during which his wife left him) and soured all optimism in Atlanta forever.
Since then, it's never seemed like the Braves will win anything big. Even in '97 against the Marlins, it didn't seem as if they would win (although it must be said that Wayne Huizenga owes Eric Gregg a ring for his role in Livan Hernandez's 17-K Game 5 "masterpiece"). Against the '99 Yankees, even though the Braves had racked up 108 wins in the regular season, it didn't seem as if they would win.
Last year's team, loaded with offense and a strong bullpen, didn't seem capable of winning in October, either. When Kerry Wood took the hill in Game 5 of the NLDS, it was clear that the Jekyll-ish side of Wood's comparison to Nolan Ryan (his unhittable heat) was going to show up instead of the Hyde-ish end of things (his suspect control).
How'd we know? Because he was facing the Braves.
So now, this season, through some combination of Cox's genius and the baseball gods' summertime affinity for the Braves, Atlanta holds a comfortable lead in the National League East again. It's too easy to say that reports of their demise were exaggerated, especially after the Phillies and Marlins still seem unavoidably superior to the umpteen-time defending division champions. I know hindsight has this nagging tendency to get it right, but most analysts were wrong.
Just how Atlanta is doing it defies explanation.
There isn't one starting pitcher I'd want on my fantasy team. Russ Ortiz, who starts against Roger Clemens on Tuesday night in Houston, has a nice record and ERA, but he can't seem to get it in gear without a herd of enemies on base. He's like a guy who pays all his bills on the day they're due. That's cool most of the time, but the day he leaves his checkbook at home will be the day the lights go out in Georgia.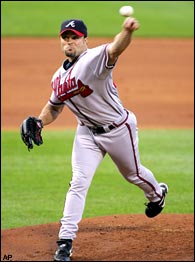 Mike Hampton's been inconsistent, and yet the Braves' pitching staff has great numbers this season.
Mike Hampton's inconsistency makes one wonder if he's on the mound some days just to get his bat in the lineup -- and he isn't even swinging the stick like he used to.
Just like last year, the Braves' best starter isn't a starter at all. He's their closer, John Smoltz.
And yet somehow, they have the best ERA in the NL.
The lineup has been pleasantly surprising, buoyed by J.D. Drew and Johnny Estrada. John Schuerholz should thank himself for bringing those guys on board, since Chipper Jones' average still hovers around .230, a couple of king size sacks of M&Ms away from hitting his weight. Even with Drew's unexpected success replacing Gary Sheffield, no one strikes fear in opponents' hearts.
No matter. The Braves are fourth in the league in runs.
They're poised to head back to the postseason.
It just doesn't feel like they'll be there for long.
Bomani Jones' music column, "For Myself and Others," debuts Aug. 12 on Africana.com, an AOL subsidiary. Questions, comments, praise, and hate mail are welcome at bomani@bomanijones.com.