By Bomani Jones
Special to Page 2
CHAPEL HILL, N.C. – To say Friday's news conference in Chapel Hill felt like a funeral might sound void of perspective of what's important in life, but any Tar Heels fan who denies that twinge is lying.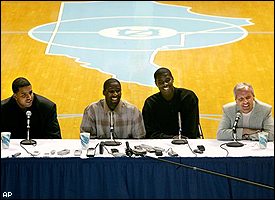 May, Felton and Williams are putting Carolina behind them.
When word traveled Thursday that Raymond Felton, Sean May and Marvin Williams would announce their intentions for next season together, a stampede was expected. They wouldn't be doing this together if they weren't all saying the same thing, and Felton's departure has been expected for the last year.
"[Insert player here] will be holding a news conference" means the same thing in basketball lingo that "we need to talk" means in female-ese – it's time for me to do some things, it's not your fault, etc. No matter the spin, she's leaving.
"[Three players] will be holding a news conference" is even worse – she's leaving, the kids are waiting in the Benz, and she needs help loading the plasma screen into the trunk.
By 2 p.m. ET, Carolina fans were left sitting in the dark, watching the wedding video, drinking Black Label on the rocks and dreaming of good times past.
* * *
Seated behind a table on the floor of the empty Dean Dome, May, Felton and Williams individually announced they would enter the NBA draft. Marvin and May both wore black, apropos considering the somber occasion. Roy Williams, seated to the left and wearing a sport coat, white T-shirt, and jeans from the Sonny Crockett collection, looked as though he also wanted to declare (as would anyone losing his top seven scorers).
Fans are understandably upset but, interestingly, no one on the makeshift dais seemed very excited either. Each player answered with predictable (though likely accurate) clichés about taking care of families and fulfilling dreams, but none seemed ready to leave just yet. They seemed so uninspired that a reporter actually asked the three if they were happy.
"I'm always happy," Marvin Williams answered. Perhaps, but "always" usually indicates a bit of dishonesty.
The smart move – getting while the getting is good – didn't appear to be nearly as desirable as staying in school.
Child's Play? So two weeks ago. This is grown man's business. Get paid.
If I were them, I'd do the same thing.
But I'm not. I'm another Carolina resident trying to recover from these whirlwind departures.
Williams had to come out. Depending on how the lottery shakes out, he could be the top pick this year, and it's unlikely he'll slip below the top five. Next year, assuming the NBA does not implement an age limit, the first pick is guaranteed to be prep star Greg Oden. (With an age limit in place, Oden's first choice for college is Wake Forest, making life even worse for Carolina).
Marvin's game is NBA-ready – his only noticeable weakness is that he doesn't play well with his back to the basket. But since he can run the floor, is strong, and is money from 20 feet, he has time to pick up a post game. The prospect of being the go-to guy at Carolina, maybe even ACC Player of the Year, isn't enough to compensate for losing spots in the draft.
He hasn't yet signed with an agent, and he appears to be happy in Chapel Hill – much happier than he'll be playing for most teams in the lottery. Most would rather hear their names associated with the phrase, "we find the defendant guilty," than the phrase, "the Atlanta Hawks select ..." There's a chance he might come back, but only a fool would bet on that.
It's likely Felton would have left after last season had he performed better in the postseason, so his announcement was little more than a formality. His speed and uncanny court vision have been in place since his freshman year. He needed to come back to school to get a jump shot. After shooting 44 percent from long-range this season, there wasn't much left for him to do in college.
May served as the group spokesman at the press conference, which was fitting. His announcement seemed the most unlikely, in spite of the unbelievable way he ended his career. Three months ago, he seemed the least likely of the Tar Heels' underclassmen to come out. As only Charles Barkley and a young Larry Johnson were NBA stars in recent memory with games similar to his and his lack of height – it's doubtful he'll measure up to his listed height of 6'9" – he was Carolina's only star expected to stay for four years.
But after a run that started with 23 points and 18 rebounds against Duke at Cameron, May went from being the underachiever of the team to being a national player of the year candidate. When Rashad McCants, the Heels' best scoring option, missed four games with an intestinal disorder, May put the team on his back, averaging 23.5 points and 14.8 rebounds, including a legendary 26 and 24 in the rematch with the Blue Devils.
May produces on the sneak, having the kinds of games that are more impressive after reading a stat sheet than while the game's going on. When no one was paying attention, all the legitimate criticisms of his game – notably his suspect defense and conditioning – became moot, and derisive nicknames about his chubbiness became inaudible. He was Carolina's best post player since Antawn Jamison, which says a lot considering that Jamison is one of the rare few whose jersey has been retired.
May's ascension and departure show how fleeting a trip to the mountain top can be in college basketball. By the time most Tar Heels fans saw how good May had become and were able to appreciate his game, he realized how good pro scouts thought he was. Something similar can be said about Carolina's championship. Before a title-thirsty community could bask in success' glow, 90 percent of the team's scoring, 82 percent of its rebounds, and 81 percent of its assists were headed off-campus (that includes the departing senior class and McCants, who declared for the draft last week).
Adding insult to exodus, Duke will likely bring back every significant contributor from last year's team but Daniel Ewing, and nabbed a top-notch recruiting class featuring high school player of the year Josh McRoberts.
Even McCants must be a bit salty. Friday's press conference just dropped him three spots in the draft.
With all that going on, the biggest shock of the offseason is that Roy didn't cry during Friday's proceedings.
Fears abound of a repeat of the disastrous 8-20 season of 2001-02. Things won't be that bad next year. That team was recovering from Bill Guthridge's inability to recruit when it was common knowledge he wouldn't be coaching the Heels for long, but this regime hasn't had to deal with that.
The incoming class is good. No one's expecting top recruit Tyler Hansbrough to even be a reasonable facsimile of May, but he's far from a slouch. Danny Green also won't be McCants, but he'll be decent. And, as we speak, Williams is trying to woo Uche Echefu, another big man, but it looks like he might be headed for Maryland.
As for the players remaining from the championship team, bright spots are hard to find. The leading returning scorer, David Noel, averaged all of 3.9 points per game this season. Of the returning players, only Reyshawn Terry has a decent jumper and is expected to get playing time. The Heels' most glaring weakness will be that Quentin Thomas, who had as many minutes in the Final Four as turnovers – two – will play point guard.
That would be the same Quentin Thomas who lost the only game he started last year, a double-digit loss to Santa Clara that was forgotten by the world because it happened the same night as the Malice at the Palace. That would also be the same Quentin Thomas who showed up at the team's victory celebration at the Dean Dome wearing a white vest that had his likeness airbrushed on the back, a move that renders him unqualified to decide what to eat for dinner, let alone run Carolina's offense.
So, Tar Heel Nation is left with this emptiness. You know, somewhere, someone in light blue is flipping a light switch, popping in a tape of the Illinois game, and sipping on a smooth glass of scotch while reminiscing about the good ol' days.
Distant though it seems, they were only two weeks ago.
Bomani Jones writes a monthly column for www.blacksportsnetwork.com and a weekly music column for AOL BlackVoices. Questions, comments, praise, and hate mail are welcome at bomani@bomanijones.com.