By Bomani Jones
Page 2
This year, Vince Young's life has been all about the Rose Bowl.
Not just because of what he accomplished there, but because his 2006 has been a lot like that game. He jumped out to an early lead, was jerked back to earth around halftime, but he hit the homestretch in stride and, against nearly every expert prediction, emerged as the biggest winner of the year.
The Rose Bowl is the prettiest feather in Young's cap, but it's just part of the story of Young's 2006. It's a tale of triumph, embarrassment and, for lack of a better term, redemption that speaks to the power of poise, perseverance and personality. And while the ink is still drying on the 2006 chapter of his story, it is clear that no one did more in the last 12 months than Vincent Paul Young Jr.
---
The story begins in Pasadena on Jan. 4. Young led Texas to an epic victory over Southern California, ensuring his Longhorns will be remembered as one of the greatest teams of all time (No. 3, according to Richard Billingsley's College Football Ranking System) and that Young will be considered one of, if not the, greatest clutch player in college football history.
There was so much more to Young's performance that night than his eye-popping 267 passing yards and 200 rushing yards. He entered the game upset at his second-place showing in the Heisman voting, which was a landslide in favor of USC's Reggie Bush. The Longhorns came into the Rose Bowl as 7½-point underdogs against a team expected to win an unprecedented third straight national championship and a place in the annals of immortality.
Remember how it played out? Texas jumped to a 16-7 lead then spit the bit in the second half and fell behind 38-26, only to ride Young and his mojo to a 41-38 victory.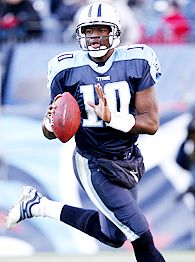 AP Photo/John Russell
All Vince Young did in 2006 was win football games -- and silence critics.
Young accounted for every yard on Texas' game-winning drive – 36 with his passing and the other 20 rushing. On what was certain to be the Longhorns' last play, he kept the ball on fourth-and-goal from the 8-yard line and dashed toward the pylon on the right side of the field, leaving two USC defenders helpless to stop his irresistible force from taking the championship from them.
When the game ended, Young became immortal, a permanent fixture in future discussions of big-money performances. He effectively took the Heisman away from Reggie Bush in much the manner Hakeem Olajuwon took the NBA MVP away from David Robinson in the 1995 Western Conference finals.
The Longhorns were loaded with talent, with (by my count) 17 other players who will cash NFL paychecks. And yet, even though the Longhorns were that deep and that balanced, they needed Young to be their compass. They knew he was the reason the analysts were no longer saying that Texas was too soft to win a big game.
After the game, a friend, an Oklahoma diehard, said he'd cried watching Young lead Texas to the national championship. Was he just hating, seeing how the 'Horns had beaten the brakes off his Sooners earlier that season? No. He said, "I cried because he made me proud as a black man."
Never had a black quarterback done anything like this. Never had a black quarterback used such a grand stage to undermine the stereotypes that kept black folks from under center for years. This was bigger than Doug Williams' performance in Super Bowl XXII, in which Williams' four second-quarter touchdown passes were supported by a great Redskins defense and 204 rushing yards from Timmy Smith.
In the national championship game, Young did it all, accounting for 467 of Texas' 556 yards (84 percent) of total offense.
If only the old-timers who believed that black quarterbacks lacked the fortitude, focus and intelligence to be leaders of men had seen Young in the Rose Bowl. If only they had seen him complete passes to seven different receivers, working through his progressions and going to his check-downs. If only they had seen Young repeatedly make every right decision. If only they had seen Young's underdog team be steadied by his hand after each of USC's best shots. They'd have a few things to reconsider. Young was that good, that inspiring.
But, a few weeks later, word got out that Young was stupid.
At the NFL scouting combine in February, Young was rumored to have scored a 6 out of 50 on the Wonderlic, an aptitude test NFL teams use to assess major cognitive abilities. To put a 6 in perspective, a score of 10 indicates that someone is "literate."
And just that quickly, questions flew about Vince's intelligence. Not just whether he was intelligent enough to play quarterback, but whether he could even read. The chatter surrounding the draft had his stock plummeting, and his 4.58-second 40-yard dash at Texas' pro day – lower than expected – didn't help. Not only did people think he was dumb (it was later reported that he actually scored a 16), but they found out he might not be as athletic as previously believed.
Neither point meant much of anything. The Wonderlic rumor suggested that Young might not be the man to sit next to if you planned to cheat on a midterm exam, but no one gives midterms in the NFL. And his 40 time said nothing about how Young can create running lanes with a pump fake, how tacklers bounce off him as if he is surrounded by a force field, or how well he is served by his uncanny knack for knowing when to pull down the pigskin and take off. Young was drafted third by the Tennessee Titans. Many figured he wouldn't see the field for at least two years. By Week 4, he was starting.
The Titans were 0-3 when he took over, and it looked certain that they would finish with one of the worst records in the league.
They're 8-7 now. The roster is as spotty as it was in Week 3, but they're winning.
Why? Because Vince wins.
His numbers aren't spectacular. He has a lower quarterback rating (69.7) than every starter in the league other than Bruce Gradkowski and Andrew Walter (and the newly benched Joey Harrington). He hasn't completed a pass as long as 40 yards all season. But he's led four game-winning, fourth-quarter drives. He embarrassed the Texans – his hometown team and the franchise that paid David Carr an $8 million roster bonus instead of drafting Young with the top pick – with a 39-yard touchdown run in overtime that showed the same burst and savvy as his last play in the Rose Bowl.
Under Young's watch, the Titans have defeated five playoff contenders and suffered one-point losses to two others. He put together one of the most amazing fourth-quarter comebacks in league history, leading Tennessee to a 24-21 victory over the Giants after the Titans were down 21-0 with less than 10 minutes to play.
And going into the season's final weekend, the Titans are a win – and losses by three teams – away from the playoffs.
He's winning in the NFL in the same way he won in college. It's the way his face rarely changes, how his game can suffer through the air until a big pass is needed the most, how he's not blazingly fast but seems to run past linebackers as if they're running up a "down" escalator. And it seems like he always does enough, whether that means throwing a touchdown pass or setting up a winning 60-yard field goal (like he did against the Colts in Week 13).
He always seems to be under control, and he always seems to know how to make his team better.
And no one did that in 2006 like Vince Young.
Bomani Jones is a columnist for Page 2. Tell him how you feel at readers@bomanijones.com.