By Bomani Jones
Page 2
Editor's Note: Curious to know Jason Taylor's latest thoughts on Shawne Merriman and the demise of the Chargers? Well you're in luck, because our own Bomani Jones "intercepted" an e-mail Taylor wrote Sunday night.
Dear Shawne,
Saw the game on Sunday. Had to be rough, dude. It ain't every day that the defense commits the biggest turnover of the game. You and yours are feeling a weight that few defenses have ever been forced to carry. It's sad.
I've got but four words to offer you -- nanny nanny boo boo! Real talk -- who had a better season? I missed the Super Bowl, as did you. But I've got this piece of hardware over here. That's pretty funny, don't you think?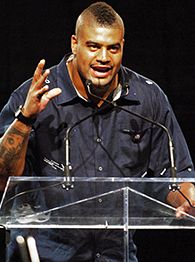 Kirby Lee/Wireimage.com
The mohawk? Yeah, not so good.
Maybe you don't agree. I know you're going through some things right now, so I thought I'd send you a care package. But since I don't feel like spending the postage on sending the stuff to you overnight, I'll just tell you what I was going to send.
1. A pair of clippers
I know you're a young dude. Young, dumb and full of bad ideas. But no ideas have been worse than your hairdos this year. The mohawk? Only works with about 45 pounds of gold around your neck. Having words cut into your hair? That instantly reminds me of Dennis Rodman, and you should never emulate Dennis Rodman. You ain't a power forward, playboy.
But I'll be honest -- that kind of stuff works for a maniacal outside linebacker. Fits in with a larger aesthetic. But you're not a linebacker again until summer! Right now, you're just a civilian.
More important, you're a grown man. Just keep it simple and get a caesar.
2. Some of that popcorn you sent me
Just in case you didn't save any for yourself, I thought I'd send you some of that wonderful popcorn you gave me. I mean, it was good and salty, just like you must be right now. While I was watching the Chargers get put out of the playoffs, I sat on my couch and thought to myself, "Man, Shawne's probably saltier than this popcorn." Then I ate another handful and laughed.
3. A photograph
Lemme tell you about it. That's me on the left, and that's the Defensive Player of the Year trophy on the right. Thought you might wanna see what it looks like. That should give you plenty of motivation while you're hitting the weights in the offseason.
If you'd like the package, you can come by my place and pick it up. Maybe you could stick around and watch some games. Not like you've got anything else to do.
Ha!
Cheers,
J.T.
Bomani Jones is a columnist for Page 2. Tell him how you feel at readers@bomanijones.com.