By Bomani Jones
Page 2
Word on the street is that wins by the Colts and Bears on Sunday provided evidence of the progress the NFL has made with regard to race and coaching. Some would say that, by doing their jobs, Tony Dungy and Lovie Smith provided a milestone in the NFL's quest to desegregate its coaching ranks.
Y'okay. Not to ruin the joy of Black History Month coming a few days early, but such thinking is both ridiculous and dangerous.
| | | | | |
| --- | --- | --- | --- | --- |
| Coach | 1st Yr | Record | Yrs | Playoffs |
| Art Shell | 1989 | 56-52 | 7 | 3 |
| Dennis Green | 1992 | 113-94 | 13 | 8 |
| Ray Rhodes | 1995 | 37-42-1 | 5 | 2 |
| Tony Dungy | 1996 | 114-62 | 11 | 9 |
| Herm Edwards | 2001 | 48-48 | 6 | 4 |
| Marvin Lewis | 2003 | 35-29 | 4 | 1 |
| Lovie Smith | 2004 | 29-19 | 3 | 2 |
| Romeo Crennel | 2005 | 10-22 | 2 | 0 |
This may be the first time a black coach -- let alone two of them -- has made the Super Bowl, but successful black coaches have been the norm for the last 17 seasons. Of the eight black coaches hired in the NFL's modern era, all but Cleveland's Romeo Crennel have made the playoffs at least once. Of the seven who have made the playoffs, only Marvin Lewis has not made the playoffs at least twice. But Lewis, in fairness, was busy shaking the Bengals from a decade-and-change-long slumber, which was no small feat.
Why have black coaches been so successful? Seems as though it's because a black man can't get a job coaching in the NFL unless he's uncommonly impressive. The eight black coaches in the NFL's modern era have a combined record of 442-368-1, a .546 winning percentage. They've made the playoffs in 29 of their 50 combined seasons.
These results mirror what University of Pennsylvania economics professor Janice Madden found in her 2004 study of the differences in job performance between black and white coaches. She determined that the success of black coaches was "consistent with NFL teams 'requiring' that African-American coaches be better than Whites to obtain and to keep their positions."
'Twas an interesting conclusion, but it didn't take a Ph.D. to figure that out. Old folks have been saying similar things for years. In a 1999 interview with Time, Chris Rock said he worked as hard as he does because "[he] was raised to believe that [black people] had to be better than white people to succeed," a take on racism not unique to him.
Counterintuitive though it may seem, the success of black coaches appears to be more a symptom of racism than its cure.
That isn't to say there hasn't been progress in minority hiring in the NFL. It's just that more significant milestones in the fight for equity in hiring have been overlooked. There was greater cause for celebration when Ray Rhodes, fresh off two horrendous seasons coaching the Eagles, was hired by the Packers in 1999. The same could be said when Dungy, after a string of disappointing postseasons in Tampa Bay, was hired by the Colts shortly after being fired by the Buccaneers.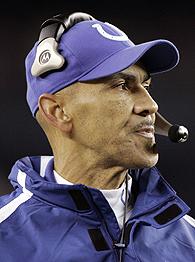 Greg M. Cooper/US PRESSWIRE
After getting dumped by the Bucs, Tony Dungy has won 12 or more games four times in five seasons with the Colts.
After years of black coaches being passed over for retreads, Rhodes and Dungy -- and, later, Dennis Green and Herman Edwards -- had become retreads themselves. They'd become insiders, part of the head coaching network. Their names were considered right alongside other guys that, for whatever reasons, hadn't gotten it done before but were still respected in the business.
That is progress.
Two men doing the jobs they're paid to do? Not so much.
There's a dangerous tendency to celebrate firsts, particularly when they involve minority achievements that match accomplishments previously done only by whites. From Jackie Robinson to Doug Williams to Tony Dungy and Lovie Smith, men that integrate the annals are treated as heroes.
But what are we truly saying? Why should Dungy and Smith feel honored to be the first black coaches in a Super Bowl? Why should they be more thankful for the opportunities they've received than anyone else? Why should doing their jobs be a big deal?
Super Bowl XLI should be remembered because of its coaches, and maybe it should be commemorated. But it should not be celebrated, nor should any group use it to show how much better things have gotten with regard to race. There is nothing worth celebrating about a league that has to force its franchises to interview non-white coaching candidates and finally has a black coach in the 41st edition of its biggest game.
That's not a good thing. That's a damn shame.
The NFL appears to be on the right track when it comes to desegregating the coaching ranks. Though some teams have tried to juke the Rooney Rule, the league is to be commended for its dedication to changing the status quo.
But the successes of Tony Dungy and Lovie Smith isn't revolutionary. It's really just more of the same.
Bomani Jones is a columnist for Page 2. Tell him how you feel at readers@bomanijones.com.