DURHAM, N.C. -- Duke played a lacrosse game against Dartmouth on Saturday, but the scene surrounding Koskinen Stadium was larger than anything that happened on the field.
Otherwise, there wouldn't have been nearly as much interest.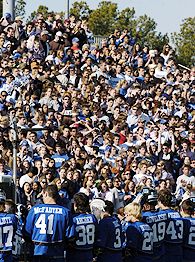 Sara D. Davis/AP photo
A standing-room only crowd welcomed the Duke lacrosse team back to competition.
For the near-record crowd of 6,485 -- so large that many were forced to stand -- it was a moment for the Duke community to show pride in its lacrosse program. It was the official return for Duke's now infamous outfit, which went from being highly ranked, but ignored by the mainstream, to becoming a national phenomenon due to an off-field scandal.
Sure, lacrosse was played, and the Blue Devils recovered from a slow start to beat the Big Green 17-11. But few, if any, lacrosse games feature the home team running through an inflatable tunnel, charging through vapors created by a smoke machine. Rarely, if ever, has a lacrosse game been the subject of an advertising campaign on ESPN, which featured a week of commercials for the airing of the game on ESPNU. Had this been just a lacrosse game, there would have been as many commercials for top-ranked Johns Hopkins' game against Albany, which immediately preceded Duke-Dartmouth on ESPNU.
Instead, Saturday was a celebration, even if it was unofficial.
"[The game] was a great chance to display school spirit," said Wesley Kesler, a Duke sophomore. "The school was anxious to see the team return."
That much was clear. Kesler insisted lacrosse has "always been popular" on campus. But Karl Boulware, a Duke graduate student who attended most of the lacrosse games last season, said the crowd was different from any other he'd seen at Koskinen.
"It's never been like this," Boulware said from the top row of the bleachers. "The bleachers would be packed, but not like this. It's all Duke [fans]."
Boulware said that a full house wasn't unusual for a game against a top-notch opponent, but Dartmouth doesn't fall into that category. Last season, he'd never seen a crowd with so many Duke fans.
Boulware noticed another stark contrast between this crowd and any other when students stood and shook their hands sideways when Dartmouth's players took the field. That's the calling card of the Cameron Crazies, a gesture that made it obvious the big crowd wasn't here because of its love for lacrosse. If that was the case, far fewer of them would have left at halftime. It was to show support for a much-maligned program.
Freshman student Chris Antonacci said this was "the thing to do" on campus this weekend, which said a lot, considering Duke's top-ranked, undefeated women's basketball team played host to fourth-ranked North Carolina on Sunday. But why was the lacrosse game treated as such a big event?
"Around here, we believe the guys [former players Reade Seligmann, Collin Finnerty and Dave Evans] are innocent," Antonacci said, "and that [last] season should not have been canceled."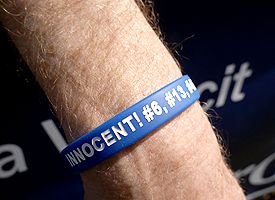 Sara D. Davis/AP photo
Charges against three former Duke lacrosse players were indeed dropped. But does that mean a team with a history of misbehavior should be celebrated?
Perhaps that's true, but that's no reason to celebrate the team. After all, none of the three players charged with crimes surrounding a March 9, 2006, house party are still on the team.
While the cancellation of the season may have been premature, plenty came to light when they left the field. Too much to be ignored.
The ad hoc committee commissioned by Duke president Richard Brodhead and Academic Council Chair Paul Haagen found that lacrosse players were involved in 36 separate disciplinary incidents in the last three academic years, including destruction of property on campus, public urination and numerous alcohol-related incidents.
What about that house party? It would have been big news if it was held for recruits. Have people forgotten about the claim by Kim Roberts, one of the dancers hired that evening, that the players hurled racial slurs at her? Or the report in the Raleigh News and Observer that one partygoer told one of the dancers to "thank your grandpa for my cotton shirt," an obvious slavery reference?
In reference to the alleged racist behavior, Antonacci said he believes "the whole team shouldn't suffer for the actions of a few."
Even if that's true -- and it's definitely debatable -- the overall body of misbehavior of this team wasn't the reflection of a few people. That track record was built by several players over a span of years -- too many sins over too much time to be written off as anything isolated.
That made Saturday's outpouring public support part of a disturbing trend. Duke lacrosse is more popular now than ever. The campus bookstore has begun selling lacrosse jerseys. Most of the lacrosse T-shirts worn by the crowd appeared to be brand new.
Many of those shirts were purchased at the game.
"Business has been great," said Jimmy "Zeke" Zechini, who sold T-shirts at a table near the concession stand.
But how much better was business compared to last year's lacrosse opener?
"We usually don't set up for lacrosse," he said.
They didn't set up for last year's opener, when Duke was coming off its second Final Four in school history. So why now? Just because rape charges were dropped against three former players?
It's highly possible that Durham County District Attorney Mike Nifong overzealously pursued allegations that lacrosse players sexually assaulted an exotic dancer.
But Nifong's actions don't make the lacrosse players heroes, nor do they make the program a collection of martyrs. At best, they are a group of young men with a documented penchant for bad behavior.
That's not something to proudly represent with a T-shirt. It's surely not something more worthy of celebration than a trip to the Final Four.
Even if the accusations against Seligmann, Finnerty and Evans are false, so many transgressions have been confirmed, while others have not been denied. Those mistakes should not be praised.
Neither should this team.
Editor's note: Bomani Jones lives in Durham, N.C., attended the University of North Carolina from 2003-05 and worked as a teaching assistant in a summer program at Duke University in 2005 and 2006.
Bomani Jones is a columnist for Page 2. Tell him how you feel at readers@bomanijones.com.