Texas hoped to prove it was a Final Four contender at Allen Fieldhouse on Saturday. Instead, it made one thing clear: Kevin Durant needs to get out of college on the first thing smokin'.
Education is great, and college is more fun than a barrel of Maker's. But if Durant's foolish enough to stick with the losing proposition he's got in Austin, he can't be capable of staying eligible.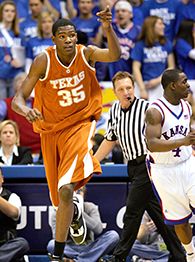 Jamie Squire/Getty Images
Kevin Durant ran away with the national player of the year awards last season. Who will it be this season?
He can work on bending his knees on defense in the NBA. Stuck with off-guards in love with their jumpers, a point guard enamored with the sound of his dribble and a coach that does nothing to help his star, there's only one thing he could get from returning to school: injured.
Texas' loss to Kansas showed every reason Durant should leave. His 25-point first half against the best defensive team in the country (Kansas yielded less points per 100 possessions than any team in the country entering Saturday's game) will be talked about for years, even though Texas lost. Both fans and journalists in attendance told me they'd never seen anything like it.
Durant shot 8-for-10 from the field, and made all five of his 3-point attempts. He scored from the post. When Kansas immediately double-teamed him, he found open men and made good decisions. He took a lob over Sherron Collins reminiscent of something that would happen to a little brother in a driveway. And his mere presence drew enough attention that Texas' guards, always itching to shoot, got great looks and led the Longhorns to 11-for-14 shooting from long range in the first half.
Durant looked like Stewart Copeland in a pep band.
If that doesn't paint the picture, consider this possession. Damion James tapped a missed 3-pointer to D.J. Augustin, who pushed the ball up the the left side of the floor with Durant filling the opposite lane. Mario Chalmers was the only man back for Kansas. He had help coming and still stuck with Durant, leaving Augustin with an easy layup.
CAROLINA FALLOUT
The difference between the Dean Dome's atmosphere during the Duke game and any other game is staggering. I could have heard a pin drop during the Kentucky game this year.
But Sunday, by all accounts, was different. Especially after Gerald Henderson rang Tyler Hansbrough's bell with 14.5 seconds left.
The first post-elbow text message I received from the Dean Dome set the scene.
"It is about to get ugly."
The first postgame call from the wife of a Carolina professor said a little more.
"If they didn't have police, [the crowd] would have stormed the floor."
The first instant message I received from a spectator went further.
"If they didn't put [Gerald Henderson] out, there would have been a mutiny."
Not quite the wine and cheese crowd you've heard about, is it?
UNC student Jon Hilliard said the scene in the upper levels was "crazy."
"When Tyler jumped up, you saw all the blood," he said. "I was in Section 218, eight rows from the top, and I could see all the blood. And I've got terrible eyes."
Then, he said, the crowd got upset and demanded Henderson's ejection.
Those who criticize Carolina fans for being too tame don't appreciate the role the team plays in the community. This isn't just the school's team. It's everyone's team, which means old folks and kids clamor for seats the same way students do. But there's one thing that brings that community together, according to Hilliard.
"Hatred of Duke is the biggest thing that brings everybody together," he says.
And now, they all hate Gerald Henderson.
There's nothing wine and cheese about that.
--Bomani Jones
Think about this -- the best defensive team in the country would rather surrender a gimme to a great scorer than leave Durant. It would have been foolish to do anything else.
It was absolutely unfair. Durant was so good that it felt insulting to compare him to the great freshman small forwards from yesteryear. He looked better than Glenn Robinson in his last year at Purdue, when Big Dog brought Roy Williams to tears in the NCAA Tournament and drove Bobby Knight into zone defenses in the regular season, which happens about as often as Pat Robertson takes notes from the Koran.
Then came the second half.
Bill Self has been roundly criticized for his coaching acumen -- even though he's got a team that freely shares the ball and plays great defense -- but he made adjustments at halftime to turn the game around. Kansas knocked seven points off a 12-point halftime deficit before Texas attempted a field goal. Self put Brandon Rush on Durant, and Rush did a great job of frustrating the Texas star and keeping him away from the ball.
It was clear that Self was going to make the Longhorns' guards beat the Jayhawks. Luckily for Self, Texas' guards beat themselves. Less than four minutes into the second half, Kansas was up 59-58.
Five minutes later, Durant was on the ground holding his ankle. On the way to the locker room, he should have started planning a press conference.
After Durant's amazing first half, Texas' guards stopped looking his way. Augustin had 10 assists in the first half, but he spent too much of the second half dribbling to his heart's content. A.J. Abrams seemed to only want to float to the corner and wait for a pass so, open or not, he could shoot the 3. On one possession in the second half, Abrams tried to float to the wing even though Durant was already there. He didn't move to balance the spacing until Durant gently pushed him toward the wing.
It's hard to blame the guards, though. Rick Barnes never put them in check. Worse still, Texas didn't have any offensive sets, and Barnes didn't call any plays. Inexplicably, possessions would pass without Durant getting a look, let alone touching the ball. It was no wonder that Durant's shot selection suffered in the second half. There was no reason for him to believe he'd get the ball back if he gave it up, and Texas is always better off when he's got the ball in his hands.
It was worse than playground ball.
If sets and plays are too much to ask for, then Barnes, Augustin and Co. should watch some reruns of "Fresh Prince of Bel-Air" and study the Bel-Air Academy offense. It's a simple scheme with just one principle: pass the ball to Will! There's no question which kid wears his blazer inside-out. Here's a hint -- that jacket's a size extra-long.
But Barnes didn't make an attempt to get Durant back into the flow of the offense. He left Abrams and Justin Mason on the floor, even though it was obvious they were cutting into Durant's touches. He never tried to rein in Augustin, even though it seemed like he only looked up to check the shot clock.
This wasn't the first time Durant was taken out of a game with no opposition from the Longhorns coaching staff. As noted by Durant's biggest groupie, The Sports Guy, Durant went five straight possessions (!!!) in overtime (!!!) against Texas A&M without touching the ball. Durant took 31 shots in Texas' epic triple-overtime thriller against Oklahoma State in January, but was often ignored in the clutch. Durant completed the three-point play that gave the Horns the lead in the final period of that game -- before Mario Boggan's game-winning 3 -- but it was on a putback of an Abrams runner in the lane.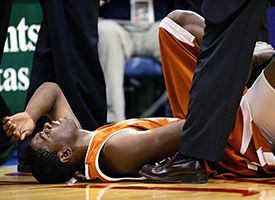 Jamie Squire/Getty Images
Durant's injury scare in Kansas could be a factor
in his decision to turn pro or stay at Texas.
Sorry, but there's no justification for a 5-foot-10 shooting guard to look for that shot when Durant, 6-9 and unstoppable, is on the floor. None.
That has been the tale of Texas' season. The current state of affairs lends no reason to believe Durant will improve at Texas. It's a wonder he's been this good.
It makes a lot more sense now that Daniel Gibson and P.J. Tucker left early last year, even though both were tweeners and neither could expect to go in the first round. What was there to stay for?
College hoops fans tend to hope star players stay in school as long as possible. That rarely has anything to do with important things like the personal and professional development of the phenoms. We're usually selfish bastards that enjoy watching the perfect blend of prodigious performance and youthful euphoria: the college superstar.
But it seems that coaches don't always love that as much as we do. Bobby Knight screamed Isiah Thomas out of school. And the way Durant is neglected in Austin, he needs to run away.
A lot of guys also know when there's nothing to gain from sticking around. Sometimes, that's because they're so incredibly good that playing against inferior competition won't provide them any benefit. But there are also situations where a player's team and program will do them no favors if they hang around campus for another year.
Durant is an example of both.
After Michael Jordan's junior year at North Carolina, Dean Smith told his star that it was time for him to leave school. Jordan wanted to stay for his final year, but Smith knew it was time for him to go.
Without saying a word, Barnes is making the same point to Durant.
The next roll of his ankle might be serious, and there's nothing to win from rolling the dice.
Bomani Jones is a columnist for Page 2. Tell him how you feel at readers@bomanijones.com.

Also See
ESPN Top Headlines