I hate front-runners.
You know who I'm talking about: folks who loved the Bulls in the '90s because of Jordan, people who like the Yankees because they like "winners," fans who love Duke just because they're on TV all the time.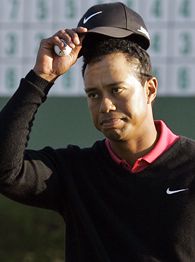 AP Photo/Elise Amendola
Tiger's definitely not happy with second place.
Yet I root for Tiger Woods. Because he's
great
. And it hurts when he loses, even though I care less about golf than Hungarian politics. For that I won't apologize.
When Woods got a fabulous roll to set up an eagle putt on the par-5 13th on Sunday, I pumped my fist like I was him. When he went in the water on his second shot at the 15th, I was bummed out -- but was elated when he managed to save par. And when it all came crashing down when his approach shot wound up in the bunker at 17, it was clear my afternoon was wasted.
After Zach Johnson did the unthinkable -- standing tall while Tiger lurked just a couple shots behind him at the Masters -- I had but one thought: whoop-dee-damn-do. (Word to Derrick Coleman.)
I've got nothing against Johnson, who surely earned his green jacket. While Stuart Appleby came apart at the seams on Sunday, Johnson brought everything he had. It was a great performance, even if he tied for the highest winning score (1-over-par 289) in the history of the tournament.
But I don't watch golf for sport. I watch golf for Tiger; he transcended sport a long time ago. He's still not the Gandhi-like figure his dad, Earl Woods, thought he would become. Yet it doesn't even feel right to compare him to towering athletic greats like Michael Jordan and Wayne Gretzky. Instead, he's an artist nonpareil.
The most comparable figure to Woods is Jimi Hendrix. Like Jimi on the guitar, Tiger has an instinctive feel for the game that makes him a virtuoso, one who makes everything look easy. Add to that the power and intensity that gives his game its unmistakable soul and personality, and it's easy to see he's the Jimi of the 21st century -- he's better at what he does than anyone else on Earth.
Looking at Tiger as an artist makes it OK for me to watch golf only if Tiger is playing. Rooting for him isn't like rooting for the house in blackjack. It's rooting for Hendrix or The Beatles in '68, Stevie Wonder in '78, Prince in '85 or OutKast today.
It's not cheering for "the genius." It's cheering for "genius." It's hoping for continued greatness -- wanting to be treated to another classic, to be blown away by his ability to meet expectations that would seem unrealistic if they had not been met so many times before, and to see it done in a new way.
Tiger had that chance on Sunday. He had never come from behind on Sunday at Augusta. His final rounds at the Masters have been more about coronation than competition. But this one could have been different. And when he led after two holes, it seemed like another classic was on its way.
But it wasn't.
His first 12 holes were uneventful, if not boring. Breaking his 4-iron on the 10th made for an interesting replay, but that was about it. Tiger didn't play badly. He didn't play well. He just played.
It wasn't until the 13th that things got good. Woods trailed Johnson by three strokes, and he needed an eagle on 13 to have a realistic chance to win. His approach shot had to get near the cup, or Tiger's tournament essentially would have been over. So what did he do? He hit a shot that looked like something from the golf equivalent of H-O-R-S-E -- over the creek, past the hole, roll back real slow, three feet from the cup.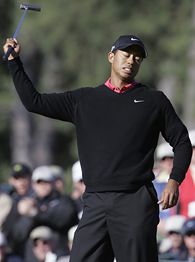 AP Photo/Morry Gash
Beward of flying clubs.
Ever bought a CD from your favorite artist, listened to half of it without hearing a single track worth repeating, and then been blown away out of nowhere by one stunning verse or solo? That shot on 13 was that solo, that brilliant moment which gave hope that expectations would be met -- that something memorable would happen, that Tiger would blow us away again. That he wouldn't disappoint.
But disappoint is exactly what he did.
Is that unfair? Of course. Sheesh, Tiger finished second in a major. That's pretty darn good. But from guys like Tiger, pretty good just doesn't feel right. "Let It Be" was pretty good (damn you, Phil Spector). Prince's "Around the World in a Day" was pretty good. So were Stevie's "Hotter than July" and OutKast's "Idlewild."
The first time I listened to each of those records, I hoped they would get better. I figured each good song I heard would be the one I'd remember as "where the album got started." But instead, those songs were just "one of the good ones." Genius was on its way, but never quite showed up.
That's how Sunday felt watching Tiger. He always seemed on the cusp of something amazing, but it never happened.
It was disappointing because that "something" is the most interesting thing out there, the only reason I'd rather watch guys hit balls with crooked sticks than NBA basketball. There's little about Tiger to be personally attached to, and he plays a game that's easier to appreciate than enjoy. But he plays on a level that may never be duplicated, and he does so in a way that demands attention.
It's disappointing when he doesn't win, but who really cares if he doesn't win? It's what doesn't happen when he doesn't win. There is no classic when Tiger finishes second. There is no art when he's in second. There's just golf.
So I root for Tiger to win because doing so means rooting for much more than Tiger. It's rooting for an idea larger than any man and more beautiful than any game, something too grand or gorgeous for second place.
And something Sunday never provided.
Bomani Jones is a columnist for Page 2. Tell him how you feel at readers@bomanijones.com.