When Manny Upton was growing up, his father called him Bossman. The nickname was so closely attached to him that his high school coach suggested he name his first son B.J. -- Bossman Junior.
So the Tampa Bay Devil Rays' starting second baseman goes by B.J., even though his birth certificate says his name is Melvin. B.J. Upton got more than a cool nickname from his father. He got a love of baseball and a successful work ethic from Manny and Yvonne Upton, too; and those lessons still fuel B.J. and his brother, Justin, the two highest-drafted brothers ever. B.J. was the second overall pick in the 2002 draft. Arizona took Justin with the first pick in 2005.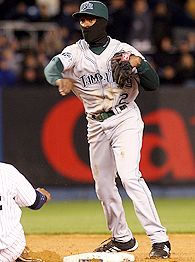 Nick Laham/Getty Images
B.J. Upton may have finally found a home at second base.
B.J. is off to a hot start with the Devil Rays, hitting .385 with a home run and five RBIs through the team's first eight games. Justin started 2007 with the Visalia Oaks in the Class A California League, a step up from his pro debut last year when he was a midseason All-Star with South Bend in the Midwest League.
They are bright faces of baseball's future in a time when fewer black players are reaching the majors. African-American players comprised 27 percent of big league rosters in 1974, according to the University of Florida's Institute for Diversity and Ethics in Sport, while this season they make up only 9.2 percent.
The Uptons are aware of the numbers. With the same love he showed his sons on their way to professional baseball careers, Manny "Bossman" Upton continues to share his passion and insight with other young players back home in Cheseapeake, Va., in the hope of re-heating the relationship between blacks and baseball.
---
The love of baseball is passed down from father to son, perhaps more than any other sport. When Spike Lee received the Beacon Award at the Civil Rights Game in Memphis two weeks ago, he discussed how his father cultivated his affection for the game.
Bob Kendrick, the director of marketing of the Negro Leagues Baseball Museum in Kansas City, understands.
"It's the most romanticized game of all the sports. People tend to mark events in their lives with baseball. The late Buck O'Neil once said, 'You never hear anyone saying their daddies took them to their first basketball game.' But you hear it all the time with baseball."
Manny Upton picked up baseball the same way. Growing up in the Tidewater town of Chesapeake, his father passed the game along to him. All his uncles played baseball.
He became a very good player. In 32 years of coaching baseball at Great Bridge High School in Chesapeake, Martin Oliver gave starting jobs to only five freshmen. Manny was one of them, before he went on to play college football and baseball at Norfolk State University. Later, he worked as a scout for the Kansas City Royals.
"I could never remember a kid that had that great work ethic and great attitude," Oliver says from his office at Hickory High School in Chesapeake, where he serves as athletics director. "Bossman always did things the right way."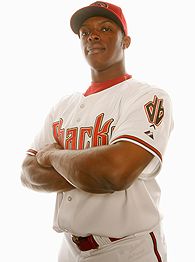 Jeff Gross/Getty Images
An infielder in high school, Justin is playing center field in the minors for the Diamondbacks.
So do his sons. Steve Gedro coached B.J. at Hickory through his sophomore year, when little brother Justin served as the team's manager. Gedro sees how they learned the game's intangibles.
"Outside the lines, Manny is a laid-back individual," he says. "Inside the lines, he's very competitive."
Manny made sure to share this outlook with his sons. His father passed away when he was 15, making it imperative that he be active in his sons' lives.
Yvonne Upton says her sons loved every minute of Manny's attention, and B.J. and Justin loved playing baseball with him.
"Oh god, I tell everybody that my sons always thought the sun would rise and set with daddy," she says. "I could remember B.J. sitting in the window. He had an internal clock and knew when he'd come home, and he had his glove."
Justin wasn't far behind.
"I always made him come and play," B.J. said at his locker in spring training. With a smirk that showed humor and a dash of pride, he says, "Everything he knows, he knows from me."
Looking back, Justin didn't find much humor in those days. He remembered being on the short end of the sibling rivalry, a feeling little brothers all over can relate to. "He was always a step up, always better. He always beat up on me."
He did, however, appreciate having his older brother. Though baseball keeps them from seeing each other very often, their relationship is strong. "I did referee a lot of fights," Yvonne says between chuckles. "But that closeness between them is always there."
They battled like all brothers do, but B.J. served as another in-house role model. Unlike Manny, B.J. was Justin's contemporary, someone he could measure his progress against and aim to surpass. "To have an older brother to try to catch up to just added a little more fire under my butt. That's what drove me to be a great baseball player," Justin said.
On his way to the Devil Rays, B.J. climbed quickly through the system, reaching the majors in August of 2004 when he was still just 19 years old. Justin was the 2005 national high school player of the year and is widely considered one of the top prospects in baseball.
But their steps up the baseball ladder haven't been totally smooth. B.J. struggled defensively in the minors, even committing a whopping 53 errors at shortstop in 2005 at Triple-A Durham. Justin hit a serviceable but unspectacular .263 at South Bend.
B.J.'s struggles in the field left the Devil Rays unsure of where he would play in the big leagues, so he wore several gloves in spring training. Upton was just as confused. When asked in March what position he would play, he shook his head, took a deep breath and said "I don't know" in an exasperated tone.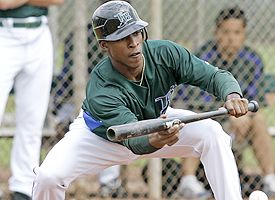 Nick Laham/Getty Images
Manny Upton taught his sons the finer points of the game.
"He's gonna be fine with it," Manny says before mentioning his appreciation for Tampa Bay's attempts to make his son comfortable. "He's happy at second. He'll do whatever it takes to be good."
Manny is also at ease about Justin, with no concern that being the top pick will burden the 19-year-old.
"If he proves himself at A ball, he'll move to Double-A. If he doesn't, he doesn't deserve to move," Manny says. "The added pressure isn't being No. 1. The added pressure is from getting better."
---
Manny Upton suggests that one of the reasons baseball seems to have lost the interest of the black community is the financial burden demanded of grooming the game's best young players. It takes money to get into the AAU programs that produce many of the top-notch high school players.
Without the wildly successful AAU summer program the late Towny Townsend founded in Chesapeake, which in recent years has produced first-round picks Michael Cuddyer, John Curtice, David Wright, Ryan Zimmerman, the Uptons would not have gotten so far.
"The more you play, the better you get," Justin says. "Playing all those games in the summer really helped."
But the summer games don't come to the players. Players have to get to the games. Parents have to be able to make time and put forth the cash to cover expenses and supplies.
"We're both working parents. They had to be where they had to be," Yvonne says. "It was a financial sacrifice. There's hotel rooms, food, etc."
Manny works as a mortgage broker and officiates college basketball. Yvonne worked as a teacher before retiring two years ago. For the Uptons, the sacrifice was manageable.
Wiley Lee is the varsity baseball coach at Great Bridge High School, where he coached Justin. He believes less fortunate black players are forced by costs to specialize in one sport, and the sport of choice in the black community is usually not baseball.
"It's a tremendous financial obligation to [play two sports]," he says. "Because of the financial obligations and the travel that you do playing AAU, it's difficult to do two at the same time."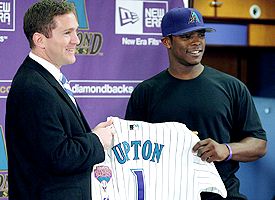 AP Photo/Paul Connors
The No. 1 overall pick in 2005, Justin signed a $6.1 million contract with Arizona.
He believes that leads kids away from baseball and toward football and basketball, games that are more prevalent and easier to pick up. That's different than baseball, which leaves those that choose to leave it.
"After 8, 9, 10 years old, you can't miss a year. After that, the kids are too advanced," Manny says. "I picked up football as a 10th-grader. I don't care how talented you are at baseball. You can't leave."
The Upton brothers were both talented football players, so they understand the lure of football and basketball. So their concerns about decreasing numbers of blacks in baseball is tempered.
"I'm not sure it's frustrating," B.J. says. "[Black kids] see guys like Michael Vick [instead of baseball players]. You just try to give them someone to look up to, to catch their eye."
Says Justin: "It's not so much disappointing. But it's to the point where we've got to pick it up again."
Wiley Lee and Manny Upton work together to encourage more black kids around Chesapeake to play baseball. Through Great Bridge High School, they provide young black athletes opportunities to play in more games and hold camps each winter, spring and summer. "We try to work with a lot of black kids and show them, not that basketball is bad, but baseball is good," Lee says.
"We have to somehow keep them involved," Manny says. "The hard part is that winters are tough. We don't have enough indoor facilities where we can keep them here all the time. Our good black athletes are good football and basketball players. We're trying to get them to start playing baseball a little bit more."
Lee says Manny's dedication is invaluable.
"He does whatever he can to help," Lee says. "We tell Upton we've got a great kid with good grades, and he comes to help. Even if he's a disciplinary problem, he helps."
B.J. and Justin also pitch in with funding for the program and help when they can.
"They come to help the kids," Lee says. "They show their faces and help motivate the kids and show it's not just a check they're willing to donate. They really spend time instructing them."
That's another example of the Bossman's mark on his kids. As proud as he is, there is one thing Manny Upton's waiting for, the one thing his sons that would please him more than anything.
"When my boys are on TV, I want them to say, 'Hi, Mom and Dad.'"
Or maybe even, "Hi, Bossman."
Bomani Jones is a columnist for Page 2. Tell him how you feel at readers@bomanijones.com.