Cavaliers are lucky to be here

Watching the city of Cleveland celebrate the Cavaliers' Eastern Conference championship was beautiful. An entire city seemed to exorcise the lion's share of its demons on a glorious Saturday night.
Well, that's part of it. The other part had to come from the fact that no sane person could have expected that outfit, with LeBron or Superman or anyone else leading the way, to make the NBA Finals. Winning feels great, but it feels better when you don't know how the hell it happened.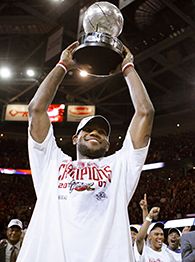 AP Photo/Tony Dejak
Once you get past LeBron James, the Cavaliers are an average team at best.
The Cavs aren't bad, but it's hard to say they're good. They will serve as little more than fodder for the Spurs as San Antonio seeks its fourth title in nine years and accompanying dynasty status.
Which begs this question: Are the Cavaliers the worst NBA Finals participant in league history?
Sounds like hyperbole, but it's a legitimate question. Consider the following:
Cleveland's playoff matchups were laughably easy

Winning three consecutive series is never easy, but few draws have been as favorable as Cleveland's. Both of the Cavs' first two postseason opponents, Washington and New Jersey, finished the regular season at .500. That squad of Wizards, short Gilbert Arenas and Caron Butler (both injured), could barely make balloon animals, let alone work magic. The Nets had little more than their big three, one of whom showed up only sporadically. Cleveland didn't truly dominate either series. Even the sweep of the Wizards was uninspiring. Plus, the Cavs didn't begin to shine until Game 5 against the splintered Pistons, who didn't play a single good game in the Eastern Conference finals.
Those wins didn't really prove much.
But you can't fault the Cavs for that. They did have the second-best record in the East, winning 50 games.
But lemme say that one more time.
The Cavs won 50 games … in the East

Not exactly the most impressive feat.
BROKEN RECORDS
NBA Finals participants with regular-season records under .600 since 1970:
• 1980-81 Rockets, 40-42 (.488)
• 1975-76 Suns, 42-40 (.512)
• 1970-71 Bullets, 42-40 (.512)
• 1977-78 Bullets, 44-38 (.537)*
• 1998-99 Knicks, 27-23 (.540)
• 1969-70 Lakers, 46-36 (.561)
• 1994-95 Rockets, 47-35 (.573)*
• 1977-78 Sonics, 47-35 (.573)
• 1974-75 Warriors, 48-34 (.585)*
• 1971-72 Knicks, 48-34 (.585)
• 1976-77 Trail Blazers, 49-33 (.598)*
• 2002-03 Nets, 49-33 (.598)
* won championship
It's almost impossible to quantify a conference's strength in a given year. Who's to say whether low win totals at the top were the result of equally distributed strength or epidemic weakness?
That said, it doesn't take a slide rule to know the East was good and terrible. Only the East in '03, when Detroit led the conference with 50 wins and the champion Nets won 49, could approach the widespread mediocrity in this year's East.
Seriously, was there a single team in the East that would be favored in a seven-game series against any of the top six teams in the West?
So don't let Cleveland's win total, which matches up favorably with some past champions, fool you.
Compare the Cavs to the team with the worst record for an NBA finalist, the '81 Rockets. Houston made the Finals after finishing 40-42 in the regular season, and it's easy to see wins don't indicate as much as we'd like to think.
One look at the Rockets roster -- featuring Hall of Famers Moses Malone and Calvin Murphy, plus Robert Reid and Rudy Tomjanovich -- and you wonder how Houston won only 40 games. A gander at Cleveland's makes you wonder how they got to the Finals.
Even some of the worst teams in Finals history would enjoy tremendous mismatches against the Cavs:
• 1975-76 Phoenix Suns: Paul Westphal, Alvan Adams, and five other players in double figures.
• 1970-71 Baltimore Bullets: featured Earl Monroe, Jack Marin, Gus Johnson, and Wes Unseld.
• 1977-78 Washington Bullets: Two top 50 players (Unseld and Elvin Hayes).
• 1969-70 Los Angeles Lakers: Jerry West, Elgin Baylor, and Wilt Chamberlain.
Best of luck to the Cavs trying to match up with any of those teams.
Cleveland has only two guys who have made All-Star teams. One is LeBron, and …
… the other is Zydrunas Ilgauskas

And that's it.
Ilgauskas was an All-Star in '03 and '05, but his solid yet unspectacular play showed that his place on those squads was a result of default, not domination. Someone had to be the backup center for the center-starved East.
But how 'bout this -- it's unlikely that any member of the Cavs other than LeBron will make another All-Star Game.
The Cavs roster isn't stocked with so-so players with bright futures. A lot of these cats are as good as they'll ever be. Larry Hughes, Ilgauskas, Eric Snow, Donyell Marshall and Damon Jones won't be making leaps. Drew Gooden's scoring is down 3.3 points per game from his career high in 2004-05. And let's not get too carried away about Daniel Gibson yet.
Since the NBA-ABA merger, only four teams have made the Finals without three players who had been or would become All-Stars -- the '86, '94 and '95 Rockets and '02 Nets. But those teams had a combination of promising talent and/or tested vets. Outside of Bron, Gibson and Eric Snow, Cleveland has neither.
The Mike Brown factor

Remember when Brown made that great adjustment …
And when he made that great call to get LeBron …
Nope, no such thing has happened.
Brown isn't a terrible coach. The Cavs' defense is too good for anyone to really say that. But when they have the ball? Oy.
In two years, Brown still hasn't shown any imagination in how to get LeBron the ball in the half-court set. He's got the best transition player in the game, but the slow-down offense is his method of choice. Combine that with his suspect timeout management, and it's safe to say Brown is not a good coach.
That's crucial because some could argue that the '01 Sixers had talent comparable to these Cavs. The Sixers, however, didn't just get a career year out of MVP Allen Iverson. They got a year for the ages from Larry Brown, who may have done the best coaching job in league history by getting that team to the Finals.
Mike Brown could make no such claim.
Perhaps all of this does little more than provide further proof of the brilliance of James. Maybe there is no greater testament to his greatness than getting this team to the pinnacle of the sport.
At the same time, the Cavs' success says as much about the East as it does about LeBron. And before the series can go back to San Antonio, we'll see just how weak the East was this season.
Bomani Jones is a columnist for Page 2. You can reach him here.