Now that LSU and Cal have lost, there's no reason to believe anyone who claims he can explain or prognosticate about college football.
Except me, of course.
To call this year chaotic is like calling the Vegas summer a bit warm. But you have to admit, 2007 has been as entertaining as any college football season ever. Sure, it does lack the anticipation of seeing two dominant teams who seem destined to clash with everything on the line. But so many games which would have been afterthoughts in most seasons have turned out to be exciting. Any time after noon Eastern on Saturday, you're guaranteed to find an intriguing game on TV somewhere. And you can't ask for much more than that.
All the same, it'd be nice to be able to make some sense of things, right? But clearly that great teacher -- experience -- will tell us little. The year 2007 is one of a kind. The best we can do is go back and look at the improbable and inexplicable happenings of this season, and try to find something -- anything -- that adds up.
So join Page 2 in a game of 20 Questions. Actually, it's the same question -- "What does that mean?" -- 20 times. It's just as much fun though, we promise. And the further you get down the list, the more unlikely the scenario you'll find.
20. USC, the greatest team Stanford coach Jim Harbaugh has ever beaten, has looked subpar against average-to-poor opponents the past three weeks.
Means nothing to the Trojans' prime competition. USC hasn't lost in the regular season to a ranked team since 2002.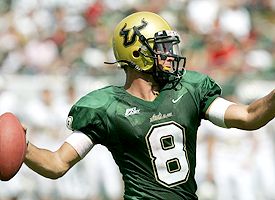 AP Photo/Chris O'Meara
South Florida, No. 2 in the nation? No, you're not dreaming.
19. South Florida is No. 2 in the AP poll and the initial BCS Standings.
Shining on national television is a big deal. USF won two tight games against national powers and blew out North Carolina -- all on ESPN -- in successive weeks, making it easy for pollsters to see they're legit.
18. If undefeated Kansas keeps winning, it will be favored in each of its remaining games.
There's a reason some schools think scheduling nonconference heavyweights is like taking quantum physics as an elective.
17. Virginia -- with a season-opening loss to Wyoming and close calls against North Carolina, Georgia Tech and Middle Tennessee State -- is now ranked No. 19 in the BCS Standings.
If Virginia keeps winning, that -- combined with last year's aesthetically revolting ACC championship game -- will ensure that the conference's shindig will soon be sponsored by Spam.
16. In all fairness, UVA's last win was over previously undefeated UConn.
Um ... UVA played a team that -- presumably with a straight face -- scheduled the University of Maine.
15. Each member of Oklahoma's starting secondary could wind up playing on Sundays. Yet OU has the No. 73-ranked pass defense in the country.
The Sooners' trip to Texas Tech on Nov. 24 might be the regular season's last big upset.
14. Arkansas has the top two running backs in the SEC, but hasn't won a conference game.
With a conference schedule that sandwiched Kentucky between Auburn and Alabama, Houston Nutt really didn't need this to be UK's dream season.
13. Illinois lost an opportunity to pad its conference record against a lesser opponent when it lost at Iowa on Saturday. And Iowa was just happy to win a game.
Goodness, a year is a mighty long time.
12. Georgia's ranking in the AP poll week-by-week: 13, 11, 23, 22, 15, 12, 24, 21.
Not sure what this means, but imagine those numbers on a line graph? It would look like a Georgia fan's EKG after watching the Bulldogs come thisclose to losing to Vanderbilt for the second straight season.
11. The No. 6 team in the BCS Standings (South Carolina) is 88th in offense -- 66th through the air -- and coached by Steve Spurrier.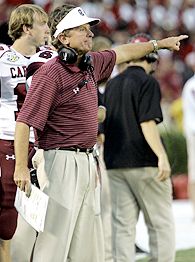 AP Photo/Gerry Broome
Steve Spurrier's getting it done at South Carolina in an unconventional (for him) way.
The Ol' Ball Coach might be even better than we thought he was. And TCBY opened a shop in hell.
10. Texas A&M coach Dennis Franchione, who makes $2 million per annum, actually convinced reasonable adults to purchase a secret newsletter containing inside info on the program ... for $1,200 per year. Apparently, he also thought he could keep it from his boss.
Combine that with blowout losses against Miami and Texas Tech, and Franchione won't have to keep things from his boss again after New Year's.
9. Boston College showed enough might while beating Army, UMass, Bowling Green and Notre Dame to move up from No. 14 to No. 3 in the AP poll.
No one has bothered to consider that BC's win at Georgia Tech didn't really say all that much.
8. Top-ranked Ohio State's most impressive win was against imposter Purdue. Kansas, meanwhile, beat a good Kansas State team. Both teams have loaded up on cupcakes. But Kansas is ranked 12 spots lower in the BCS.
Kansas won't win the national championship without a restraining order. The Jayhawks could beat the Chiefs in the Sugar Bowl by three touchdowns and still come up short.
7. Michigan made its way back into the AP poll -- after receiving zero votes in Week 2 -- without a win worth discussing.
If the pollsters are over Michigan's horrible start, then they need to get over Appalachian State's loss to Wofford and put the Mountaineers in the AP top 25, since Football Championship Subdivision teams can now receive votes.
6. UCLA beat Stanford -- which defeated USC -- by four touchdowns and trounced Oregon State -- which beat Cal -- by 26. Yet UCLA also lost by 38 to Utah -- which got shut out by UNLV -- and lost to Notre Dame, possibly the worst team in the Football Bowl Subdivision.
Any team that beats the Bruins should engage in a little introspection.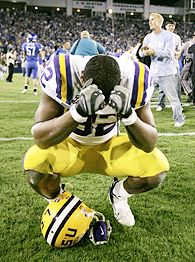 AP Photo/Ed Reinke
LSU's loss to Kentucky was just the latest shocking event of this college football season.
5. LSU battered Florida's 15th-ranked rushing defense with its running game in the fourth quarter, yet the next week LSU couldn't convert on 4th-and-short against Kentucky, the 99th-ranked defensive outfit.
If the wear and tear from LSU's slugfest against the Gators keeps the Tigers out of the BCS championship game, the National Guard will have to be deployed to every SEC state to stop a populist uprising that history would call the Playoff Revolution.
4. And?
Maybe it's time for Urban Meyer to consider using Tim Tebow in tight situations -- assuming he's not too busy creasing the spines of phone books and saving kittens from trees.
3. Tennessee spanked Georgia 35-14 two weeks ago -- and has the exact same record as the Bulldogs -- but has been ranked one spot below them in two consecutive AP polls.
The Man insists upon keeping Phil Fulmer down. (That makes as much sense as any other possible explanation.)
2. Former No. 1 USC stayed in the AP top 10 after losing to a bad Stanford team, but fell to No. 13 after beating similarly-bad Arizona. West Virginia was rated so high earlier this year that South Florida's win over them in Tampa vaulted the Bulls to No. 6 in the AP poll -- but the Mountaineers looked so bad that, even though it played its backup quarterback in the second half when All-American candidate Pat White got hurt, they fell from No. 5 to No. 14 in the AP after that loss.
As much as people hate the computers, stuff like this makes them indispensable.
1. Oregon is in the top 10 in the BCS Standings.
God may not like ugly uniforms, but he's kind to those who wear them.
Bomani Jones is a columnist for Page 2. You can reach him here.