When LSU's Glen Davis held a press conference several weeks ago to announce his decision to declare for the NBA draft, Tigers coach John Brady made one of the most reckless statements in the storied history of recklessness.
"I told him two weeks ago that he needs to go where his heart moves him to go," Brady said, "not where someone tells him he'll go [in the draft]."
Good thing Brady doesn't teach driver's ed. He'd probably tell kids not to waste time checking their mirrors before changing lanes. And seat belts are for wusses.
In 2006, 37 college underclassmen -- and 10 international players -- made themselves available for selection. Yet only the 30 first-rounders are assured guaranteed contracts. Only 16 underclassmen were drafted in the first round.
Underclassmen who have not retained agents have until June 18 to return to school, 10 days before the draft. And, as Randolph Morris taught us, players can return to school if they are undrafted and have not signed with an agent.
That gives them ample time to find out where they expect to be chosen. If a guy leaves his name in and doesn't heed where executives say he'll be drafted or properly assess his readiness for the league, one of two things likely awaits him -- the short end of the stick or the long end of the shaft.
"A lot of guys don't remember what happened the year before, and it's sad," said Ryan Blake, assistant director of scouting for Marty Blake and Associates, an independent firm that evaluates players for NBA teams. "If you're a bubble guy, you're really taking a risk [declaring for the draft]."
Here are 10 players who slipped out of the first round who provide a cautionary tale to underclassmen on the bubble. All 10 showed promise in college but left too soon. Only two of them played more than 100 NBA games.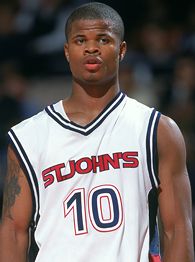 Ezra Shaw/Getty Images
Omar Cook set a Division I record for assists by a freshman, but his shooting touch needed work.
Omar Cook, St. John's (2001, Freshman)
College résumé: Third team, All-Big East in 2001, his only collegiate season; averaged 15.3 points, 8.7 assists, and 2.3 steals per game; most assists per game and total assists ever for a freshman.
Draft position: Second round (No. 31 overall), Orlando.
NBA résumé: Averaged 1.7 points per game and 2.1 assists per game in 22 games over two seasons.
Scouting report: "He never could shoot," said Marty Blake, the godfather of basketball scouting. "For some reason, he was more interested in being Omar Cook than being a team player."
In April 2001, Lenn Robbins of the New York Post offered a stinging indictment of Cook's decision. "But who is advising the Omar Cooks of the world?" Robbins wrote. "A couple of agents who sneak into town and tell his brother and uncle he's a first-round pick when every NBA type we've spoken to said Cook is a second-rounder."
That's just what Cook was -- a second-rounder. His precocious ability to run an offense wasn't enough to offset his poor shot; Cook shot just 36 percent from the floor at St. John's, better than the 33 percent he shot in the NBA. Cook led the Russian league in assists this season and signed with Strasbourg in Germany for the rest of the season.
Schea Cotton, Alabama (2000, Sophomore)

College résumé: Averaged 15.5 ppg and 4.5 rebounds per game in 1999-2000; second team All-SEC, '00.
Draft position: Not drafted.
NBA résumé: Never made an NBA roster.
Scouting Report: "I never thought he could play," said Marty Blake.
Cotton was featured in Sports Illustrated as a high school freshman, hailed as the biggest on a long list of next big things. Though he played on the wing in high school, the 6-foot-5, 215-pound Cotton excelled at power forward for the Crimson Tide. Those dimensions would have made him a 4 in the George Mikan era, but not the new millennium, so he really needed more time in school to develop his perimeter game. In 2005, an NBA executive told Sports Illustrated "as he got older and other players matured and advanced their skills, he was stuck in neutral with horrible habits."
Ironically, Cotton later started a company to train athletes for elite competition.
Khalid El-Amin, Connecticut (2000, Junior)

College résumé: Averaged 15.3 ppg and 4.4 apg over three-year career; Third team All-Big East, 1998; second team All-Big East, '99, first team All-Big East 2000; point guard on '99 National Champions.
Draft position: Second round (No. 34), Chicago.
NBA résumé: Averaged 6.3 ppg and 2.9 apg in 50 games in 2000-01.
Scouting report: Did nothing particularly well, but was under six feet tall and did some things pretty badly. "Size is not an issue if you can play at the next level at the size," Ryan Blake said. "If you go in a team's database and see, 'left-handed, can only go left, can't stop the pick and roll,' it isn't a problem if he can bring something else. He couldn't bring anything else."
Financial concerns sent the famously pudgy El-Amin into the 2000 draft after his junior season. He made the NBA All-Rookie team in 2001, but he didn't play another NBA game after that season. He played for two teams in the CBA before becoming a star overseas. El-Amin was twice voted the MVP of the Turkish League. In 2006, he led Azovmash Basketball to the Ukrainian championship and was named the MVP of the regular season and championship series. He is currently playing in the Ukrainian playoffs with Azovmash.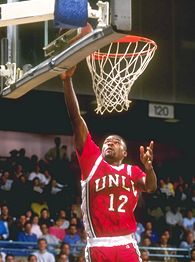 Ken Levine/Getty Images
Anderson Hunt won a national championship at UNLV, but he didn't have experience running the point.
Anderson Hunt, UNLV (1991, Junior)
College résumé: Final Four Most Outstanding Player, 1990; All-Final Four Team, '91; Averaged 15.9 ppg as a sophomore and 17.2 ppg as a senior; made 283 3-pointers in three collegiate seasons.
Draft position: Not drafted.
NBA résumé: Never made an NBA roster.
Scouting report: "A 6-2 shooting guard that needed to play point in the NBA," Ryan Blake said. "Kenny Anderson came out that year. [Execs] are going to take guys that have more of an upside, that can come in and help that position (point guard) right away. It all came down to that."
Hunt was the only underclassman to start on UNLV's vaunted '91 squad, and he entered the draft with his mates. He was also the only starter from that team that wasn't drafted. Hunt was quite the marksman, but that and two bucks aren't enough to get you a cup of joe at Starbucks, let alone the NBA, if you're 6-2. Had he returned to school, Jerry Tarkanian would have moved Hunt to point guard and given him the chance to develop the handles he would need at the next level. Instead, he played pro ball in three European leagues.
Marcus Liberty, Illinois (1990, Junior)

College résumé: Averaged 8.4 ppg on the "Flyin' Illini" squad that made Final Four in 1989; averaged 17.8 ppg and 7.1 rpg as a junior in 1989-90.
Draft position: Second round (No. 42), Denver.
NBA résumé: Averaged 7.3 ppg and 3.5 rpg in four seasons.
Scouting report: A classic case -- a fantastic athlete that was a jump shot away from the lottery.
Hailed as the best high school player in America in '87, Liberty left his hometown of Chicago as a legend. That early success, combined with his hasty entry to the NBA has made him one of basketball's great "what if?" stories. Incredible athleticism could mask his lack of a jump shot in college, but not in the NBA. Liberty never averaged double figures in the NBA and shot below 42 percent for his four year career. Liberty played six seasons overseas, and he now conducts camps in the Chicago area.
JaRon Rush, UCLA (2000, Sophomore)

College résumé: Averaged 11.6 ppg and 6.9 rpg in two college seasons; made Pac-10 All-Freshman team in 1999.
Draft position: Not drafted.
NBA résumé: Never made an NBA roster.
Scouting report: "Coming out of high school, JaRon seemed to be about as 'can't miss' as you can get," said Eric Bossi of recruiting service Scout.com. "He was a powerful, explosive athlete, could handle the ball some, rebounded and was a respectable shooter."
Rush, older brother to Kareem and Brandon, had the physical tools to develop into a very good NBA player. His decision to declare for the draft as a sophomore made him a prototypical cautionary tale for the role adverse influences have in leading young players into bad decisions. Rush had problems with alcohol, but bigger problems with hangers-on like infamous AAU coach/convict Myron Piggie.
"Even if he was an NBA bust, I do think Rush helped to open up people's eyes to what was happening behind the scenes with some of these high-profile guys," Bossi said.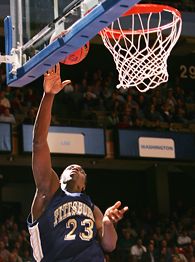 Jonathan Ferrey/Getty Images
After an impressive freshman season at Pitt, Chris Taft left school after a mediocre sophomore campaign. Sound familiar, Big Baby?
Chris Taft, Pittsburgh (2005, Sophomore)
College résumé: Averaged 12.0 ppg and 7.5 rpg while shooting 56.9 percent from the floor over two college seasons; 2003-04 Big East Rookie of the Year; third-team All-Big East, '04.
Draft position: Second round (No. 42), Golden State.
NBA résumé: Averaged 2.5 points and 2.1 rebounds in 17 games with Golden State in 2005-06.
Scouting report: Wanna know the difference between the opinion of an agent and a scout?
While Taft worked out for teams before the 2005 draft, Taft's agent, Billy Ceisler, told the Pittsburgh Tribune-Review, "like I told one GM, 'you're going to have a hard time convincing me that if you're looking for a power forward in this draft, there's one who can make the immediate impact of Chris, based on physical makeup and ability."
What does Marty Blake say? "He was a guy [the Warriors] were drafting, to use a Las Vegas term, on the come. But obviously, he didn't develop quick enough. Gray was a much better player than Taft." Yes, that would Taft's former classmate -- and future poster model -- Aaron Gray.
Taft's a tricky case. Perhaps he should have left Pittsburgh after his freshman season, when he showed the potential to be a lottery pick. His inconsistent sophomore year hurt his prospects, but most observers figured he was a first-round lock when he declared.
Then he measured closer to 6-8 than his listed 6-10 and fared poorly in individual workouts. Upside became inadequacy, and his stock went Worldcom. After missing the 2006 preseason due to back spasms, he was released by the Warriors.
Ceisler did not return phone calls seeking comment for this story.
Marcus Taylor, Michigan State (2002, Sophomore)

College résumé: Averaged 16.8 ppg and 5.3 apg in '02; first team All-Big Ten '02.
Draft position: Second round (No. 52), Minnesota.
NBA résumé: Never made an NBA roster.
Scouting report: Ryan Blake: "When we talk about smaller players, you've got to have that extra. Not just physically, but mentally. There was nothing that put him over other people."
Taylor was a ballyhooed recruit when he came to Michigan State in 2000, a first team high school All-American. In his sophomore year, he became only the second player to lead the Big Ten in points and assists in conference games.
Five days before the 2002 draft, Ken Davis of the Hartford Courant predicted that Taylor would rue his decision to leave East Lansing. "Someone will draft him, probably in the second round," Davis wrote. "One more year with the Spartans and he might have been a lottery pick."
Taylor bounced between semipro and European leagues, but he is currently under contract until next season with Trier in Germany, where he's averaging 15.0 ppg this season.
Scotty Thurman, Arkansas (1995, Junior)

College résumé: Averaged 16.2 ppg and shot 43.2 per cent on 3-pointers over three-year career; Second-team All-SEC, '93; First-team All-SEC, '94 and '95; NCAA All-Tournament team, '94.
Draft position: Not drafted.
NBA résumé: Never made an NBA roster.
Scouting report: "We didn't have him ranked that high in the first place," said Marty Blake. "When he came out, we were shocked."
Thurman's go-ahead 3-pointer in the '94 NCAA championship game stands as one of the brightest Shining Moments ever. After winning a national title and going back to the championship game in '95, there wasn't much left for Thurman to do at Arkansas … except work on his game. Since he didn't, there was nothing for him to do in the NBA. Thurman played in Europe, the Middle East and with the ABA's Arkansas Rimrockers.
Thurman works in real estate now, but it seems he still has time to hit the gym. "My game is and was better than a lot of people that they have given millions too," he said by e-mail. "With the exception of the real superstars such as D-Wade, Kobe, LeBron, and a few more, my game is still just as good as a lot of the guys that are still in the league."
Dontonio Wingfield, Cincinnati (1994, Freshman)

College résumé: Averaged 16.0 ppg and 9.0 rpg and shot 40.2 percent (44-109) from 3-point range during his freshman year, his only college season.
Draft position: Second round (No. 37), Seattle.
NBA résumé: Averaged 3.7 ppg and 2.4 rpg over four NBA seasons (114 games).
Scouting report: A man's body with a boy's attitude. "He was his own worst enemy," said Marty Blake, citing Wingfield's temper and petulance.
Before Wingfield, the last three freshmen taken in the NBA draft were Manute Bol, Shawn Kemp and Shawn Bradley. Bol and Bradley were both 7-6, and Kemp declared because he had nowhere else to play. The 6-8, 256-pound Wingfield had both an NBA body and jump shot, but his disappointing pro career was far less accomplished than those of stick figures Bol and Bradley. Wingfield entered the league with a reputation for immaturity, making his poor work ethic in the NBA unsurprising. At age 24, he was out of the NBA.
Bomani Jones is a columnist for Page 2. You can reach him here.

Also See
ESPN Top Headlines