There is a laundry list of reasons why players have been banned from hockey leagues over the years. Usually it comes down to some strain of anger management and acting out.
Jared Murray is well-mannered and well-behaved by all accounts. He looks like an overgrown cherub. He doesn't look like he's capable of an impure thought -- never mind anything that would get him thrown out of a game, let alone a league.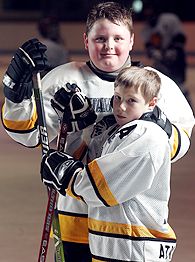 Photo by Kier Gilmour, Ottawa Citizen/
CanWest News Service
Was Jared Murray bounced from his youth league in Quebec because of his size? Or were cultural issues part of the decision?
But just before the start of the playoffs in western Quebec's youth leagues, provincial hockey officials sent the word to Shawville. Jared, they said, was banned. Not suspended, mind you. Not that he had to sit out one or two games. No, he was out for the playoffs, maybe for life, for all anyone knew.
Jared Murray was banned. At age 8.
Officials with Hockey Outaouais gave two reasons why he was banned.
1. He's too big to play with other 8-year-olds. At 4-foot-9 and 110 pounds, he's at least a head taller than the other kids on the ice.
2. He's too good to keep games fair and competitive.
This isn't the case of a ringer, though. This isn't Danny Almonte showing up with a bogus birth certificate. No, the fact that Murray is 8 years old isn't in dispute here.
This isn't the story of a boy who is a Gretzky-like phenom in youth hockey. This isn't someone locking the arena door before Sidney Crosby shows up. Last season, Murray played defense for his Shawville team and scored one goal. This winter, his skills came together and he averaged approximately five goals a game. It's a lot, but not so out of the ordinary for the very best players in novice leagues. And as much as Murray improved, he might not be the best player on his team.
What makes this harder is the fact that Murray is too young to understand why he was really banned.
Jared is too young to understand that the official language in Quebec is French, even if the unofficial language in Shawville (population: 1,600) is English. That's the way it has been in this town approximately 50 miles west and north of Ottawa, going back to the Murrays and other families from Northern Ireland who founded Shawville back in the 1800s.
Jared is too young to understand that Quebec's government does everything in its power to promote the French language, and the people of Shawville don't like it one little bit. He doesn't know anything about provincial inspectors coming to Shawville and handing out large fines to businesses that have signs in English only, and he doesn't know about the townspeople spotting those inspectors and following them all over town menacingly.
And Jared is too young to know that the tensions over language go back generations and could carry over to something like youth hockey. Not one of Shawville's volunteer officials went to league meetings where only French was spoken, which basically shut out the town where few residents are bilingual.
So the decision to ban Murray was made at a meeting that no one from Shawville attended -- no point, of course, if it's all in French.
Shawville has a long history in hockey, and Jared comes from a hockey family. Jared is the grand-nephew of Bryan Murray, coach of the Ottawa Senators. Jared is the son of Tim Murray, a scout with the New York Rangers.
"I'm on the road during the season a lot," Tim Murray says. "I didn't get to see as many of Jared's games as I would have liked to. The reasons they're giving for banning Jared just don't stand up. It's an awful thing to do to a kid who has played by the rules -- same goes for the Shawville team. They all get punished -- for what?"
Tim Murray and the people of Shawville are chastened a bit these days. After Jared was banned, the Shawville hockey association decided to pull his team out of the regional playoffs. In fact, eight of the association's teams in all groups decided to stay home in protest. Tim Murray and some officials were outspoken in the media about feeling discriminated against because the people in Shawville speak English.
Now, though, they're realizing that there might be a backlash -- and that it will be their kids who have to pay the price. And they remember the court case they lost a few years back, in which the judge's decision prevented Shawville's teams from playing in leagues across the Ottawa River in the province of Ontario.
Hockey Outaouais officials claim this could have all been avoided if only the people in Shawville had put their team in a higher tier of youth hockey. They say Jared's team, which played in the B league, was running over teams, winning games by eight to 10 goals. They say Jared's team should have played in the A league, against teams from bigger towns with better players.
That's what Hockey Outaouais' officials are saying -- but if the folks in Shawville got that message, it would of course be in a language they don't understand.
Gare Joyce is a Toronto-based freelance journalist and a regular contributor to ESPN.com and ESPN The Magazine. He recently wrote an E-Ticket on the aftermath years later of a tragic bus crash in Swift Current, Saskatchewan.